SouthCoast Health Offers Walk-In Flu Shot Appointments
Friday, September 28, 2018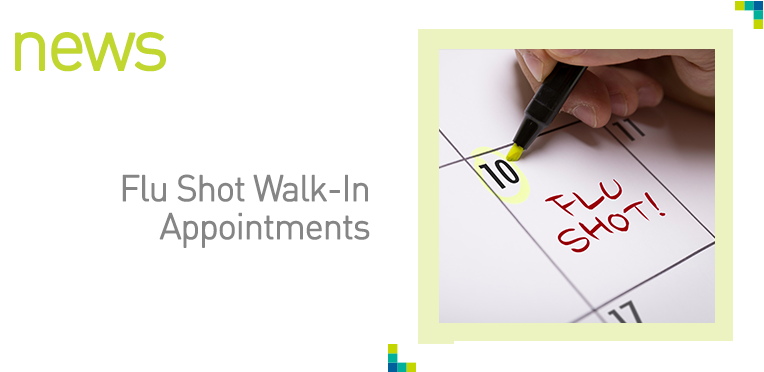 If you haven't had your flu shot yet, it is not too late! Flu season typically runs from October through May, with a peak in February. The Centers for Disease Control recommends vaccination for everyone 6 months and older unless they have had a prior severe reaction to the flu shot. Early immunization is recommended, preferably before the end of October; however, immunization is still effective at any time during the flu season.
"Everyone is at risk for influenza, but some are at higher risk for severe complications and even death," Family Medicine Specialist Dr. Richard Hightower stated. "Children between the ages of 6 months and five years, adults over the age of 50, women who are pregnant or will become pregnant during flu season, people with heart or lung disease, diabetes, diseases that affect the immune system, and nursing home residents are all considered to be in a high-risk category."
Last year was a particularly bad flu season with nearly epidemic numbers of reported hospitalizations and deaths. Although the flu vaccine for the 2017-18 season was only about 40% effective, this should not dissuade anyone from getting the immunization. Flu shots are still widely available and easily administered.
Call any of our primary care physicians to schedule a flu shot, and walk-in appointments will be available at the following SouthCoast Health locations:
SouthCoast Health
1326 Eisenhower Drive, Bldg 1, Savannah
Monday – Friday [9:00 AM -11:30 AM and 1:00 PM - 4:30 PM]
Insurance can be filed
Self Pay:
$35 Quadrivalent Influenza Vaccine

$60 High Dose Influenza Vaccine (Ages 65+)
---
Whether you are looking for a primary care doctor or a pediatrician, an ObGyn or another medical specialist, SouthCoast Health has you covered with its wide range of world-class healthcare services, available throughout the Coastal Empire and Lowcountry. SouthCoast Health has 120 physicians and medical professionals in 18 locations in Savannah, Richmond Hill, Pooler, Rincon, Baxley, Bluffton, Hilton Head, and Hinesville. SouthCoast Health offers comprehensive medical services including: Family Medicine, Internal Medicine, Obstetrics & Gynecology, Pediatrics, Allergy and Immunity, Cardiology, Eye Care, Imaging, Infectious Diseases, Nephorology, Neurology, Physical Therapy, Podiatry, Pulmonology, Sleep Medicine, Surgery, Clinical Trial Research Studies, Diabetic Self-Management Training Sessions, Dietetic Counseling, High Risk Breast Cancer Clinic, Laboratory Services, Massage Therapy, Optical Shop, Pharmacy, and Urgent Care.