Dr. Victor Rosenfeld speaks out on "cell phone addiction" and its long-lasting, adverse health effects with Fox 28
Friday, May 25, 2018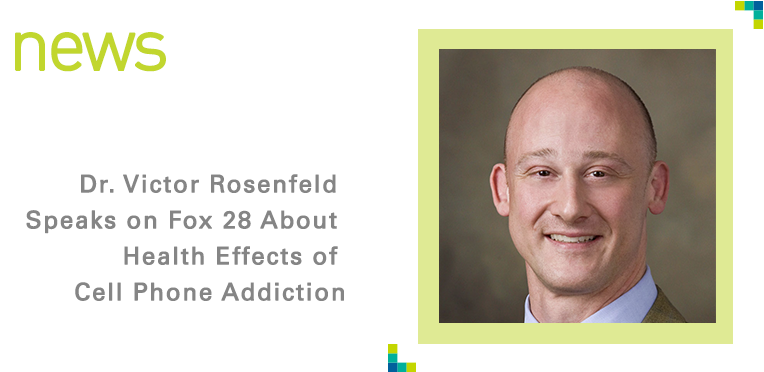 Fox 28 reporter Robert Catanese recently visited SouthCoast Health neurologist Dr. Victor Rosenfeld at our Savannah campus to discuss the long-lasting, adverse health conditions linked to cell phone addiction and how it affects our bodies.
"This is turning into, probably, an epidemic in terms of its addiction," said Rosenfeld. "Every time that you get an alert or ping on your phone, that creates a surge of dopamine in your brain."
In the SouthCoast Health blog "Our Brains Rewired: The Effects of Our Phones on Our Body," Dr. Rosenfeld explained that dopamine is very power chemical that leads to addiction and also provided tips to managing "cell phone addiction."
Also, Fox 28 featured a follow-up segment that highlighted the rise of "nomophobia," an irrational fear of being without your mobile phone or unable to use it. Dr. Rosenfeld gave some tips for limiting the use of your smartphone that can help overcome this fear.
Watch Dr. Rosenfeld's interview in both segments to learn more.
---
Whether you are looking for a primary care doctor or a pediatrician, an ObGyn or another medical specialist, SouthCoast Health has you covered with its wide range of world-class healthcare services, available throughout the Coastal Empire and Lowcountry. SouthCoast Health has 120 physicians and medical professionals in 18 locations in Savannah, Richmond Hill, Pooler, Rincon, Baxley, Bluffton, Hilton Head, and Hinesville. SouthCoast Health offers comprehensive medical services including: Family Medicine, Internal Medicine, Obstetrics & Gynecology, Pediatrics, Allergy and Immunity, Cardiology, Eye Care, Imaging, Infectious Diseases, Nephorology, Neurology, Physical Therapy, Podiatry, Pulmonology, Sleep Medicine, Surgery, Clinical Trial Research Studies, Diabetic Self-Management Training Sessions, Dietetic Counseling, High Risk Breast Cancer Clinic, Laboratory Services, Massage Therapy, Optical Shop, Pharmacy, and Urgent Care.