SouthCoast Health Patient Darkus Jenkins Overcomes Breast Cancer and Gains Positive Outlook on Life
Friday, June 1, 2018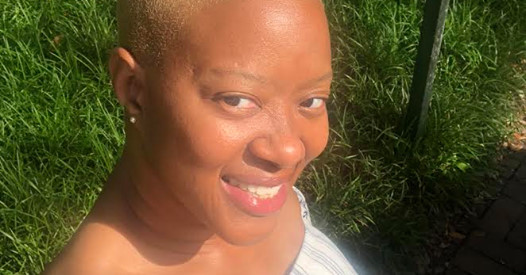 In late 2016, Darkus Jenkins, a 36-year-old chemistry professor at Savannah State University, had just stopped breastfeeding her 11-month-old daughter when she noticed a lump in her breast. By early 2017, she received a diagnosis of triple negative, stage II breast cancer. At the dawn of her daughter's young life, her own life lay in the balance.
SouthCoast Health's Dr. Elizabeth McIntosh, Jenkins' OB-GYN, scheduled her patient an appointment with breast cancer specialist and surgeon, Dr. Christa Jillard. Due to the size of the tumor, Dr. Jillard recommended Jenkins undergo chemotherapy before any surgery.
Complications from chemotherapy found Jenkins stopping early. The aggressive nature of her cancer type meant it could potentially grow to the other breast. With her surgical options being a lumpectomy, a single mastectomy or a double mastectomy, Jenkins faced a difficult choice.
"At one point, I asked Dr. Jillard if we should wait a bit longer before making a decision," Jenkins recalls. "And she said, 'You went from nothing to something in literally two months. What do you think is going to happen in the next two months?' …So we knew what we were dealing with and how aggressive we had to be in order to attack it."
In an effort to best combat triple negative breast cancer, Jenkins opted for a bilateral mastectomy. "Once I made that decision," she says, "Dr. Jillard went through every step to make sure I was fully aware of what was going to happen next. She made the whole process easier to deal with."
In addition to providing clarity to the experience, Dr. Jillard made a connection with her patient, one that Jenkins says proved invaluable. "I connected with her on a personal level and felt comfortable with her," Jenkins says, "and it aided me in moving through my treatment as fast as I did."
Jenkins says keeping a positive attitude and receiving positive reinforcement from Dr. Jillard remained essential, too. "The entire time I was being aggressive with my treatment, I had to be upbeat and positive," she recalls. "I had to keep telling myself, 'This is working, this is working, this is working.' And sure enough, it worked."
Today Jenkins, who recently completed breast reconstruction surgery, has become more active. In between gym workouts, she plans on preparing for a 5K road race.
"I feel like I'm more positive than ever," she says. "You have to find something to smile about. My whole outlook on life is so much brighter. It's about perspective."
* Darkus shared her story with us is in 2018. While we were happy to assist her in her breast cancer journey then, the above information may not currently reflect the patient's updated status.
---
Whether you are looking for a primary care doctor or a pediatrician, or another medical specialist, SouthCoast Health has you covered with its wide range of world-class healthcare services, available throughout the Coastal Empire and Lowcountry. SouthCoast Health has 120 physicians and medical professionals in 18 locations in Savannah, Richmond Hill, Pooler, Rincon, Baxley, Bluffton, Hilton Head, Hinesville, and Statesboro. SouthCoast Health offers comprehensive medical services including: Family Medicine, Internal Medicine, Pediatrics, Allergy and Immunology, Cardiology, Endocrinology, Eye Care, Imaging, Infectious Diseases, Nephrology, Neurology, Physical Therapy, Podiatry, Sleep Medicine, Surgery, Clinical Trial Research Studies, Diabetic Self-Management Training Sessions, Dietetic Counseling, High Risk Breast Cancer Clinic, Laboratory Services, Massage Therapy, Optical Shop, Pharmacy, and Urgent Care.