Fox 28 interviews SouthCoast Health Neurologist and Patient on Migraine Headache Treatments
Monday, July 9, 2018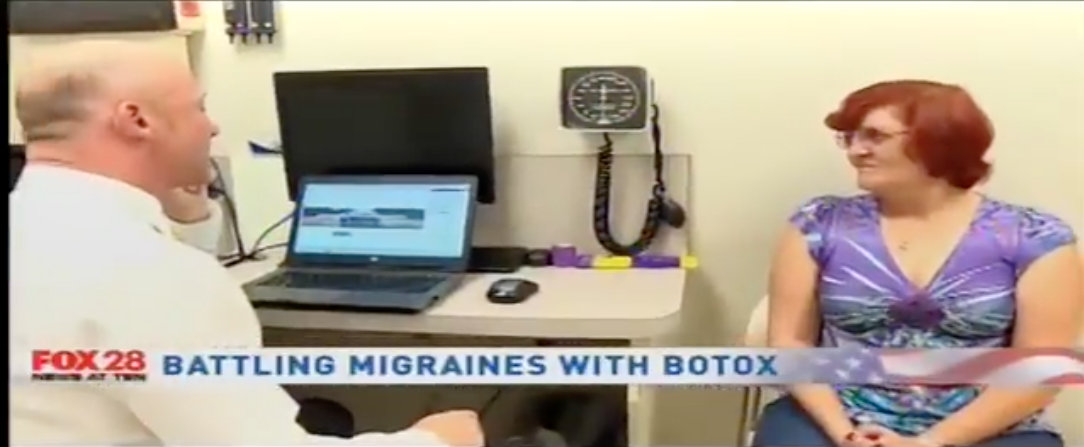 Fox 28 reporter Robert Catanese recently spent time with SouthCoast Health's neurologist Dr. Victor Rosenfeld to discuss his treatment options for patients suffering from migraine headaches. Amy McKenzie, a SouthCoast Health patient, shared her experience with Dr. Rosenfeld in hopes to alleviate her migraine pain, a battle she has endured for over 20 years. Dr. Rosenfeld took an unconventional approach and gave her a series of Botox injections. Amy reported that this treatment "made the biggest difference in my life."
The Fox 28 story followed up with a second feature on migraine headaches, reporting on a new drug released this June named Erunamab. Dr. Rosenfeld explained how this drug helps stop migraines; it blocks Calcitonin Gene Related Peptide (CGRP), which has an elevated presence in people who suffer from migraines.
Watch Fox 28's two-part migraine segment for Dr. Rosenfeld's thoughts on this new drug, why the South has a high number of migraine sufferers, and to hear Amy McKenzie's positive experience working with Dr. Rosenfeld.
---
Whether you are looking for a primary care doctor or a pediatrician, or another medical specialist, SouthCoast Health has you covered with its wide range of world-class healthcare services, available throughout the Coastal Empire and Lowcountry. SouthCoast Health has 120 physicians and medical professionals in 18 locations in Savannah, Richmond Hill, Pooler, Rincon, Baxley, Bluffton, Hilton Head, and Hinesville. SouthCoast Health offers comprehensive medical services including: Family Medicine, Internal Medicine, Pediatrics, Allergy and Immunity, Cardiology, Endocrinology, Eye Care, Imaging, Infectious Diseases, Nephrology, Neurology, Physical Therapy, Podiatry, Sleep Medicine, Surgery, Clinical Trial Research Studies, Diabetic Self-Management Training Sessions, Dietetic Counseling, High Risk Breast Cancer Clinic, Laboratory Services, Massage Therapy, Optical Shop, Pharmacy, and Urgent Care.