SouthCoast Health Expands its Urgent Care Locations and Services
Friday, September 7, 2018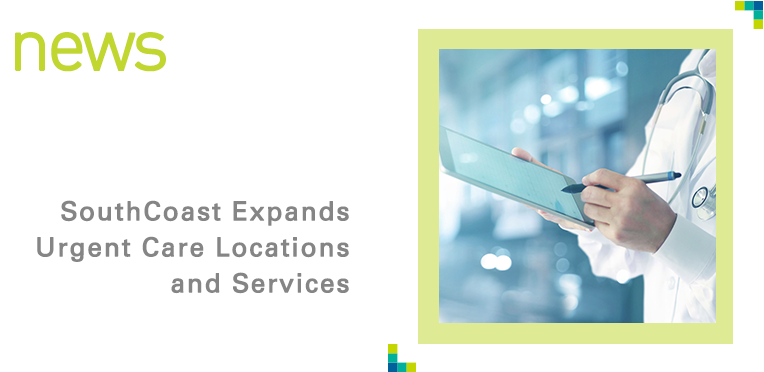 SouthCoast Health, a medical leader across the Coastal Empire and Lowcountry, continues expanding its non-emergent, urgent care-style services with additional locations. Patients ages 14 and older can visit the Savannah, Hinesville, and Richmond Hill locations. Urgent care for pediatrics is available at the Rincon, Richmond Hill, and Savannah locations. Patients can visit the SouthCoast Health website for specific hours, and addresses for Urgent Care locations.
SouthCoast Health Urgent Care services provide a solution for non-routine medical needs that do not require a visit to the emergency room. The expert physicians, physician assistants, nurse practitioners, and medical professionals of SouthCoast Health's Urgent Care clinic treat patients with the convenience of walk-in appointments at a lower cost than emergency rooms.
When existing patients use SouthCoast Health Urgent Care, the staff can access the patients' medical records and update with details of their urgent care visits. SouthCoast Health Urgent Care allows new patients the opportunity to get established with a primary care doctor who can help manage and maintain the patients' future health and wellness goals.
SouthCoast Health is also introducing the use of online reservations to schedule urgent care visits. This system allows our patients to do the majority of their waiting from home and avoid the long wait time of an emergency room for non-routine medical needs.
"SouthCoast understands the needs of its patients," says SouthCoast Health Administrator John Marrero. "Recent years have proved the popularity of these services, and we are offering them as a response. Patients require flexibility but they also demand the highest level in quality of care. We see this service line as supplementing our traditional doctors' hours, which will continue to require appointments."
---
Whether you are looking for a primary care doctor or a pediatrician, an ObGyn or another medical specialist, SouthCoast Health has you covered with its wide range of world-class healthcare services, available throughout the Coastal Empire and Lowcountry. SouthCoast Health has 120 physicians and medical professionals in 18 locations in Savannah, Richmond Hill, Pooler, Rincon, Baxley, Bluffton, Hilton Head, and Hinesville. SouthCoast Health offers comprehensive medical services including: Family Medicine, Internal Medicine, Obstetrics & Gynecology, Pediatrics, Allergy and Immunity, Cardiology, Eye Care, Imaging, Infectious Diseases, Nephorology, Neurology, Physical Therapy, Podiatry, Pulmonology, Sleep Medicine, Surgery, Clinical Trial Research Studies, Diabetic Self-Management Training Sessions, Dietetic Counseling, High Risk Breast Cancer Clinic, Laboratory Services, Massage Therapy, Optical Shop, Pharmacy, and Urgent Care.