Get Up and Keep Moving: Maureen's Story of Breast Cancer Survival
Friday, October 19, 2018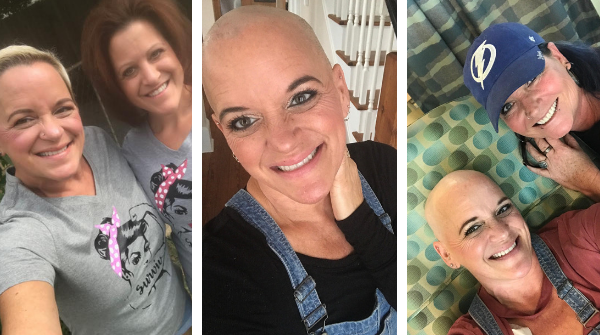 Most people who lived in Savannah during 2017's Hurricane Irma remember it well. It wasn't a very fun time thanks to the worry and emergency evacuations. But SouthCoast Health patient Maureen Cassey remembers this stressful time for a very different reason. After evacuating with her sister, Maureen felt a lump in her breast while taking a shower. While she had multiple cysts before, she knew something was different.
The moment she got back home to Savannah, she called her primary care physician recently retired Dr. Lewin. Dr. Lewin didn't hesitate and had her come in that day for an ultrasound and mammogram from the SouthCoast Health Imaging team. After a mass was located in her right breast, a needle biopsy was scheduled to investigate further. The diagnosis came back as discordant—meaning that the benign biopsy results did not match what was being seen on the mammogram and breast exam.
As a result, the staff at SouthCoast Health didn't feel comfortable with that biopsy result. While one more needle biopsy was suggested to double check the results, Maureen didn't want to go through that extreme pain again. So, she opted to proceed with a surgical biopsy, or a partial lumpectomy with SouthCoast Health breast cancer specialist and surgeon Dr. Christa Jillard instead.
Maureen said, "With all of this uncertainty and pain, I just wanted to get it over with. SouthCoast Health is full of wonderful people who were so on top of everything. I was truly blessed to have such awesome care, so I knew Dr. Jillard could handle this."
It was a good decision to make. After the partial lumpectomy was tested, Maureen was diagnosed with Breast Cancer.
"After hearing this diagnosis, I looked at Dr. Jillard and said, 'What do we have to do?'" Maureen explained. "I was ready to fight this with all of my being. My daddy taught me that. He died of brain cancer, but he showed me how to be strong and still enjoy your life."
The next steps were clear--get the rest of the cancerous breast tissue out and check Maureen's lymph nodes. When one came back positive, she was fully diagnosed with Stage 2 Cancer. Maureen started chemo and radiation in December of that year.
Life changes were coming fast and furious for Maureen, but she became a warrior in this time of pain and discomfort. "I just had to do what I had to do," Maureen said.
She shaved her head and embraced losing her hair. She refused to give up being a gym rat and pursued passionately eating healthier foods. She spent a lot of time with her two daughters and her girlfriends exploring downtown Savannah. The positive effects began to flow in. Chemotherapy and radiation were working.
But Maureen's challenges weren't over yet. She finished her rounds of radiation on July 6, 2018 and on July 9, her divorce with her husband was finalized. Any normal person might have just given up. A divorce on top of battling breast cancer might have seemed insurmountable to them.
"I went through so much, but I wasn't going to sit there and wallow. Yeah, it was really hard, but I had to get up and keep going. My message to everyone out there is to get up and keep moving. I believe in you, just like I believed in myself."
Now, Maureen is doing great. She still visits SouthCoast Health for yearly check-ups to make sure nothing has come back, but, above all, she is remaining positive and still loving life.
If you have any questions or concerns about breast cancer, SouthCoast Health is proud to set the standard for breast cancer care in the Coastal Empire and Lowcountry. Click here to learn more about our advanced breast care services, and click here to schedule an appointment with any of our experts on staff.
* Maureen shared her story with us is in 2018. While we were happy to assist her in her breast cancer journey then, the above information may not currently reflect the patient's updated status.
---
Whether you are looking for a primary care doctor or a pediatrician, or another medical specialist, SouthCoast Health has you covered with its wide range of world-class healthcare services, available throughout the Coastal Empire and Lowcountry. SouthCoast Health has 120 physicians and medical professionals in 18 locations in Savannah, Richmond Hill, Pooler, Rincon, Baxley, Bluffton, Hilton Head, Hinesville, and Statesboro. SouthCoast Health offers comprehensive medical services including: Family Medicine, Internal Medicine, Pediatrics, Allergy and Immunology, Cardiology, Endocrinology, Eye Care, Imaging, Infectious Diseases, Nephrology, Neurology, Physical Therapy, Podiatry, Sleep Medicine, Surgery, Clinical Trial Research Studies, Diabetic Self-Management Training Sessions, Dietetic Counseling, High Risk Breast Cancer Clinic, Laboratory Services, Massage Therapy, Optical Shop, Pharmacy, and Urgent Care.