"Self-Examinations Saved My Life": A SouthCoast Health Breast Cancer Survivor Story
Monday, November 5, 2018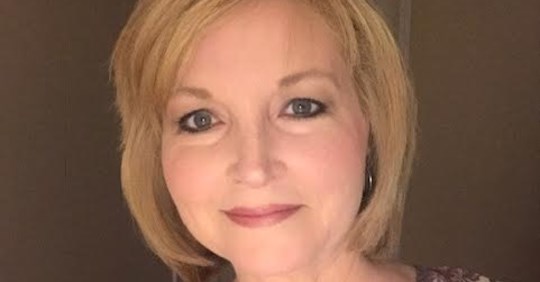 Beth Kennedy works her hardest to stay as healthy as possible. She follows a gluten-free diet, she limits her time out under the sun, and has never smoked. She always stays on top of all her yearly examinations, including her mammograms. At 51 with no history of breast cancer, she didn't have much reason to worry.
But, one day in 2016 while driving home from work, Beth suddenly felt three stabbing pains in her breast. Since nothing like that had happened to her before, she investigated the moment she got home. While performing a self-examination, she felt a lump in her breast that was the size of a large peanut.
Beth called SouthCoast Health and was immediately whisked away for testing. The mass that she felt was indeed found to be cancerous.
"I have two kids, both teenagers. My son has autism, and I kept thinking about him during the entire process. Their lives are my lives, and they really needed me. I knew I couldn't let this take me, not right now," Beth explained.
Beth met with SouthCoast Health Breast Cancer surgeon Dr. Christa Jillard to formulate the best plan.
"Dr. Jillard sat right next to me during all of our appointments, and she talked to me like one of my girlfriends might," Beth said. "I clicked with her personality right away, and we made an instant connection. I knew I was in safe hands."
On March 9, 2016, Beth had a mastectomy. Final results from the surgery also revealed that the cancer had already spread to her lymph nodes. Since Beth had discovered the breast cancer early, everyone, including Dr. Jillard, was surprised it had spread to her lymph nodes so quickly. But, next steps had to be taken to ensure it didn't go anywhere else.
Beth started her twenty weeks of chemotherapy in May. When she was finished, she had a couple of weeks to rest. Then, radiation started and finished in December of 2016.
The breast cancer was defeated, but six months later Beth discovered she had melanoma. She would need surgery to remove it, but the fact that it was on the same side that she had breast cancer made it complicated. So, who did Beth reach for? Dr. Jillard. Together, the two tackled this new challenge and Beth came out victorious, again.
"The entire staff at SouthCoast Health is just fantastic. Dr. Jillard has helped me time and time again, and I will always reach for her if needed. But hopefully, I won't need her anytime soon," Beth said.
"To hear the words, 'you have cancer,' is terrifying," Dr. Jillard explained. "Ms. Kennedy heard those words not once, but twice, in one year. She battled through both cancer diagnoses with nothing short of determination and optimism. She takes her health very seriously, and there is no doubt that her proactive approach has saved her life."
Now, Beth is back to focusing on her kids. She's a single mom juggling life with her kids and their four pets. But she wouldn't have it any other way. Go, go, go is her best way to thrive.
"I had all of these reasons not to be worried," Beth explained. "I had every right to have a false sense of security, but breast cancer still happened to me. It can happen to anybody. I strongly urge everyone to do their yearly mammograms, but remember to do extra steps outside of this. Self-examinations every month are so important. That's what saved my life."
The experts at SouthCoast Health couldn't agree more. Here is a fantastic source from the National Breast Cancer Foundation, Inc. on how to perform self-examinations. But, if you or a loved one ever find something troubling, check out our recourses for those facing breast cancer. Call us at 912-691-3600 to schedule an appointment with any of our breast cancer experts.
---
Whether you are looking for a primary care doctor or a pediatrician, or another medical specialist, SouthCoast Health has you covered with its wide range of world-class healthcare services, available throughout the Coastal Empire and Lowcountry. SouthCoast Health has 120 physicians and medical professionals in 18 locations in Savannah, Richmond Hill, Pooler, Rincon, Baxley, Bluffton, Hilton Head, Hinesville, and Statesboro. SouthCoast Health offers comprehensive medical services including: Family Medicine, Internal Medicine, Pediatrics, Allergy and Immunology, Cardiology, Endocrinology, Eye Care, Imaging, Infectious Diseases, Nephrology, Neurology, Physical Therapy, Podiatry, Sleep Medicine, Surgery, Clinical Trial Research Studies, Diabetic Self-Management Training Sessions, Dietetic Counseling, High Risk Breast Cancer Clinic, Laboratory Services, Massage Therapy, Optical Shop, Pharmacy, and Urgent Care.