Physical Therapy Staff's Love and Compassion Invaluable for Alzheimer's Patient
Thursday, December 20, 2018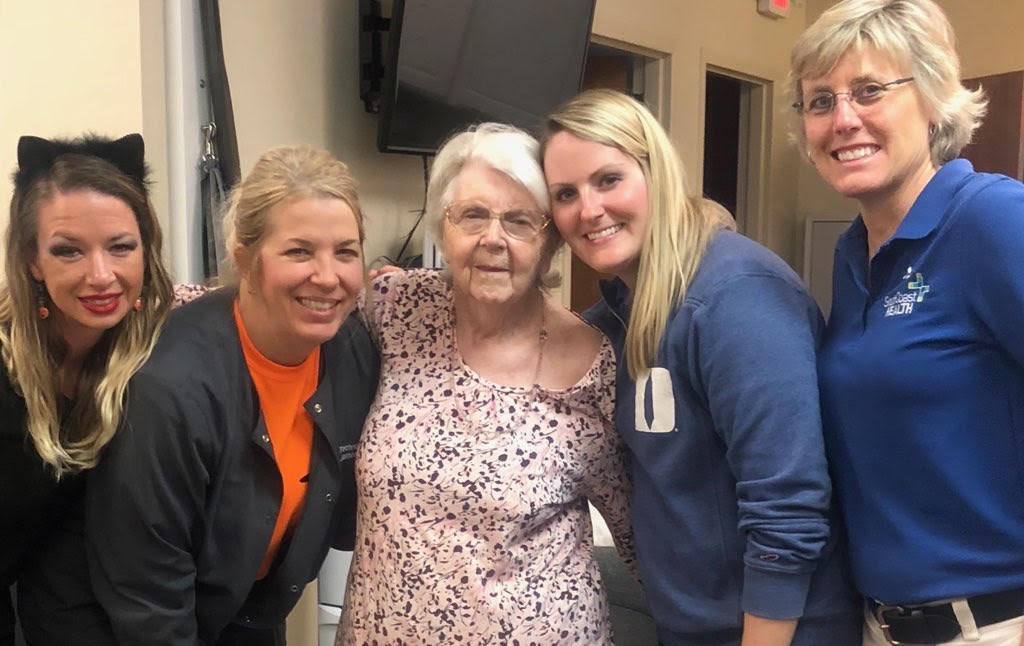 Walking alongside a loved one facing the bleak and challenging prospects of Alzheimer's Disease can be daunting. For Catriona Martin, whose mother Helen suffers from the condition, the warm glow of compassion from the SouthCoast Health physical therapy staff in Pooler serves as a light in the darkness.
Since her diagnosis four years ago, 79-year-old Helen has been receiving treatment for Alzheimer's. It's been up to her daughter to navigate their way through an array of medical appointments.
"We've been to a lot of doctors for a lot of different things," says Catriona. "And I've never found anyone as kind and loving as the folks at SouthCoast."
Her mother's physician, Dr. Michelle Wilson, a SouthCoast provider, suggested treatment for Helen's painful arthritic symptoms and her loss of balance due to dementia. Fortunately, Dr. Wilson was able to conveniently refer Helen to the team of physical therapists located in the same building.
"From the moment we walked in, they treated us all like family," says Catriona. "Not only were the treatment and physical therapy exceptional, the emotional aspect, the love, and support were invaluable. I can't say enough."
Helen's therapy began with heat treatment for her back and transitioned into stationary bike riding and other exercises designed to build strength and balance.
Catriona says she was immediately impressed by the personal touches physical therapy assistant Chelsea Olson incorporated into her mother's sessions. Upon learning of her parents' Scottish heritage, Olson chose Scottish music as their therapeutic soundtrack. Helen's love for dancing found its way into her therapy thanks to Olson, who offered to be her dance partner. And her mother's tendency to share hugs with others prompted the staff to frequently cuddle with Helen, giving her comfort and encouragement amid her struggles.
When the Martin family arrived for a physical therapy appointment on Halloween, which happens to be Helen's birthday, Chelsea and her co-workers surprised their patient with cupcakes, flowers, and a chorus of "Happy Birthday."
"It brought tears to my eyes," says Catriona. "They didn't have to acknowledge my mother's birthday, but they did. And it made her day so very special."
According to Catriona, she soon began noticing the positive effects of her mother's therapy. Helen's legs became stronger, and her balance improved greatly. However, Catriona says the feeling of love and acceptance her mother received from Olson and company truly made a difference.
"They've become such an important part of our family," Catriona says. "They truly went above and beyond. It's all from their hearts, and they're amazing ladies."
---
Whether you are looking for a primary care doctor or a pediatrician, or another medical specialist, SouthCoast Health has you covered with its wide range of world-class healthcare services, available throughout the Coastal Empire and Lowcountry. SouthCoast Health has 120 physicians and medical professionals in 18 locations in Savannah, Richmond Hill, Pooler, Rincon, Baxley, Bluffton, Hilton Head, and Hinesville. SouthCoast Health offers comprehensive medical services including: Family Medicine, Internal Medicine, Pediatrics, Allergy and Immunity, Cardiology, Endocrinology, Eye Care, Imaging, Infectious Diseases, Nephrology, Neurology, Physical Therapy, Podiatry, Sleep Medicine, Surgery, Clinical Trial Research Studies, Diabetic Self-Management Training Sessions, Dietetic Counseling, High Risk Breast Cancer Clinic, Laboratory Services, Massage Therapy, Optical Shop, Pharmacy, and Urgent Care.