Dr. Leslie Sizemore Appears on WTOC to Speak about Flu Prevention
Thursday, January 10, 2019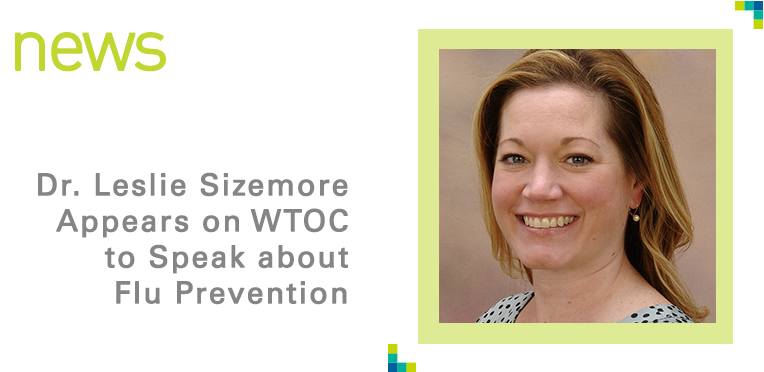 Over the holidays, Dr. Leslie Sizemore, a family medicine physician at the SouthCoast Health Pooler location, appeared on WTOC Mid-Morning Live to share tips for avoiding the flu in the new year. The months of December through February are the peak of flu season and Georgia has one of the highest amounts of flu activity in the nation. South Carolina follows closely behind in its influenza activity too.
Unfortunately, those battling the flu are contagious 24 hours before symptoms start to show. Therefore, Dr. Sizemore emphasized the importance of getting the flu vaccination for prevention and staying home and away from people when you are battling the flu.
"A lot of times people feel like they can't miss work or they don't want their kids to fall behind in their schoolwork, so there is a push back into those daily activities when they are still contagious," Dr. Sizemore shared with the audience. "Staying out of those social environments when you are having symptoms helps decrease the spread in our community. "
If you haven't had your flu shot yet, it is not too late! Flu season typically runs from October through May, with a peak in February. Learn more about how SouthCoast Health offers walk-in flu shot appointments.
Also, watch Dr. Sizemore's appearance below to learn more about the flu and tips for its prevention.
---
Whether you are looking for a primary care doctor or a pediatrician, or another medical specialist, SouthCoast Health has you covered with its wide range of world-class healthcare services, available throughout the Coastal Empire and Lowcountry. SouthCoast Health has 120 physicians and medical professionals in 18 locations in Savannah, Richmond Hill, Pooler, Rincon, Baxley, Bluffton, Hilton Head, and Hinesville. SouthCoast Health offers comprehensive medical services including: Family Medicine, Internal Medicine, Pediatrics, Allergy and Immunity, Cardiology, Eye Care, Imaging, Infectious Diseases, Nephorology, Neurology, Physical Therapy, Podiatry, Pulmonology, Sleep Medicine, Surgery, Clinical Trial Research Studies, Diabetic Self-Management Training Sessions, Dietetic Counseling, High Risk Breast Cancer Clinic, Laboratory Services, Massage Therapy, Optical Shop, Pharmacy, and Urgent Care.