Endocrine and Breast Surgeon Dr. Christa Jillard Appears on WTOC Mid-Morning Live to Discuss Thyroid Health
Wednesday, April 10, 2019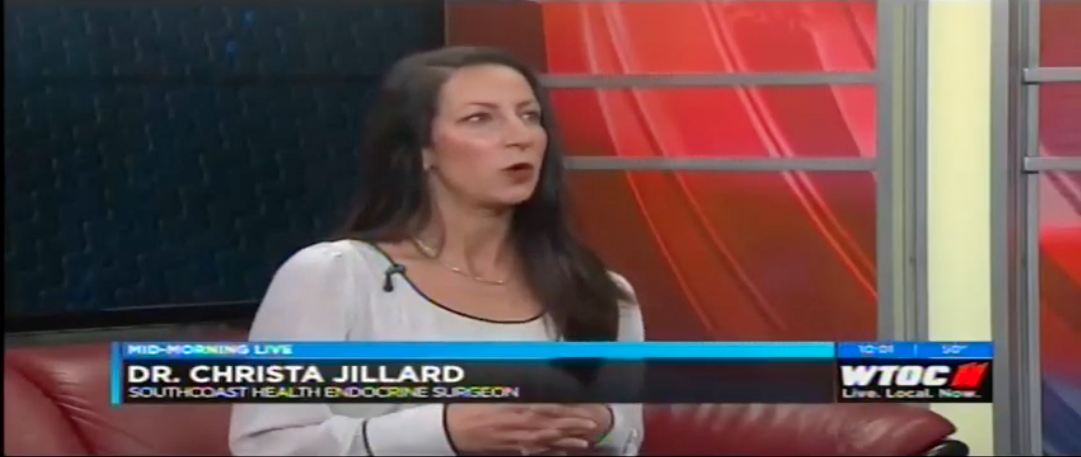 SouthCoast Health surgeon Dr. Christa Jillard sat down with WTOC Mid-Morning Live to discuss thyroid health, conditions, and treatment options. As an endocrine surgery specialist at Southcoast Health, Dr. Jillard explained the role the thyroid gland serves to the human body. A more-detailed explanation is available in her "Learn Everything about Your Thyroid Gland" SouthCoast Health blog.
Dr. Jillard discussed with the hosts how the thyroid is something most people don't know about until they have to, like when they are suffering from Hyperthyroidism or Hypothyroidism. While hyperthyroidism is accelerates your body's metabolism, causing unintentional weight loss and a rapid or irregular heartbeat, hypothyroidism is a condition in which the thyroid gland is not able to produce enough thyroid hormone, causing a slower metabolism with fatigue and weight gain. Dr. Jillard stated that women are more likely to have issues with their thyroids than men.
"The thyroid is an intricate organ that affects the entire body, but, mostly, it affects your metabolism," Dr. Jillard explained. "An unhealthy thyroid can also be a sign of thyroid cancer, which is much different than other cancers. However, after surgical removal, the outcome levels for survival are usually over 98%."
Watch Dr. Jillard's appearance below to learn more about the importance of thyroid health.
---
Whether you are looking for a primary care doctor or a pediatrician, or another medical specialist, SouthCoast Health has you covered with its wide range of world-class healthcare services, available throughout the Coastal Empire and Lowcountry. SouthCoast Health has 120 physicians and medical professionals in 18 locations in Savannah, Richmond Hill, Pooler, Rincon, Baxley, Bluffton, Hilton Head, and Hinesville. SouthCoast Health offers comprehensive medical services including: Family Medicine, Internal Medicine, Pediatrics, Allergy and Immunity, Cardiology, Endocrinology, Eye Care, Imaging, Infectious Diseases, Nephrology, Neurology, Physical Therapy, Podiatry, Sleep Medicine, Surgery, Clinical Trial Research Studies, Diabetic Self-Management Training Sessions, Dietetic Counseling, High Risk Breast Cancer Clinic, Laboratory Services, Massage Therapy, Optical Shop, Pharmacy, and Urgent Care.