From Operating Room Assistant to Patient: Facing Breast Cancer From a Different Perspective
Monday, October 11, 2021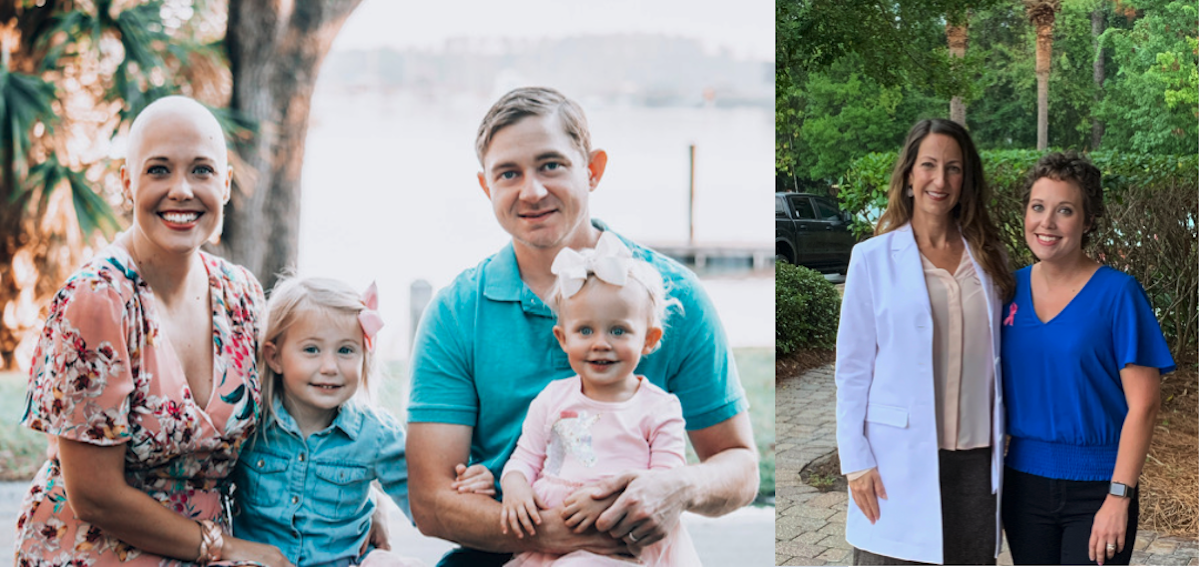 At age 35 with no family history of breast cancer, Lori Smith, a mother of two from Savannah, had a hard time accepting those dreaded words: You have breast cancer.
Having participated in countless mastectomies as an operating room assistant, Smith was now forced to look at this disease from the perspective of a patient.
"It was a little odd and surreal," Smith explains. "I've worked in the operating room for 16 years. And it was always someone else, not me."
Smith says she knew something might be wrong when she gave herself a self-exam while showering. After noticing a tender, suspicious lump in her breast, Smith reached out to Dr. Christa Jillard at SouthCoast Health. Having worked alongside Dr. Jillard during breast cancer surgeries, Smith knew her best bet was to go straight to the source.
Dr. Jillard examined Smith and ordered comprehensive breast imaging for further investigation. The mammogram and ultrasound results revealed what looked to be a problematic growth.
"Her exam was concerning," Dr. Jillard recalls. "Although she did not have any genetic or family risk factors, she needed a comprehensive workup. In fact, it's a common misconception that only patients with risk factors develop breast cancer. This is why it was so important that Ms. Smith was in tune with her body and sought medical advice."
A needle biopsy followed, and Dr. Jillard soon delivered the bad news. The lump was indeed cancerous.
Immediately diving into treatment, Smith met with a medical oncologist and began an aggressive form of chemotherapy. With the added challenge of a pandemic, Smith had to attend each appointment alone, heightening her feeling of isolation. However, she soon found this gave her the opportunity to connect with fellow cancer patients in the waiting room.
"Talking to other cancer patients really opens your eyes," she says. "One woman told me she had lost her hair four times due to continued chemotherapy. And she was the happiest, nicest person I had ever met. It sounds cliche, but it really allows you to appreciate things you didn't appreciate before."
More than a dozen treatments later, Smith opted for a bilateral mastectomy. This prophylactic approach included surgery on the noncancerous side. And she chose Dr. Jillard to perform the procedure.
"To me it was a no-brainer," Smith explains. "We have great surgeons in town, but Dr. Jillard has a true passion for her work. She's absolutely meticulous. When you go in and see her, you're never rushed and the focus is on you, the patient. You're her only concern at that moment. And that's what I wanted in a surgeon."
Although she had a complete pathologic response to the chemotherapy with no cancer remaining, soon after the surgery Smith received radiation five days per week for five weeks. Her next step will be breast reconstruction along with regular check-ups to make sure the cancer remains at bay.
Just three weeks after surgery, Smith returned to the operating room. While continuing to assist in mastectomy surgeries, Smith is now able to share her thoughts and experiences with cancer patients. "I have a soft spot for those patients, especially those who aren't taking it very well," she says. "It's a hard place to be, and I see the fear in their faces. I know those anxieties well. I make sure and tell them it's going to be fine and give them reassurance."
Outside of the operating room, Smith's mission is to inspire other women to stay on top of their annual mammograms and regularly perform self-care breast exams. She uses her own personal experience as a teaching tool. In fact, she recently posted a striking photograph of herself on a private breast cancer support group's social media page. The picture taken shortly after her surgery shows Smith completely bald with a dressing across her chest.
"I've had people tell me, 'I can't get that picture out of my head.' And I want that," she says. "When you cancel that mammogram, I want you to remember that picture. I usually learn from experience the hard way. I want to be that experience for someone, so they don't have to go through it."
---
Whether you are looking for a primary care doctor or a pediatrician, or another medical specialist, SouthCoast Health has you covered with its wide range of world-class healthcare services, available throughout the Coastal Empire and Lowcountry. Founded in 1996, SouthCoast Health has 120 physicians and medical professionals in 17 locations in Savannah, Richmond Hill, Pooler, Rincon, Baxley, Bluffton, Hilton Head, Hinesville, and Statesboro. SouthCoast Health offers comprehensive medical services including: Family Medicine, Internal Medicine, Pediatrics, Allergy and Immunology, Cardiology, Endocrinology, Eye Care, Imaging, Infectious Diseases, Nephrology, Neurology, Physical Therapy, Podiatry, Sleep Medicine, Surgery, Clinical Trial Research Studies, Diabetic Self-Management Training Sessions, Dietetic Counseling, High Risk Breast Cancer Clinic, Laboratory Services, Massage Therapy, Optical Shop, Pharmacy, and Urgent Care.