SouthCoast patient will swim at UGA, has high hopes for '20 Olympics
Wednesday, August 17, 2016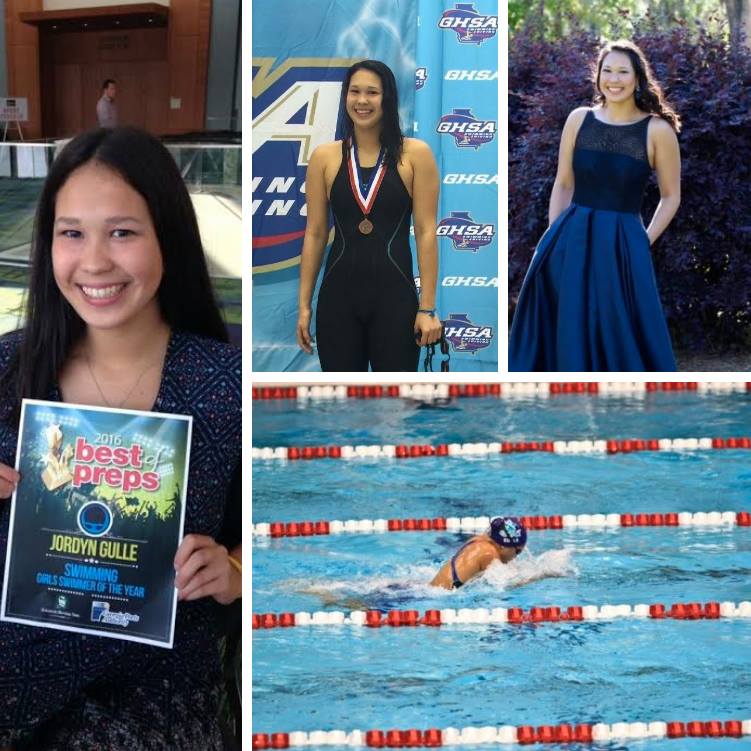 By the time the Rio Olympics are complete, the University of Georgia will have been represented by 27 current, former or incoming swimmers and divers.
Another Bulldogs' incoming swimmer, Jordyn Gulle, is a SouthCoast Health patient who is not competing at the Olympics but has hopes for the 2020 Olympic trials.
Gulle, a Richmond Hill High School graduate who was named the Savannah Morning News' 2016 Girls Swimmer of the Year, wasn't expecting to swim at Georgia when she began her high school career, knowing how competitive its program is — the Bulldogs have won three of the past four NCAA women's titles and are the reigning champions. Coach Jack Bauerle served as the U.S. women's coach at the 2008 Olympics in Beijing and is an assistant in Rio.
Gulle recalls once filling out Georgia's recruiting questionnaire with low expectations.
"I'm really surprised," she said. "I'm so happy with the way that things turned out."
Gulle and her family moved to the Savannah area in 2004 from Okinawa, Japan, where her father had worked on a U.S. military base as a civilian employee. Jordyn was five years old at the time. Ever since arriving in the Coastal Empire, her pediatrician has been SouthCoast Health's Dr. Keith Seibert. Dr. Seibert has followed Jordyn's athletic career and has cheered on her mother's social media posts that describe her daughter's latest successes.
"He's like a second father figure to me," Jordyn said of Dr. Seibert. "He's a great doctor. He's a great guy."
During her junior year, Jordyn was involved in a frightening car accident through no fault of her own. However, as a result of the wreck, her knee bothered her and her coach, Bill Forrester of the Georgia Coastal Aquatics Team, suggested that she visit her physician. Dr. Seibert reassured her that she was fine and that the knee would not affect her swimming.
"It was OK," she said. "He's super helpful for anything."
Jordyn continued to improve throughout her high school career and at the GHSA state meet this past Febarury, she placed third in the 100-yard breaststroke with a time of 1:02.74 and eighth in the 200 individual medley.
At Georgia, she will continue to swim the 100-yard and 200-yard breaststroke, which is said to be one of the most difficult techniques for swimmers.
"That's what everyone says but it's the easiest for me," said Jordyn, who also will swim the 200-yard individual medley in college. "I got the technique down really early. It comes really easy for me."
When she first met Bauerle, the UGA coach, she was a bit in awe. But he diffused that right away. Elite swimmers tend to be much taller than average. According to an analysis of the 2012 London Olympics, the average height of finalists in the 200 breaststroke was 5-foot-8½ while it was 5-11 in both the butterfly and 400 freestyle. Jordyn is 5-7.
"He's really funny," Jordyn said of her new coach. "The first time I met Jack he said, 'You're a breaststroker.' I guess my legs look a breaststroker's. One of my best friends is 5-4. It doesn't matter how tall you are if you have the talent."
Based on the times she has swam, one of Jordyn's goals is to make the finals of the breaststroke at the Southeastern Conference championships in February. Beyond that, they are set even higher.
"Obviously, [Georgia's] coaches really know what they're doing," Jordyn said. "I graduate in 2020. That's when the next Olympic trials are. I have high hopes for that. We'll see."
Learn more about SouthCoast Health pediatrician Dr. Keith Seibert here.
---
Whether you are looking for a primary care doctor or a pediatrician, or another medical specialist, SouthCoast Health has you covered with its wide range of world-class healthcare services, available throughout the Coastal Empire and Lowcountry. SouthCoast Health has 120 physicians and medical professionals in 18 locations in Savannah, Richmond Hill, Pooler, Rincon, Baxley, Bluffton, Hilton Head, Hinesville, and Statesboro. SouthCoast Health offers comprehensive medical services including: Family Medicine, Internal Medicine, Pediatrics, Allergy and Immunology, Cardiology, Endocrinology, Eye Care, Imaging, Infectious Diseases, Nephrology, Neurology, Physical Therapy, Podiatry, Sleep Medicine, Surgery, Clinical Trial Research Studies, Diabetic Self-Management Training Sessions, Dietetic Counseling, High Risk Breast Cancer Clinic, Laboratory Services, Massage Therapy, Optical Shop, Pharmacy, and Urgent Care.