6 Racing Tips From SouthCoast Health Physical Therapist Lisa Bettio
Tuesday, April 11, 2017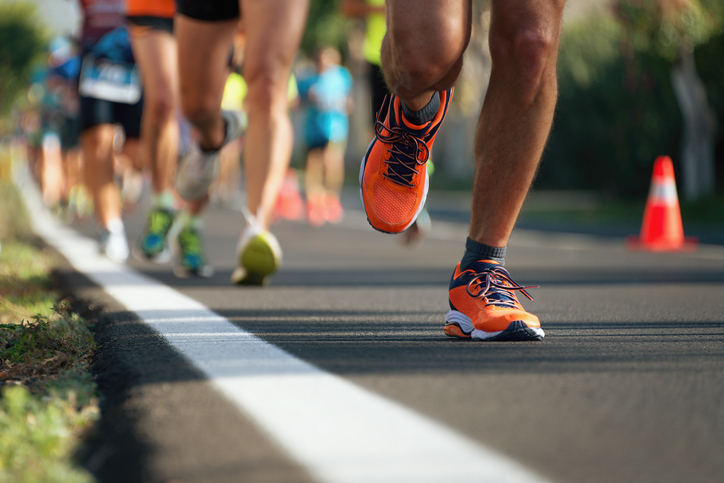 Six Racing Tips From SouthCoast Health Physical Therapist Lisa Bettio
Spring is a busy time around The Coastal Empire and Lowcountry, especially for runners! We've got the Nonstop Glow Run, the Susan G. Komen Race For The Cure, and the Big Nasty Mud Run, just to name a few. Whether this is your first time participating in a race or you're a veteran runner, check out these six tips from SouthCoast Health Physical Therapist Lisa Bettio to make sure you have a successful race season.
Eat properly.
In the days leading up to the race, a runner's carbohydrate intake should increase 70 to 80 percent beyond their usual daily calorie intake. Eating carbs during this time will help store plenty of energy in your body without making you feel sluggish. Eat your last meal 12 to 15 hours before the race to ensure full digestion.
Also, you will want to bring a snack to enjoy at the end of the race that you have eaten before. Bringing something that your digestive system knows well will avoid any inconveniences such as stomach aches.
Stay hydrated.
Staying hydrated during race day can be a tricky thing. Dehydration AND overhydrating are too serious issues that often happen to runners. Here are several ways to avoid that.
Don't drink large quantities of water in the minutes before a race. However, it's a great idea to drink 16 ounces two hours before, so that the water has had enough time to run out of your system while also providing for your body. Also, make sure to avoid any drinks that may be sponsored by your race that you haven't drunk before. A new drink could have unforeseen consequences on your stomach and other areas.
Use the correct warm up exercises.
Here is a resource with accurate warm-ups to perform before a race. Warm-up exercises should be dynamic, contrary to popular belief. Walking quickly for five minutes before going into a jog for two to three minutes will be the best way to guarantee your body is ready to run for extended periods of time.
Prepare!
Preparing for the race can help reduce stress and can also prevent injuries. Here are multiple ways to plan. The night before, pick out the appropriate clothing to wear. A good rule of thumb is to dress like it will be 15 degrees warmer than the predicted temperature. If it is going to be cold, bring sweatpants to wear to keep yourself warm before the race begins.
Try to go through the route prior if possible. Doing so will give you peace of mind and will also avoid any surprises such as potholes or dips in the pavement. Of course, planning to arrive early is a smart strategy as well.
Make sure to sleep eight full hours the night before your race. Resting your feet and your body create the energy needed to cross that finish line.
Go at your pace.
It might be tempting to match your pace to the speed of others in the race. However, after training for this race, only you know the best pace for yourself. Make sure not to overdo or underdo it, because your body will react accordingly. Going at your designated pace is the best way to be successful.
Avoid the unfamiliar.
Wearing new clothing or new shoes on the day of the race is a disaster waiting to happen. New shoes require breaking in, and new clothes can cause unforeseen discomfort. Make sure to wear clothing that you are comfortable in and have worn multiple times running before. As well, make sure to stick with stretches, warm-ups, and workouts that you have done before in the days before the race.
SouthCoast Health wishes everyone the best of the luck running this race season. If you would like to make an appointment with one of our SouthCoast Health physical therapists to learn the healthiest ways to run, click here.
---
Whether you are looking for a primary care doctor or a pediatrician, or another medical specialist, SouthCoast Health has you covered with its wide range of world-class healthcare services, available throughout the Coastal Empire and Lowcountry. SouthCoast Health has 120 physicians and medical professionals in 18 locations in Savannah, Richmond Hill, Pooler, Rincon, Baxley, Bluffton, Hilton Head, and Hinesville. SouthCoast Health offers comprehensive medical services including: Family Medicine, Internal Medicine, Pediatrics, Allergy and Immunity, Cardiology, Endocrinology, Eye Care, Imaging, Infectious Diseases, Nephrology, Neurology, Physical Therapy, Podiatry, Sleep Medicine, Surgery, Clinical Trial Research Studies, Diabetic Self-Management Training Sessions, Dietetic Counseling, High Risk Breast Cancer Clinic, Laboratory Services, Massage Therapy, Optical Shop, Pharmacy, and Urgent Care.