Understanding General Radiology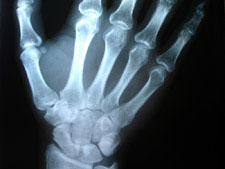 Diagnostic Radiology offers many exams for virtually any part of the body. These exams are performed by licensed radiologic technologists in an x-ray room. General radiologic procedures include, but are not limited to, digital x-rays of the chest, abdomen, spine, skull and extremities. A referral/request from the patient's physician must be presented prior to the examination.
How to Prepare for the Test
Diagnostic Radiology procedures may vary according to the type of test being administered and body part being studied. Usually, no special preparation is required. You do not need to stop your regular, daily activities, nor do you need to discontinue taking prescribed medications. Your physician should explain to you what test he is ordering and how to prepare for it. You also may call our facility and a qualified SouthCoast Imaging Center representative will answer your questions.
Please avoid wearing any metal objects, such as buttons, zippers or buckles as they can interfere with the area being studied. Some exams require the patient to change into a gown. At the time of the exam you will be asked to sit or lie on an x-ray table, and a technologist will position an x-ray machine over the part that is affected. You will be required to be still for several moments during the x-ray exposure.
Payment and Insurance
Please remember to bring your insurance information.
SouthCoast Imaging Center participates in most major insurance plans. We will be pleased to bill your insurance company for you, upon request.