The expert physicians, physician assistants, nurse practitioners and medical professionals of SouthCoast Health's Urgent Care clinic are available to treat you with the convenience of virtual visits.
When Is It Appropriate to Schedule a Virtual Visit?
While the COVID-19 Pandemic is forcing us all to distance ourselves, your health is important to us. Your physicians at SouthCoast Health advise you to keep your scheduled appointments unless instructed otherwise. While we have taken specific precautions to ensure that our offices are clean and safe for you to visit, we understand that some would prefer to stay at home.
Virtual visits are appropriate for a variety of care needs, including urgent care, wellness exams, routine follow-up visits, chronic disease management, medication management, reviewing test or lab results, and lifestyle coaching. Common illnesses including sinus problems, respiratory infections, allergies, cold and flu symptoms and many other non-emergency illnesses can be treated virtually.
What Do I Need for a Virtual Visit?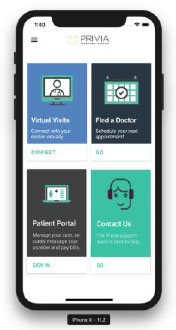 There are a couple technological requirements we suggest to ensure you have a seamless experience. Make sure you are using a device with a webcam, microphone and strong internet connection. E.g., a laptop, mobile phone or tablet.
For the optimal experience, use the Google Chrome web browser on your laptop or desktop computer. If using a mobile device or tablet, download the myPrivia mobile app in the Apple or Google Play app store in advance of your visit.​ After downloading what you need, return to the message we sent to your email to get started!



Video Demonstrations
View a demonstration for smartphone users
View a demonstration for laptop/desktop users