What is Nuclear Medicine?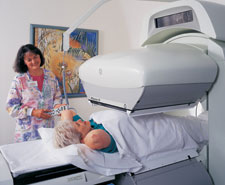 Nuclear medicine testing is a broad term that covers a number of different diagnostic tests, including scans of the liver, thyroid, heart, brain, gall bladder and bones. Nuclear medicine is used not only to diagnose conditions, but also to manage, treat and prevent serious disease.
Unlike diagnostic radiology procedures, which are based upon anatomy, nuclear medicine testing provides information about both the structure and function of nearly every major organ system in the body.
Nuclear medicine testing uses trace amounts of radioactive materials, or isotopes, to diagnose and treat disease. Isotopes are substances that are attracted to specific organs, bones or tissues. During nuclear medicine tests, they emit gamma rays that can be detected outside the body by gamma or PET cameras. From data gathered by the camera, computers then form images that provide diagnostic information about the area of the body being studied.
Nuclear medicine testing is safe and painless. The amount of radiation in a nuclear medicine test is equivalent to that received during an X-ray.
What Can Nuclear Medicine Tests Diagnose?
Approximately 100 different nuclear medicine imaging procedures are available today with applications in neurology, oncology, orthopedics, cardiology, pulmonology, endocrinology, urology, gastroenterology and more. Some of the more common uses of nuclear medicine imaging include the following:
Diagnose and treat hyperthyroidism (Grave's Disease)
Cardiac stress tests to analyze heart function
Diagnose coronary artery disease and determine if the patient is a candidate for bypass surgery or angioplasty
Diagnose stroke and Alzheimer's Disease
Bone scans for orthopedic injuries
Liver and gall bladder procedures to diagnose abnormal function or blockages
How to Prepare for the Test
Nuclear medicine tests may vary according to the type of test being administered and body part being studied. Usually, no special preparation is required. You do not need to stop your regular, daily activities, nor do you need to discontinue taking prescribed medications. Your physician should explain to you what test is being ordered and how to prepare for it. You also may call our facility and a qualified SouthCoast Imaging Center representative will answer your questions.
Be sure to tell your doctor if you are pregnant, think you might be, or if you are breastfeeding. Radioactive isotopes should not be administered during pregnancy or while you are lactating.
Your Visit
In general, nuclear medicine tests are administered in three steps:
You will first be given an isotope (a material that will highlight the area in your body to be examined) either by mouth in a capsule form or through an injection in your arm. Other than the slight discomfort of the needle from an injection, nuclear medicine is totally painless. You will wait for the specified amount of time before the scan begins to allow the isotope to work its way through your system and concentrate in the area to be examined.
Next, the pictures are taken. Depending on the test, you may be asked to sit, stand or lie on a table for the camera. It is very important to remain as still as possible during the test. Any movement may blur the image results and make them difficult to interpret.
Finally, the images are reviewed and analyzed. A radiologist will interpret your exam and send the results to your doctor as soon as possible.
The length of time it takes to perform a nuclear medicine procedure depends on the type of test. More than likely, you won't have to change and will be wearing your own clothes throughout the entire procedure.
You will be able to resume normal activity as soon as the test is finished. The isotopes remain in your body for a brief period but do not have any adverse effects and are eliminated through natural bodily functions. Drinking fluids will help eliminate the tracer more quickly.
Payment and Insurance
Please remember to bring your insurance information.
SouthCoast Imaging Center participates in most major insurance plans. We will be pleased to bill your insurance company for you, upon request.