How To Safely Enjoy the August 21 Solar Eclipse
Thursday, August 17, 2017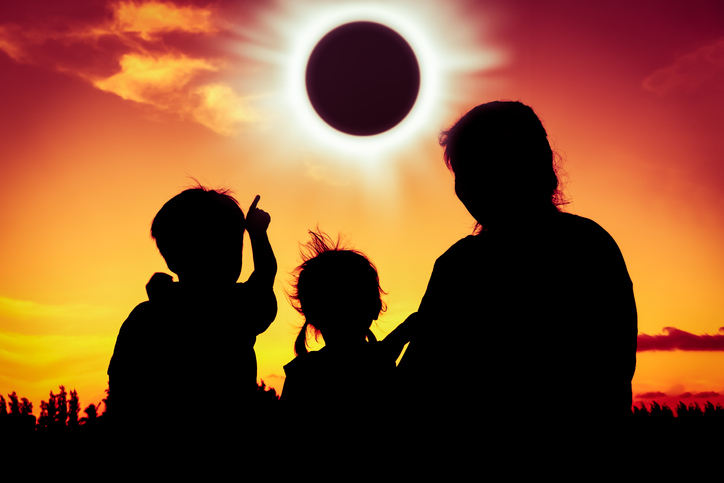 For the first time since 1979, a solar eclipse will be traveling across North America, and many Georgia residents will be lucky enough to witness the event! Unfortunately, there are very real health dangers associated with observing this type of celestial phenomenon.
"Everyone knows you're not supposed to stare directly at the sun," SouthCoast Health Ophthalmologist Dr. Stephanie Croll explained. "But not many people understand the same is true for an eclipse. Unfortunately, looking directly at an eclipse is just as dangerous as staring at the sun and can leave people with retinal burns and permanent loss of vision."
To help community members stay safe while still enjoying this rare occasion, we're reviewing the safety basics of observing a solar eclipse.
What is a solar eclipse?
A partial solar eclipse will be viewable across the entire continental United States. A total solar eclipse happens only when the moon travels in-between the sun and the Earth, so that the moon's shadows perfectly blocks the sun from Earth's view. On August 21, those watching will get to see the moon's shadow slowly pass over the sun.
However, this process is only visible on the eclipse's path of totality: a thin area of space, roughly around 70 miles wide, that crosses the U.S from the west to the east. The first location people will be able to see it is at Lincoln Beach, Oregon while the last will be in Charleston, SC. The Lowcountry and Coastal Empire including greater Savannah and Hilton Head falls right outside that path. The solar eclipse will reach Savannah soil at approximately 1:15 p.m. and will stay until 4:09 p.m, with a large percentage of totality occurring approximately at 2:45 p.m.
What are the dangers of viewing a solar eclipse?
Even though the moon is covering the sun, the sun's rays are still present and very damaging. In fact, looking directly at the solar eclipse can harm your eyes in a matter of seconds. The longer the exposure, the greater the risk of permanent reduction in vision and even blindness. Unfortunately, many people won't know something is wrong until after the fact.
But, don't fret. You can enjoy the eclipse without harming your eyes!
How can I protect my eyes?
The only safe way to look directly at the eclipse is through special-purpose solar filters, such as "eclipse glasses" or hand-held solar viewers. Unfortunately, there have been many cases of counterfeit version being sold. Amazon recently recalled brands of eclipse glasses for fear of fraud. With this in mind, American Academy of Ophthalmology recommends buying eclipse glasses from one of these reputable vendors.
If you are unable to secure the proper solar filters to view the eclipse, a safe alternative is to view on the eclipse on television or online. NASA plans to live stream the eclipse on Monday. A solar eclipse is one of nature's grandest spectacles. By following these simple rules, you can safely enjoy the view and be rewarded with memories to last a lifetime. If you have any more questions about the safety of your eyes during the eclipse's arrival, the SouthCoast Health Eye Care Department is happy to answer any questions and are available for any of your eye care needs. Schedule an appointment.
---
Whether you are looking for a primary care doctor or a pediatrician, or another medical specialist, SouthCoast Health has you covered with its wide range of world-class healthcare services, available throughout the Coastal Empire and Lowcountry. SouthCoast Health has 120 physicians and medical professionals in 18 locations in Savannah, Richmond Hill, Pooler, Rincon, Baxley, Hilton Head, Hinesville, and Statesboro. SouthCoast Health offers comprehensive medical services including: Family Medicine, Internal Medicine, Pediatrics, Allergy and Immunology, Cardiology, Endocrinology, Eye Care, Imaging, Infectious Diseases, Nephrology, Neurology, Physical Therapy, Podiatry, Sleep Medicine, Surgery, Clinical Trial Research Studies, Diabetic Self-Management Training Sessions, Dietetic Counseling, Laboratory Services, Massage Therapy, Optical Shop, Pharmacy, and Urgent Care.