Five Key Health Tips for Women on National Women's Health and Fitness Day
Monday, September 18, 2017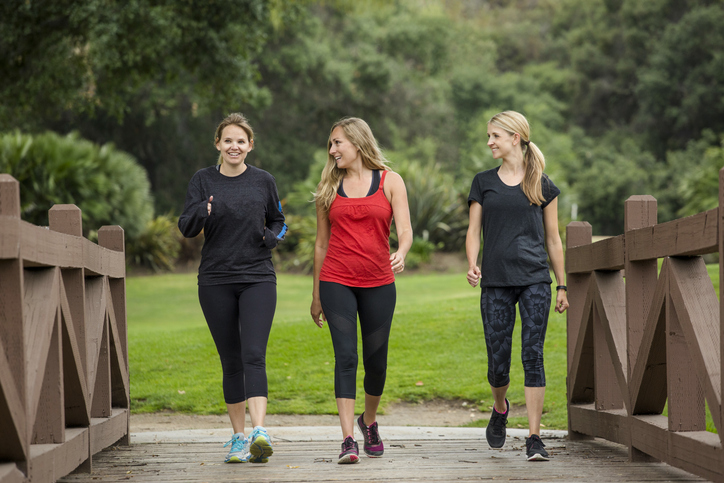 It is important for women to focus on their physical health, particularly as they reach their 40's and 50's. Often, at that time in many women's lives, they are so focused on the health of those around them. But in addition to managing the health of their children and partner, it's important for women to remember to take care of themselves as well.
To help the women in our community refocus on their own health, we're sharing five key health reminders to keep you on the path towards total wellness.
Learn Stress Management

While stress is often unavoidable, chronically high levels of stress can have serious harmful effects on your body. These effects can range from less invasive issues like trouble focusing or remembering things, to more serious health concerns like trouble sleeping or eating and chronic fatigue.

To help combat this, try to carve out some de-stress time for yourself each week. This could mean an hour of quiet reading time, a relaxing bath, a 20-minute power nap, or even a walk around your neighborhood to clear your head. These small weekly routines can make a big difference in your overall stress levels.

Don't Just Diet, Aim for Better Eating

Women often feel heavy societal pressure to look a certain way. One of the negative side effects of this pressure is the popularity of unhealthy, extreme dieting methods. If you're looking to change up your diet for the better, opt for subtle changes in your eating habits and strive to have a diet filled with greens, fruits, smart carbs, fiber, healthy fats, and proteins. Don't feel like you have to cut out every single treat, just remember to keep them in moderation. And lastly, don't be afraid to ask for professional help from a nutritionist or dietetic counselor.

Pick up the Habit of Working Out

When you have a long list of to-dos for you and your family each week, fitting in time to workout can seem impossible. But finding a way to make it happen is one of the primary keys to living a healthy lifestyle. Not sure where to start? Develop a flexible workout plan that offers a healthy mix of cardio, resistance, or weight-bearing exercise and aim for two to three sessions per week. If you're not able to workout that frequently, exercising even just three to five times a month can help prevent osteoporosis, heart disease, and diabetes. Overall, it's important to take the time to find which workout plan works best for you. Consider investing in a gym membership for encouragement from other people in the same situation as you!

Don't Skimp on Sleep

Make sure you're getting enough sleep for your age. When you don't get enough rest, issues with concentrating, mood, and productivity are likely to arise. Not to mention lack of sleep has also been linked to more serious health issues like heart disease, obesity, diabetes, and shorter life expectancy. It's not always an easy task, but keeping a regular sleeping schedule is one of the most important keys to ensuring you get the restful shut-eye you need.

Keep Up Those Yearly Check-Ups

The importance of keeping up with yearly check-ups can't be overstated. These annual wellness visits are the best way to prevent avoidable health issues and identify unavoidable ones before they become too serious. While the specific recommendations about what exams should take place during this annual visit vary by age and background, the important thing is to keep up the habit and develop a close relationship with your primary healthcare provider.

The most important thing to remember is that your health truly matters, and it's important to keep it a top priority in your life. If you have any other questions or want more suggestions for improving your overall health, click here to schedule an appointment with a SouthCoast Health physician today.
---
Whether you are looking for a primary care doctor or a pediatrician, or another medical specialist, SouthCoast Health has you covered with its wide range of world-class healthcare services, available throughout the Coastal Empire and Lowcountry. SouthCoast Health has 120 physicians and medical professionals in 18 locations in Savannah, Richmond Hill, Pooler, Rincon, Baxley, Hilton Head, Hinesville, and Statesboro. SouthCoast Health offers comprehensive medical services including: Family Medicine, Internal Medicine, Pediatrics, Allergy and Immunology, Cardiology, Endocrinology, Eye Care, Imaging, Infectious Diseases, Nephrology, Neurology, Physical Therapy, Podiatry, Sleep Medicine, Surgery, Clinical Trial Research Studies, Diabetic Self-Management Training Sessions, Dietetic Counseling, Laboratory Services, Massage Therapy, Optical Shop, Pharmacy, and Urgent Care.