Overcoming Common Obstacles to Staying Healthy During the Holidays: [PART 1] Fight Against Mindless Eating
Tuesday, November 21, 2017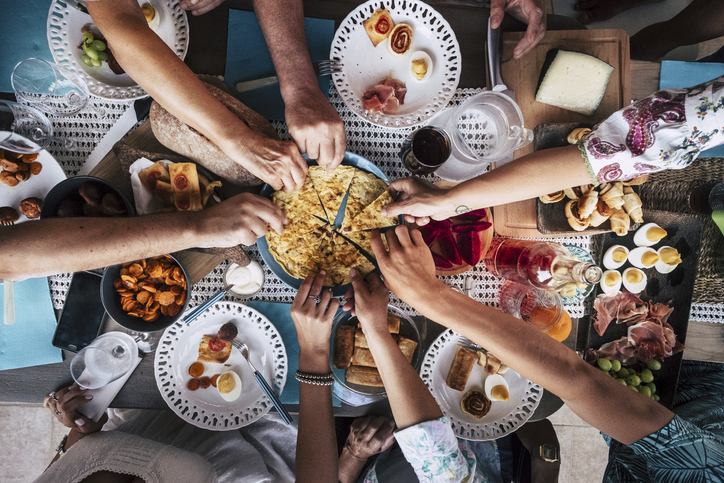 The holiday season is synonymous with delicious food, relaxing, travel, and celebration. But staying healthy? Not so much.
So, for those actively working on their healthy eating habits, this time of year can be especially frustrating. Well-known holiday foods don't exactly encourage positive eating habits. Plus, when you're on the go, reaching for something healthy isn't always the first thing on your mind.
But according to SouthCoast Health's Registered Dietitian, that doesn't mean all hope is lost!
"It is possible to eat with a healthy pattern the holiday season if you go into this time of year with a plan," SouthCoast Health Registered Dietitian, Rebekah Laurance, RD, LD said. "It can be hard to stick to your goals this time of year. To combat this, go in prepared to deal with these indulgences. It is also important to recognize that having two or three days of less than ideal nutrition is not a good reason to give up on your goal! Get through the holidays, roll with it, and get back on your schedule.
If you're working hard on maintaining healthy eating habits, don't let the holidays throw you off. Follow these tips to stay on track:
Watch Portions
As tempting as it is to pile your plate high with all of the mouth-watering holiday foods, it is not beneficial to our health. Use sensible, small portions of the foods that you want to eat the most, and reach for the healthy things first. Putting greens, fruits, and lean proteins on your plate before other foods will help you get the nutrients your body needs versus loading down on high-calorie foods.
Another great trick is using small plates and glasses, which encourage correct portion sizes and makes it harder to overeat.

2. Prepare
Know your holiday schedule beforehand and plan accordingly, especially if you'll be traveling.
For example, if you have multiple Thanksgiving plans to fit into one weekend, plan to eat smaller portions at each meal so you're able to participate at each event but not completely stuffed at the end of the day. If it's the opposite and you have one big Thanksgiving meal on your schedule, make sure to eat a good breakfast before heading out to avoid the temptation to overeat.
Similarly, if you're traveling, it pays to plan ahead. Prep healthy snacks and meals to bring along. This way it won't be as tempting to eat something unhealthy from the airport or at a fast food restaurant along the way.
If you are in charge of a dish or most of the meal, try a new recipe or make simple switches to your favorite recipe to improve the nutrition of the dish. Try substituting plain low-fat yogurt for mayonnaise or sour cream in a casserole, or choose a low fat cheese to help with reducing calories and fat from that dish. Having something fresh on your holiday table, like a colorful salad or sautéed green beans with toasted almonds (instead of the standard casserole) can add a different element to your meal.
Finally, eat a small, healthy snack before heading out to any holiday parties or shopping trips. Having something healthy in your system beforehand will help you avoid grabbing something less balanced at the food court or at the party.

3. Focus on What You're Eating
Mindless eating is a major problem for those working on their wellness habits. It especially can be a large obstacle to overcome during the holidays. It's incredible easy to not be focusing on what you're eating when distracted by family, friends, conversation, or the Macy's Day Parade on the TV.

Nevertheless, here's why this step really matters:
It encourages you to eat slower, which fills you up quicker than if you were eating fast.
It keeps you accountable with your healthy eating goal as you are focusing more on the amount of food going into your body.
If you're aware of where you're standing in relation to the appetizers or snacks, you'll be less likely to indulge in those often-unhealthy foods.
You'll be less likely to not eat when you're full.
4. Keep Track of What You're Eating
It's tempting to not write down what you're eating or avoid using your favorite food tracker apps during the Holiday break. However, it's important to do the opposite. Continue with these habits to keep yourself accountable.

5. Choose Indulges Wisely
Of course, you shouldn't completely deprive yourself of yummy holiday treats this time of year! The trick is to limit yourself from eating too much. Pick only one dessert to enjoy, or, if you'd like, take small bites of the multiple desserts from friends and family willing to share. Limiting yourself will keep you from overeating and stay on track for your diet goals.

6. Keep up with Exercise
Just because it is the holidays, does not mean we should avoid exercising. It is always a temptation to take a long nap after the big meal but this is counterproductive to a healthy lifestyle. Taking a walk after the Thanksgiving Day meal or playing football will help aid in digestion and help you stay on track with weight management.
Fight against mindless eating and be proactive in your eating decisions this holiday season. Follow the tips above, and you'll be enjoying the holiday season AND staying healthy. If you have any other questions or would like to schedule an appointment with a SouthCoast Health Registered Dietitian, click here.
Also, be sure to read PART 2 in our health holiday season blog series for tips on keeping up with your fitness goals during the holiday season!
---
Whether you are looking for a primary care doctor or a pediatrician, or another medical specialist, SouthCoast Health has you covered with its wide range of world-class healthcare services, available throughout the Coastal Empire and Lowcountry. SouthCoast Health has 120 physicians and medical professionals in 18 locations in Savannah, Richmond Hill, Pooler, Rincon, Baxley, Hilton Head, Hinesville, and Statesboro. SouthCoast Health offers comprehensive medical services including: Family Medicine, Internal Medicine, Pediatrics, Allergy and Immunology, Cardiology, Endocrinology, Eye Care, Imaging, Infectious Diseases, Nephrology, Neurology, Physical Therapy, Podiatry, Sleep Medicine, Surgery, Clinical Trial Research Studies, Diabetic Self-Management Training Sessions, Dietetic Counseling, Laboratory Services, Massage Therapy, Optical Shop, Pharmacy, and Urgent Care.