Manage Your Diabetes with SouthCoast Health Diabetic Self-Management Training Sessions
Wednesday, November 29, 2017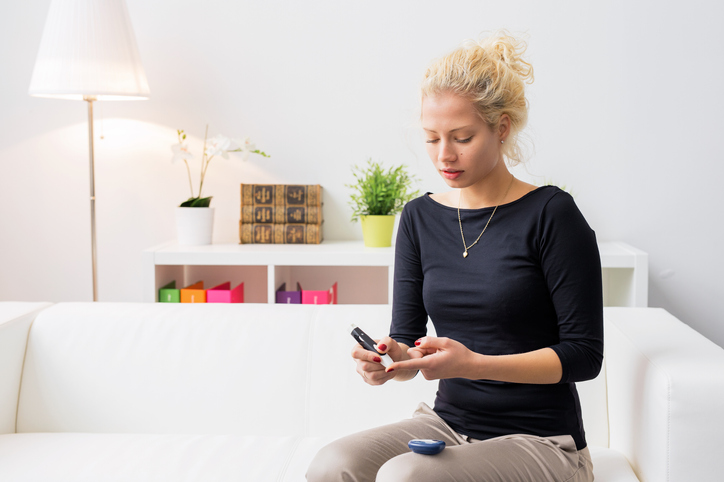 The Centers for Disease Control and Prevention (CDC) recently identified the southern United States as a "Diabetes Belt," meaning that those who live in our area are more likely to have type 2 diabetes than anyone else in the United States.
"This is a concerning discovery," Internist and Primary Care Physician Dr. Douglas Perry said. "Those who live with diabetes often have difficult daily routines to manage, which can quickly become overwhelming. They have to be extremely vigilant in watching what they eat, how active they are, what medicines they're taking, and how they're taking them."
That's why SouthCoast Health is proud to offer Diabetic Self-Management Training Sessions. These sessions are designed to teach the skills necessary for managing diabetes, such as creating meal plans and how to check blood pressure. SouthCoast Health's primary care physicians, such as Dr. Perry, are nationally recognized by The National Committee for Quality Assurance (NCQA) for their diabetic care and aim to educate everyone on how to live a long, healthy, and fulfilling life while also avoiding the medical issues common with this disease.
Let's dive deeper into what these sessions offer and why they are so important.
A Step Beyond Eating Healthy
While everyone should be mindful of the food they're consuming, those with diabetes have to also consider their blood sugar levels in everything they eat. For example, carbohydrates have a big impact on blood sugar levels, so it's essential that diabetics limit the intake of these foods. As well, every meal needs to have a good mix of starches, fruits, vegetables, proteins, and fats. Avoiding sugar-sweetened beverages, like soda, and planning the correct proportion of meal to medication are also musts.
Doing all of these things helps prevent blood sugar levels from dropping too low or growing too high, which also prevents nasty health side effects such as headaches, shivers, irritability, or even seizures.
The best way to handle all of these requirements? Meal prepping. That's exactly what our Diabetic Self-Management Training Sessions teach. We help craft a plan that outlines the best foods to eat during meals and snack times while keeping in mind everything mentioned above and more.

2. Striking a Balance with Exercise
With any form of exercise, our muscles use the sugar in our body for energy. This is a concern for diabetics who risk serious health issues if the sugar in their body reaches a level that is too high or too low. However, regular physical activity also helps our bodies take in insulin more effectively. It's tricky to balance both, but our Diabetic Self-Management Training Sessions are experts in this field.
In our classes, we go over the best tips and tricks to creating workout guides that strike the perfect balance in achieving wellness goals without going overboard and pushing oneself too hard. That way, the best of both worlds is achieved!

3. The Particulars of Medication
For those with diabetes, medications can quickly become overwhelming. Not only do you need the correct medication for managing blood sugar levels, but there are also strict guidelines for proper storing and consuming. Even missing one dosage can lead to serious health risks. Our highly skilled professionals give the tips needed to manage this overwhelming task while going over the methods that keep these important medicines in perfect condition.

4. Blood Sugar Tracking
Constantly monitoring blood sugar levels is a part of being diabetic. This can be overwhelming, especially for those who have never had to do it before. However, if blood sugar levels drop too low or too high, those with diabetes risk symptoms such as trouble thinking clearly, pounding heartbeats, blurry vision, and anxiousness. Not only do those participating in the class receive a free monitor, they also learn the best method and tricks for examining blood sugar levels.
Whether you've been recently diagnosed with diabetes or you've had this diagnosis for years, let the professionals at SouthCoast Health help you manage this aspect of your life. Click here to schedule an appointment and get enrolled in a training session today!
---
Whether you are looking for a primary care doctor or a pediatrician, or another medical specialist, SouthCoast Health has you covered with its wide range of world-class healthcare services, available throughout the Coastal Empire and Lowcountry. SouthCoast Health has 120 physicians and medical professionals in 18 locations in Savannah, Richmond Hill, Pooler, Rincon, Baxley, Bluffton, Hilton Head, and Hinesville. SouthCoast Health offers comprehensive medical services including: Family Medicine, Internal Medicine, Pediatrics, Allergy and Immunity, Cardiology, Endocrinology, Eye Care, Imaging, Infectious Diseases, Nephrology, Neurology, Physical Therapy, Podiatry, Sleep Medicine, Surgery, Clinical Trial Research Studies, Diabetic Self-Management Training Sessions, Dietetic Counseling, High Risk Breast Cancer Clinic, Laboratory Services, Massage Therapy, Optical Shop, Pharmacy, and Urgent Care.