Treat Your Eyes Right this Holiday Season with New Glasses from SouthCoast Health Optical
Tuesday, December 12, 2017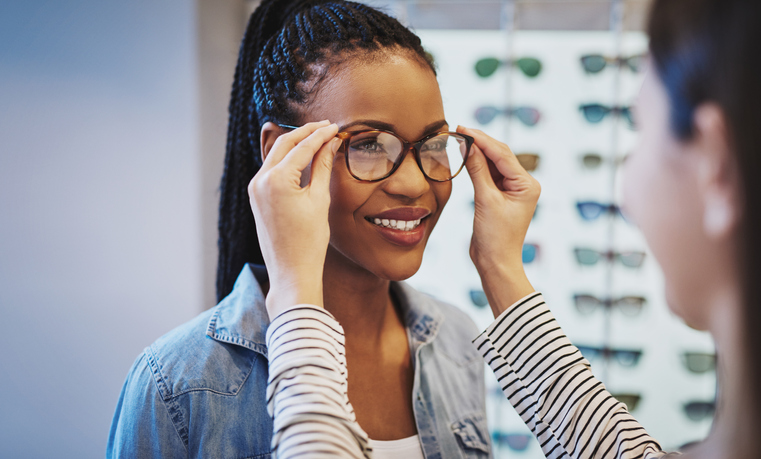 The new year is almost here! While it may be easy to forget about yourself during the bustle of holiday shopping, you deserve something special to celebrate the holidays and the end of a year. If you wear glasses, there's no better way to treat yourself than by grabbing a new pair of specs. Not to mention, your insurance benefits or flex accounts may expire at the end of the year. It's a great idea to invest in some quality eyewear before the new year starts and you lose that money! As always, check with your insurance provider to determine the specific requirements of your plan.
Whether you're looking for a pair to go with every outfit or to finally retire an old pair that is falling apart, SouthCoast Health has the best tools and staff necessary to find the perfect match for you.
SouthCoast Health Optical
Our opticians are ready to give you both a professional and personalized experience, working with the latest designer glasses to find the frame that best meets your needs. For your convenience, we accept outside prescriptions and provide comprehensive eye services through our eye care department.
Updating your glasses can do more than improve your style.
End-of-year deductibles and the holiday season are not the only reasons to treat yourself to new glasses, there are also health considerations.
Squinting: Finding yourself squinting to see things clearly even when you have your glasses on? That's a warning sign that your prescription isn't up-to-date. The American Optometric Association (AOA) recommends scheduling a comprehensive eye exam every two years. If it's been more than two years for you or you're not able to see as clearly, schedule an appointment with one of our eye-care specialties, such as Dr. Stephanie Croll or Dr. Edward Sammons.
Damaged Lens: Scratches or damages to your glasses can severely impact your quality of vision. If your lenses are damaged, it's time to bite the bullet and get new ones.
Headaches: If you wear glasses and suffer from chronic headaches, the culprit could be your old glasses. Overworking your eyes or looking through outdated and damaged glasses can often cause headaches.
Looking for a variety of options? SouthCoast Health Optical has you covered.
SouthCoast Health Optical offers a wide selection of glasses to suit any style or taste. We offer frames by Nike, Lacoste, Valentino, Nautico, Columbia, and many more.
There's no better time than the holidays to treat yourself to a new pair of glasses. Start the new year off right by scheduling an appointment with our expert team of ophthalmologists and by planning a trip to SouthCoast Health Optical!
---
Whether you are looking for a primary care doctor or a pediatrician, or another medical specialist, SouthCoast Health has you covered with its wide range of world-class healthcare services, available throughout the Coastal Empire and Lowcountry. Founded in 1996, SouthCoast Health has 120 physicians and medical professionals in 17 locations in Savannah, Richmond Hill, Pooler, Rincon, Baxley, Hilton Head, Hinesville, and Statesboro. SouthCoast Health offers comprehensive medical services including: Family Medicine, Internal Medicine, Pediatrics, Allergy and Immunology, Cardiology, Endocrinology, Eye Care, Imaging, Infectious Diseases, Nephrology, Neurology, Physical Therapy, Podiatry, Sleep Medicine, Surgery, Clinical Trial Research Studies, Diabetic Self-Management Training Sessions, Dietetic Counseling, Laboratory Services, Massage Therapy, Optical Shop, Pharmacy, and Urgent Care.