The 5 New Year's Resolutions That Will Have the Most Impact on Your Overall Health
Wednesday, December 27, 2017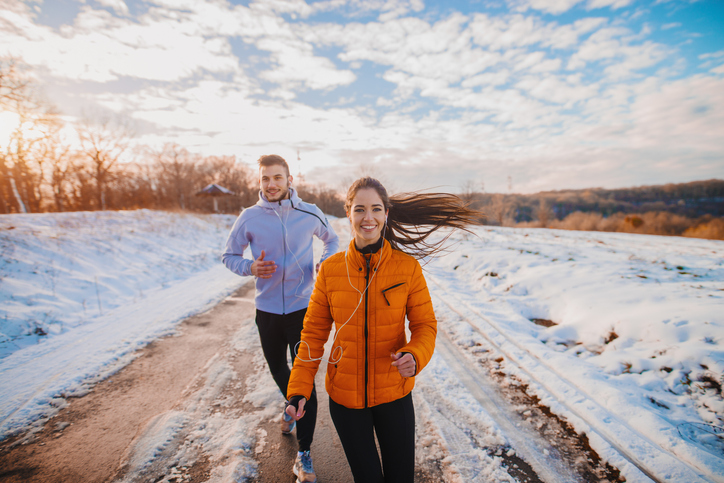 The new year is fast approaching, which means it's time to make New Year's resolutions. While it may be tempting to go for the usual goals, like exercise more or lose weight, sometimes unstructured goals like that make it impossible to follow through.
"It's great that everyone starts to think about their health and total well-being during this time of the year," SouthCoast Health's Family Medicine and Primary Care Physician Dr. Chris Oldfield said. "But the key to creating successful New Year's resolutions that truly have an impact on your health is by creating smaller, tangible goals divided into steps."
If you've tried and failed for years to complete health-related New Year's resolutions, it might just be the goals you're making. To help, we've put together five New Year's resolutions that will have a positive impact on you and your health.
Change Your Outlook
When trying to change your health and lifestyle habits, it's easy to adopt the "it's all or nothing" mentality. However, that line of thinking can make it easier for mistakes and frustrations. Instead of broad goals like cutting out all sugar from your diet, focus on smaller decisions that benefit both you and your body instead. Each smart and positive decision you make towards becoming your healthiest self is a fantastic step in the right direction and gets you closer to your goal.
Here are a few great examples -- instead of reaching for a soda, fill up a glass of water. Instead of parking close to work, park further away to increase your steps for the day. The more you make decisions similar to this, the closer you get to your goals.
2. Make Exercise a Part of Other Routines
It's hard to fit in time to go to the gym, but cardio is the key to a happy and healthy heart. A great way to get up and moving every day is by sneaking in exercise whenever possible. Actively choose to walk more by using tricks like a smaller cup of water, which means more walking for refills, visiting a coworker's desk instead of emailing them, using the stairs instead of the elevator, and going for short walking breaks during work. If you do three, ten minute walks throughout the day, you've completed thirty minutes of cardio.
3. Focus on Quality over Quantity when it Comes to Dieting
If you're tempted to start a complicated diet, focus instead on what you're putting in your body over how much you're putting in. Focus on eating more leafy greens, sweet fruits, healthy proteins, and fiber-rich foods. Vow to cook more of your own foods so you can lower the intake of salt, fats, and unwanted chemicals. Striving for tangible steps like this will have a much more positive impact on your body versus attempting a diet that will leave you feeling frustrated and hungry.
4. Unplug
While phones and the advance of technology are an important part of society, they also have a negative impact. Research found that using your phone for long periods of time can increase your risk of depression, social anxiety, job burnout, and even allergies. If your bedtime routine includes playing on your phone, then it also impacts your quality of sleep.
The solution? Shoot to spend at least one hour each day completely unplugged. Use that time instead to focus on loved ones, practice a favorite hobby, or just relax. Opt for books before bedtime to avoid your phone and blue light interrupting your sleep cycle. If this idea disturbs you or makes you uncomfortable, you just might have an unhealthy phone addiction.
5. Follow Through and Receive Yearly Check-Ups
Make it a New Year's resolution to get up-to-date on all of your yearly check-ups, especially if it's been a while since your last one. Visit your primary care doctor for a physical and blood testing, visit your dermatology for a full body check, visit your dentist for a cleaning and inspection, and either visit your gynecologist or urologist for an exam. Keeping up with all of these yearly exams could potentially save your life by preventing diseases from developing.
If you'd like to consult with a physician on which New Year's Resolutions would be best for you and your health goals, click here to schedule an appointment with a SouthCoast Health team member today.
---
Whether you are looking for a primary care doctor or a pediatrician, or another medical specialist, SouthCoast Health has you covered with its wide range of world-class healthcare services, available throughout the Coastal Empire and Lowcountry. SouthCoast Health has 120 physicians and medical professionals in 18 locations in Savannah, Richmond Hill, Pooler, Rincon, Baxley, Hilton Head, Hinesville, and Statesboro. SouthCoast Health offers comprehensive medical services including: Family Medicine, Internal Medicine, Pediatrics, Allergy and Immunology, Cardiology, Endocrinology, Eye Care, Imaging, Infectious Diseases, Nephrology, Neurology, Physical Therapy, Podiatry, Sleep Medicine, Surgery, Clinical Trial Research Studies, Diabetic Self-Management Training Sessions, Dietetic Counseling, Laboratory Services, Massage Therapy, Optical Shop, Pharmacy, and Urgent Care.