The Key to a Happy and Healthy Heart? Your Stomach!
Wednesday, January 31, 2018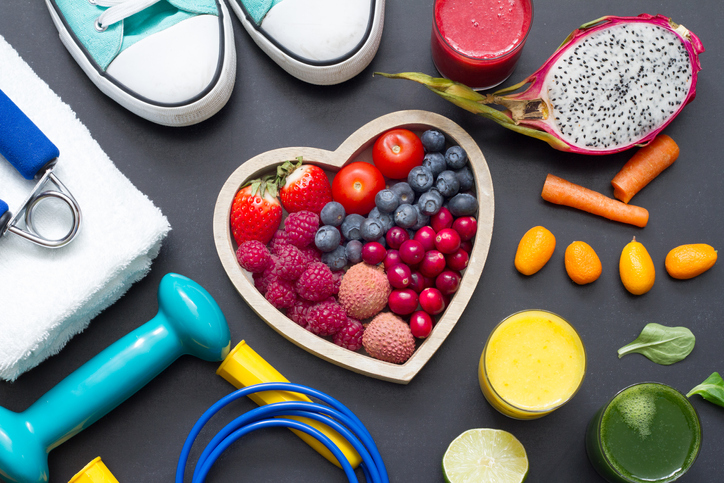 Heart disease is the leading cause of death for both men and women in the United States. With February being Heart Health Month, we wanted to do our part in lessening the amount of people affected by this horrible disease.
"Heart disease is often preventable," SouthCoast Health Cardiologist Dr. Roy Flood said. "One of the biggest ways to do so is by looking at your daily habits. Ask yourself if what you are doing right now is actively contributing to a healthy lifestyle."
For many, that is easier said than done, especially when it comes to maintaining a healthy diet. To make it easier, we've broken down which foods to reach for and which to avoid on your journey to ideal heart health.
Foods to Reach For
The biggest goals to strive for when eating for heart-health is ensuring all major food groups are appropriately represented in your daily diet.
Fruits and vegetables: Pile on those greens and fruits! While it's always ideal to eat fresh fruits and veggies, if you need to save time, frozen and canned options are also good alternatives. Just make sure to reach for products without added salt or sugars.
Whole grains: Aim to eat fiber-rich whole grains for healthy side options, like delicious whole wheat bread, oats, quinoa, or wild rice.
Low-fat dairy products: When reaching for dairy, select the fat-free, skim, or low fat options.
Poultry and Fish: Salmon, trout, and herring contain big portions of omega-3 fatty acids, which are great for your heart health. Aim to eat these at least twice a week, preparing them without their skin and without added saturated and trans fat.
If you take the things listed above and implement them in your day-to-day meal prep, you'll be giving your heart the health and love it needs.
Foods to Avoid
If you want to keep your heart happy and healthy, then there are certain foods you should always try to avoid. In general, it's a good rule of thumb to avoid food items high in calories but low in nutrients.
Sugary items: Sugar is a big contribution to unhealthy diets and clogged hearts. Totally avoid unnatural sugars if at all possible. Since high levels of sugar can usually be found in most processed foods, if you're not careful, you could be consuming much more sugar than you even realize. Read nutrition labels vigilantly.
Non-water drinks: It's often easy to overlook how high-calorie beverages can be. Sodas, alcohol, and even coffee can have lots of hidden calories and sugars. If possible, aim to just drink water. However, if you love coffee, limit the amount of creamer or added flavors. And, if you love to drink, shoot for drinks with fewer calories like low-calorie beer or wine.
Lots of Sodium: Limiting sodium is key for lowering blood pressure. A good goal is less than 2,400 milligrams of sodium a day. The easiest way to do this is by being mindful of added salts in the foods you purchase and consume. Reach for natural foods first and get pre-packaged foods without added salts.
Fats: Avoiding fats can be tricky, as some fats are nutritious and good for your body. Limit saturated fats and trans fat at all costs. Instead, look for more monounsaturated and polyunsaturated fats. What does this look like? Good examples of both would be olive oil, corn oil, soybean oil, and sunflower oil. Saturated fats include fatty beef, chicken with skin, butter, cheese, and ice cream. Trans fats include fried foods and baked goods.
We totally understand that sometimes it's hard and overwhelming to avoid all of these items. It's okay for these to slip into your diet every once and a while. Just be moderate in your consumption but also remember to enjoy yourself every once and a while. The bottom line is: strive but don't stress.
If you have any more questions or are worried about your heart health, click here to schedule an appointment with a SouthCoast Health physician today!
---
Whether you are looking for a primary care doctor or a pediatrician, or another medical specialist, SouthCoast Health has you covered with its wide range of world-class healthcare services, available throughout the Coastal Empire and Lowcountry. SouthCoast Health has 120 physicians and medical professionals in 18 locations in Savannah, Richmond Hill, Pooler, Rincon, Baxley, Hilton Head, Hinesville, and Statesboro. SouthCoast Health offers comprehensive medical services including: Family Medicine, Internal Medicine, Pediatrics, Allergy and Asthma, Cardiology, Endocrinology, Eye Care, Imaging, Infectious Diseases, Nephrology, Neurology, Physical Therapy, Podiatry, Sleep Medicine, Surgery, Clinical Trial Research Studies, Diabetic Self-Management Training Sessions, Dietetic Counseling, Laboratory Services, Massage Therapy, Optical Shop, Pharmacy, and Urgent Care.