Now is the Time to Start Treating Your Spring Allergies
Thursday, February 15, 2018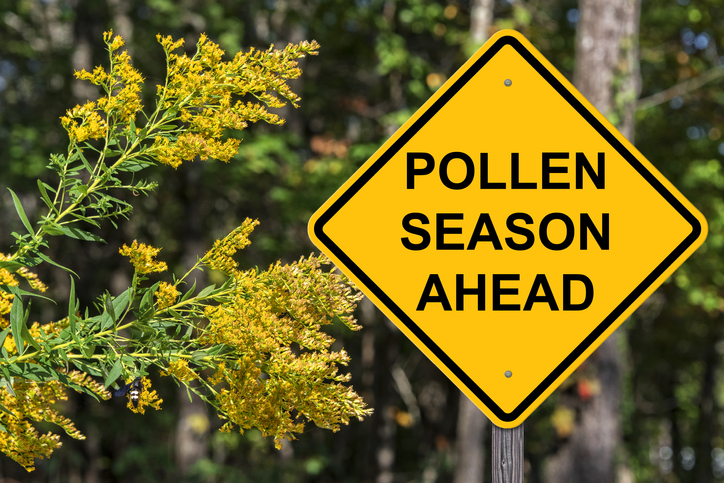 You may be wondering: why are we talking about allergies when it's still cold outside? Truth is, the spring allergy season can begin as early as February for the Savannah area. For those who suffer through allergies each spring, this may be terrible news. But there are preventative steps you can take to keep this year's spring allergy season from bogging you down.
"Just like with many other medical conditions, there are things you can do to prevent issues and complications from season allergies," SouthCoast Health Allergist Dr. Wasil Khan said. "Many patients think they should wait until their symptoms start to come see me, but it's actually best to come in before the allergy season starts if you know you typically experience them during the spring months."
If you don't want to sniff, sneeze, and suffer your way through spring, follow these six tips for combating seasonal allergies.
Visit an Allergist
Because over-the-counter allergy medications are available and easily accessible, many allergy sufferers choose to self-diagnose and medicate when it comes to treating their symptoms. The problem with this approach is that all seasonal allergies are not the same. Two people might experience allergy symptoms around springtime, but have different allergy triggers causing these symptoms.
This is where an allergist comes in! Allergists are physicians who have completed fellowship training in the specialty and obtained certification from The American Board of Allergy and Immunology. They can help you correctly determine if symptoms including nasal congestion, sneezing, nasal drainage, and itching are caused by allergies, and also which particular allergens (grass, ragweed, etc.) are triggering your symptoms. This information informs the best possible treatment plan for combating your allergies, which could involve proactive immunotherapy (also known as allergy shots), allergy medications, behavioral changes, and more.
Unfortunately, many medical professionals are now claiming to be allergists without the proper medical training and verification. See if an allergist you're planning to visit has received this certification from The American Board of Allergy and Immunology.
2. Start Taking Medication Now
If allergy medications are a part of your recommended treatment plan, your physician will likely recommend that you start taking them now, rather than waiting until symptoms start. Some prescribed medications actually require that you start taking them earlier in the year in order for them to be the most effective. With prescribed medications, you should always rely on your physician's individual recommendation for dosage and schedule.
3. Early Spring Cleaning
It's almost impossible to clean every speck of dust and dirt in your home. But when it comes to allergy season, the cleaner the better. Get ahead of the game and start your spring cleaning now. Make sure to thoroughly clean air filters, bedding, upholstered furniture, carpeting, floors, furniture, and rugs to get rid of hidden allergens. This way, when all of your friends and family begin their spring-cleaning frenzy, you'll be relaxing and enjoying a sneeze-free home.
Also, remember that pollen and other allergens aren't the only things that can kick up your allergies. Mold is usually another big part of the problem. The most common places for mold to grow are in the basements, bathrooms, kitchens, and any other areas where water leaks are possible. Keep these areas well monitored and well cleaned in case any mold does grow. It's also important to seal any leaks in your pipes, windows, or roofs. This should help stop a problem from growing in the first place.
4. Don't Let the Allergens In
This step is typically one of the most challenging. Who doesn't enjoy opening the windows to let in a nice breeze during the springtime? However, it's very important to resist that urge so you can limit the number of allergens that make their way into your home. Keep the allergy symptoms at a minimum by doing the following:
Change as soon as you get home, as allergens stick to fabric.
Shower before you go to bed to prevent allergens from moving onto your pillow and sheets. It's also a great idea to use hypoallergenic sheets.
Clean often just in case any stray allergens do get in, which is extremely likely.
Change the filters on your air conditioning unit. Also, make sure to upgrade your filter to a high efficiency grade filter.
5. Dodge Peak Hours
While this may sound impossible, try to avoid being outside during the peak times of allergens in the air. This happens between 5 AM and 10 AM. During that time frame, plan to stay indoors as much as possible.
6. Track Allergen Levels
One of the best tools for taking control of your allergy symptoms is the daily pollen count. In the same way that you might check the weather every morning, you can also track the allergen levels. This information allows you to plan your schedule, medication, and activities around days with high levels of pollen. Here is a great resource for checking the daily pollen count.
Dream of the warmer weather to come and prepare in advance for allergies by using the methods above. If you have more questions, call (912) 527-5335 or ask your primary care physician for a referral to the SouthCoast Health Allergy Department.
---
Whether you are looking for a primary care doctor or a pediatrician, or another medical specialist, SouthCoast Health has you covered with its wide range of world-class healthcare services, available throughout the Coastal Empire and Lowcountry. Founded in 1996, SouthCoast Health has 120 physicians and medical professionals in 17 locations in Savannah, Richmond Hill, Pooler, Rincon, Baxley, Bluffton, Hilton Head, Hinesville, and Statesboro. SouthCoast Health offers comprehensive medical services including: Family Medicine, Internal Medicine, Pediatrics, Allergy and Immunology, Cardiology, Endocrinology, Eye Care, Imaging, Infectious Diseases, Nephrology, Neurology, Physical Therapy, Podiatry, Sleep Medicine, Surgery, Clinical Trial Research Studies, Diabetic Self-Management Training Sessions, Dietetic Counseling, High Risk Breast Cancer Clinic, Laboratory Services, Massage Therapy, Optical Shop, Pharmacy, and Urgent Care.