Diagnosing Confidence: Patient Dwan Smith Finds Relief with Dr. Patel and Dr. Flood
Thursday, February 15, 2018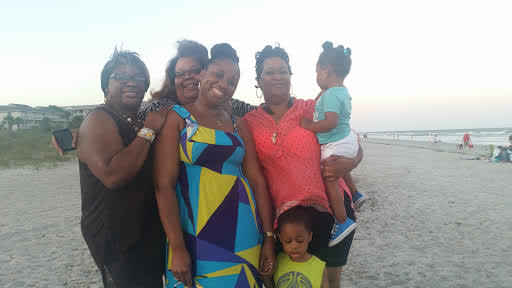 The last thing an expecting mother wants is bad news. But that's exactly what happened to future SouthCoast Health patient Dwan Smith during her second pregnancy in 1997.
Dwan was diagnosed with hypertension, but at that time Dwan didn't know what that disease meant or how it might affect her and her unborn child. The good news is that Dwan later went on to deliver a healthy daughter, as well as another one during her third pregnancy. However, since the third baby was born during the sixth month of her pregnancy, Dwan knew it was time to get to the bottom of her diagnosis.
Dwan ran into frustrations when the doctors she visited prescribed medications that only buried her problem - they didn't take the time to help her understand hypertension and what it meant for her. That all changed in August 2016, when Dwan visited SouthCoast Health and Dr. Bhavesh Patel.
The transformation came immediately. Not only did Dr. Patel take her off two out of three medications, he also provided her with all of the information she had been chasing after for years.
"I brag about Dr. Patel all the time!" Dwan said. "He's so personal, very thorough in explaining his treatment plan, and he always does his part to make sure I don't have a stroke or heart attack."
However, not all of her medical troubles disappeared. During the week of May 20, 2017, Dwan began to experience sharp pains in her upper left chest that radiated down her arms and all the way to her fingers. She immediately began to research cardiologists in the area, and that's how she found SouthCoast Health's Dr. Roy Flood.
"Dr. Flood was nothing less than amazing," Dwan explained. "I never felt such ease speaking with a doctor of this specialty as I did speaking with Dr. Flood. I felt very confident and very assured in his ability to properly diagnose and treat my symptoms."
Thankfully, nothing frightening was discovered after an echocardiogram, lab work, and stress test. The two discovered it was likely a case of gastric issues or acid reflux, and it was recommended she continue to stay on her meds, eat right, exercise, and minimize as much stress as possible.
"The staff continues to be a beacon of light whenever I walk in, and I am forever grateful," Dwan said. "Dr. Patel and Dr. Flood are forever my heroes, because they really care about me."
If you're struggling to find confidence in your own medical life, click here to schedule an appointment with a SouthCoast Health physician.
---
Whether you are looking for a primary care doctor or a pediatrician, or another medical specialist, SouthCoast Health has you covered with its wide range of world-class healthcare services, available throughout the Coastal Empire and Lowcountry. SouthCoast Health has 120 physicians and medical professionals in 18 locations in Savannah, Richmond Hill, Pooler, Rincon, Baxley, Hilton Head, Hinesville, and Statesboro. SouthCoast Health offers comprehensive medical services including: Family Medicine, Internal Medicine, Pediatrics, Allergy and Immunology, Cardiology, Endocrinology, Eye Care, Imaging, Infectious Diseases, Nephrology, Neurology, Physical Therapy, Podiatry, Sleep Medicine, Surgery, Clinical Trial Research Studies, Diabetic Self-Management Training Sessions, Dietetic Counseling, Laboratory Services, Massage Therapy, Optical Shop, Pharmacy, and Urgent Care.