Pollen is Here: 101 on Allergies in the Savannah Area
Tuesday, February 27, 2018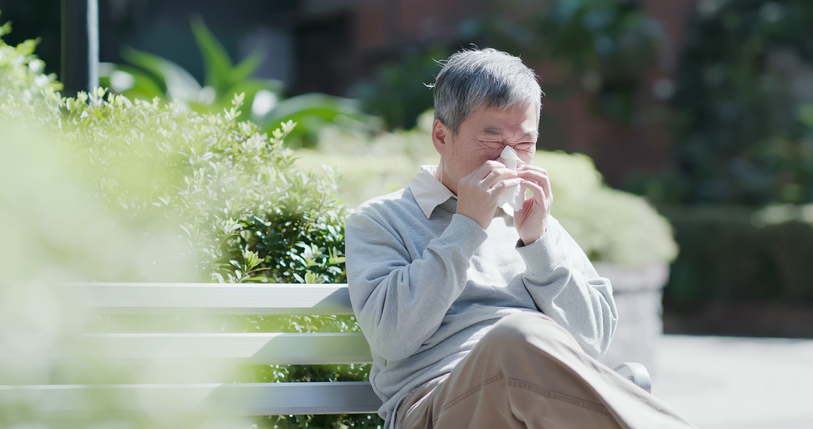 Soon after the first of the year in the Savannah area, plants ramp up production of a yellow, powdery substance called pollen. It coats our cars, driveways, and other surfaces, and fills the outdoor air we breathe into our noses and lungs.
When Does Allergy Season Start?
Different plant species begin pollinating at different times of the year, with some trees starting as early as late January in our area. By late February, tree pollination is in full swing. Grasses soon follow, and continue through the early part of summer, after which there is a period of about eight weeks when pollen levels fall, only to rise again with the onset of weed pollination in August. Weeds continue pollinating until a hard freeze arrives, usually in winter.
Why Do Some People Suffer from Allergies?
For most of us, the pollen we breathe in causes no problems, but for those of us who have developed an allergy to pollen, it can trigger sneezing, congestion, itching of the eyes and upper airway, and even chest tightness with shortness of breath. That's because people with pollen allergies have immune systems that have taken an abnormal stance against pollen, producing an overreaction when pollen is encountered by the surface of our eyes, airway, or skin. These reactions involve the release of chemicals like histamine upon pollen exposure, producing allergic symptoms.
How do I Manage my Allergy Symptoms?
Management of pollen allergies begins by first determining if the problem causing symptoms is indeed an allergy. Other medical conditions can produce symptoms similar to those caused by allergies, and management strategies targeted towards treating allergies may be ineffective for treating these other conditions. Determining whether allergies are playing a role in producing symptoms is best accomplished by visiting an allergist who is certified by the American Board of Allergy and Asthma (certification verification available here). These physicians have completed accredited fellowships in Allergy and Asthma and meet the certification requirements of the ABAI.
Once a pollen allergy has been identified, a helpful management plan can be put in place. Components of effective plans include decreasing pollen exposure, using appropriate medications to manage allergy symptoms if complete avoidance is not feasible and even decreasing the allergy through a process called immunotherapy or allergen desensitization. This last option is useful when the allergen is not avoidable, medications are not adequately effective or cause side effects, or if there is a desire to reduce medication requirements.
What are the Different Types of Pollen
The most allergy-inducing pollens are those that are relatively small in size. This characteristic allows them to be easily windborne, and to effectively enter our respiratory tracts where they cause allergic sensitization and symptoms. Larger pollens like those produced by pine trees are small enough to be spread by the wind, but their larger size makes them less effective allergens because they are too large to easily enter sensitive areas of our respiratory tracts. Therefore, and contrary to popular belief, pine pollen allergy is uncommon. Smaller pollens like those produced by oak trees are much more bothersome allergens and are out at the same time as pine pollen. These smaller, less visible, pollens produce the symptoms while the larger, visible, pine pollens undeservedly receive the blame. Plants with pollen too large to be easily wind carried rely on insects like bees and butterflies to transport them. Such plants often have large showy flowers with pleasant fragrances to attract insects for this job. So, plants like roses and camellias are rarely allergy inducing because their pollens are large and insect carried.
How Can I Avoid Allergies?
There are some simple measures to follow that will help reduce exposure to allergenic pollens. Avoid prolonged outdoor activities during times of day when pollination is heaviest. These are usually mornings and evenings. Pollens are more prevalent on warm, dry, windy days, and less so on rainy, humid days. Wearing a mask outdoors during heavy pollen periods can be helpful. Don't dry clothing outdoors where pollen can deposit on it and rinse off after spending time outdoors. Keep windows in vehicles and homes shut and run the air conditioning to filter out airborne pollens.
If these measures do not adequately control symptoms, or if following them is too much of an inconvenience, consider enlisting the help of a ABAI certified Allergist in exploring further helpful options. Call 912-527-5335 or ask your primary care physician for a referral to the SouthCoast Health Allergy Department.
---
Whether you are looking for a primary care doctor or a pediatrician, or another medical specialist, SouthCoast Health has you covered with its wide range of world-class healthcare services, available throughout the Coastal Empire and Lowcountry. Founded in 1996, SouthCoast Health has 120 physicians and medical professionals in 17 locations in Savannah, Richmond Hill, Pooler, Rincon, Baxley, Hilton Head, Hinesville, and Statesboro. SouthCoast Health offers comprehensive medical services including: Family Medicine, Internal Medicine, Pediatrics, Allergy and Asthma, Cardiology, Endocrinology, Eye Care, Imaging, Infectious Diseases, Nephrology, Neurology, Physical Therapy, Podiatry, Sleep Medicine, Surgery, Clinical Trial Research Studies, Diabetic Self-Management Training Sessions, Dietetic Counseling, Laboratory Services, Massage Therapy, Optical Shop, Pharmacy, and Urgent Care.