SouthCoast Health's Dr. Garrett White Appeared on WTOC Mid-Morning Live Discussing New Hypertension Clinic
Tuesday, March 6, 2018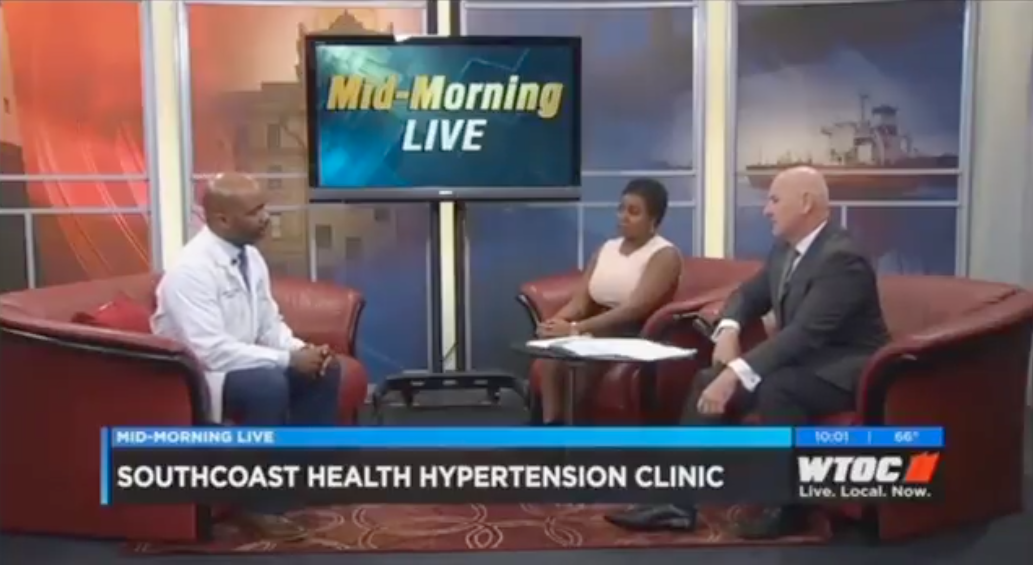 SouthCoast Health nephrologist, Dr. Garrett White, joined Mid-Morning Live on WTOC-TV to discuss the newly launched hypertension clinic, the first and only one in the Lowcountry and Coastal Empire area.
"One of the things we see in our community is a large number of patients who suffer from hypertension," Dr. White explained.
In his appearance, Dr. White defined what hypertension is and explained the first signs of this disease. Since hypertension is often deemed a silent killer, Dr. White stressed the importance of knowing your personal risk and using preventative measures.
"When patients come to see me as a nephrologist for hypertension, it's often too late," Dr. White said. "With this clinic, what we want to try to do is get them earlier. If we have a collaborate clinic that addressed lifestyle, diet, and exercise issues in regards to hypertension, then it might make the community healthier."
Click here to listen to the full interview. If you're concerned about your risk of having hypertension, speak with your primary care physicians for a referral to our Hypertension Clinic.
---
Whether you are looking for a primary care doctor or a pediatrician, or another medical specialist, SouthCoast Health has you covered with its wide range of world-class healthcare services, available throughout the Coastal Empire and Lowcountry. Founded in 1996, SouthCoast Health has 120 physicians and medical professionals in 17 locations in Savannah, Richmond Hill, Pooler, Rincon, Baxley, Bluffton, Hilton Head, Hinesville, and Statesboro. SouthCoast Health offers comprehensive medical services including: Family Medicine, Internal Medicine, Pediatrics, Allergy and Immunology, Cardiology, Endocrinology, Eye Care, Imaging, Infectious Diseases, Nephrology, Neurology, Physical Therapy, Podiatry, Sleep Medicine, Surgery, Clinical Trial Research Studies, Diabetic Self-Management Training Sessions, Dietetic Counseling, High Risk Breast Cancer Clinic, Laboratory Services, Massage Therapy, Optical Shop, Pharmacy, and Urgent Care.