SouthCoast's Dr. Wasil Khan Weighs in on Savannah Pollen Season
Tuesday, March 6, 2018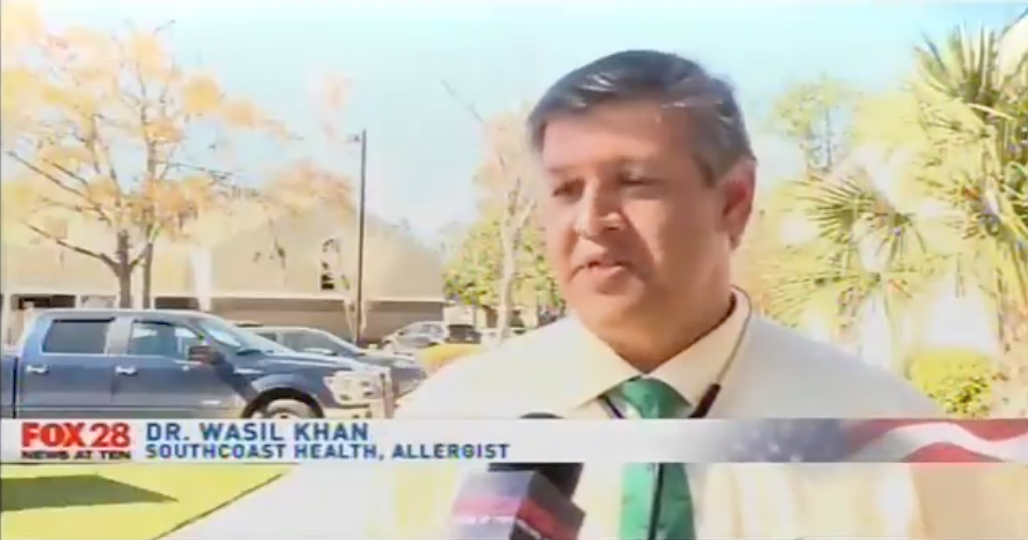 Savannah's pollen levels reached the high range last week, signaling the beginning of a season that can bring a tear to your eye, literally. SouthCoast Health allergist Dr. Wasil Khan shared pollen allergy tips with local TV and newspaper outlets Fox 28, Savannah Morning News, and WTOC 11 Mid-Morning Live, respectively. Dr. Khan provided insight and advice on how to best navigate Savannah's pollen season. "Avoid prolonged outdoor activities during times of day when pollination is heaviest," he told reporter Brittini Ray, of Savannah Morning News. "These are usually mornings and evenings. Pollens are more prevalent on warm, dry, windy days and less so on rainy, humid days."
Read the Savannah Morning News article.
Watch the WTOC 11 Mid-Morning Live interview.
---
Whether you are looking for a primary care doctor or a pediatrician, or another medical specialist, SouthCoast Health has you covered with its wide range of world-class healthcare services, available throughout the Coastal Empire and Lowcountry. SouthCoast Health has 120 physicians and medical professionals in 18 locations in Savannah, Richmond Hill, Pooler, Rincon, Baxley, Bluffton, Hilton Head, and Hinesville. SouthCoast Health offers comprehensive medical services including: Family Medicine, Internal Medicine, Pediatrics, Allergy and Immunity, Cardiology, Endocrinology, Eye Care, Imaging, Infectious Diseases, Nephrology, Neurology, Physical Therapy, Podiatry, Sleep Medicine, Surgery, Clinical Trial Research Studies, Diabetic Self-Management Training Sessions, Dietetic Counseling, High Risk Breast Cancer Clinic, Laboratory Services, Massage Therapy, Optical Shop, Pharmacy, and Urgent Care.