iPosture and Texting Claw
Tuesday, April 3, 2018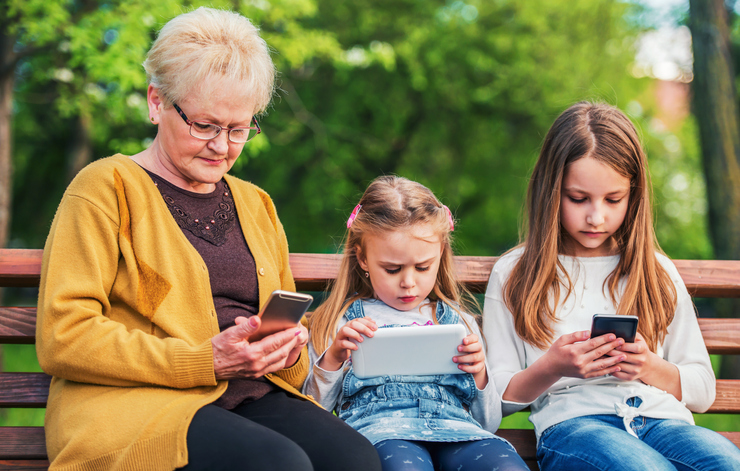 As technology progresses, so does our attachment to it. To raise awareness of the effects this technology use can have on our health, we're excited to share a blog series discussing this topic. This blog is the latest installment in that series, but review our other blogs if you'd like to learn about how technology affects our brains.
---
The rate at which technology has evolved is nothing short of incredible. It's mind-boggling to think that it wasn't until 2007 — when the first iPhone was invented — that smartphones really became a part of everyday life for most Americans. However, not all advancements have been beneficial. It turns out that our heavy reliance on technology has some seriously negative consequences.
"More and more people are coming to see physical therapists with neck pains, tendonitis of the hand, and bad posture," SouthCoast Health Physical Therapist Lisa Bettio stated. "The number one culprit of this is our daily use of cell phones and technology."
In other words, cellphone addiction isn't just affecting our brain, it's also affecting our bodies.
iHunch, iPosture, or Text Neck
These words are all used to describe the most common posture used when holding cellphones: leaning your head down to look at the phone in your hands.
Here's why this isn't good for you. The average head weighs anywhere from 10 to 12 pounds but when bent forward at a 60-degree angle (such as when looking down at phones), our heads become 50 pounds heavier. Using this posture frequently adds up to thousands of extra pounds, eventually putting enough stress on your spine that it causes damage to spinal discs.
This bad posture is also shown to compress our lungs, causing difficulties in breathing properly.
Sadly, this isn't the only negative physical side effect of being stuck to your cellphone all day.
Texting Claw or Cell Phone Elbow
The motions we use consistently while on our phones, such as when typing out a message or clutching our screens to scroll, over time cause pain and inflammation of the tendons in our fingers and wrists
While tendonitis is a common condition for adults, it has become even more common over the past decade and associated specifically with cellphone usage.
The Other Physical Side Effects of Cellphone Addiction
Aside from causing pain, there are other physical side effects cellphone overuse can cause as well:
Studies have shown that our posture largely affects our level of confidence. For example, confident people are more likely to sit up tall and straight. People who aren't confident slouch or look down more to become as small as possible. This is the exact posture we use when looking at our phones. Even if you aren't thinking about your confidence on a conscious level, your body is communicating with your brain subconsciously. Because of this, the more you use your phone and stay in that position, the more likely you are to feel self-conscious and unconfident.

In the same vein, you're more likely to stand up for yourself and make assertive choices when you use correct posture. Slouching over your phone all day won't give you the confidence to do so.

Upright posture has been linked to better levels of productivity and better memory. However, having an unhealthy attachment to our cellphones deteriorates our memory, as we tend to use it less with all of that information at our fingertips.
Counteract
There are a few simple solutions to help fight against the issues described above.
Use your phone less. We gave a great few examples of how to do this in our previous blog topic in this series. In general, the more you put your phone down, the less you'll suffer from the negative health effects listed here.
Be aware of your posture while using your phone. If you catch yourself slouching your head forward, pick up your phone and put it at eye level.
Stretch your chest muscles and strengthen your back. It's good to counteract the strain iPosture puts on your body with proper stretches and strengthening. Contact our physical therapists to learn more about what these stretches look like.
Practice being in a tall, open position. Find a private place and stretch your arms above your head or plant your fists on your hips. Even holding these poses for just a few minutes can help boost your confidence.
Better your memory by practicing more. Play memory games online or challenge yourself to memorize the numbers of your loved ones.
If you're struggling with your posture or are worried about your possibility of having Text Neck, call us at 912-691-3600 today to schedule an appointment with any of our physical therapists.
---
Whether you are looking for a primary care doctor or a pediatrician, or another medical specialist, SouthCoast Health has you covered with its wide range of world-class healthcare services, available throughout the Coastal Empire and Lowcountry. SouthCoast Health has 120 physicians and medical professionals in 18 locations in Savannah, Richmond Hill, Pooler, Rincon, Baxley, Bluffton, Hilton Head, and Hinesville. SouthCoast Health offers comprehensive medical services including: Family Medicine, Internal Medicine, Pediatrics, Allergy and Immunity, Cardiology, Endocrinology, Eye Care, Imaging, Infectious Diseases, Nephrology, Neurology, Physical Therapy, Podiatry, Sleep Medicine, Surgery, Clinical Trial Research Studies, Diabetic Self-Management Training Sessions, Dietetic Counseling, High Risk Breast Cancer Clinic, Laboratory Services, Massage Therapy, Optical Shop, Pharmacy, and Urgent Care.