SouthCoast Health Participates in Nationwide Project that Uses One-of-a-Kind Breast Ultrasound System
Monday, April 16, 2018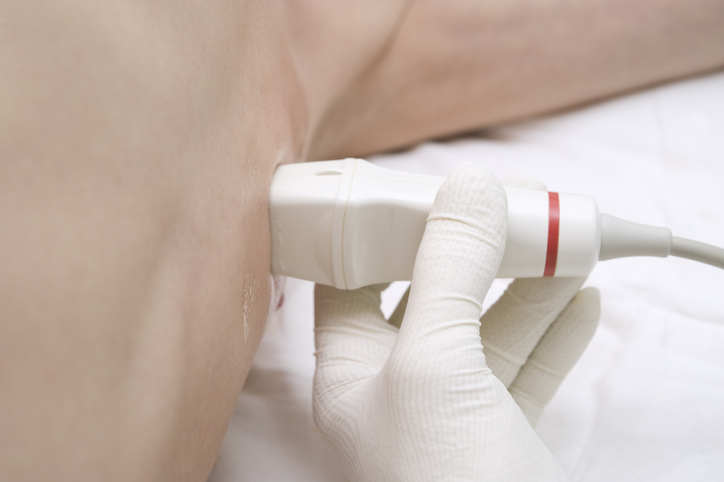 SouthCoast Health is participating in a 10,000 patient, multi-center research project evaluating a novel breast ultrasound device, called SoftVue™, for women who have dense breast tissue. SoftVue is the world's first three-dimensional, whole-breast ultrasound system that uses a one-of-a-kind circular transducer. It was created to assist physicians in distinguishing normal tissue from areas in the breast that may require further testing. SouthCoast Health is one of only eight centers nationwide participating in the groundbreaking project.
Qualified participants will have both screening mammography and SoftVue exams. Imaging information gathered from the project will compare SoftVue to digital mammography, and measure SoftVue's effectiveness in finding cancers that are not seen with mammography alone. The study data will support an application submission to the U.S. Food and Drug Administration to investigate if SoftVue can be approved as a supplemental screening indication for women with dense breasts.
For the majority of women, mammography is effective at helping ensure the early detection of breast cancer. For women with dense breast tissue, mammography by itself may not be enough. Dense breast tissue, which occurs in more than 40 percent of women1 nationwide, can mask potential tumors during mammography screening, so women are often sent for secondary diagnostic testing, such as breast ultrasound. Studies have shown breast cancers were found in dense breasts by ultrasound that could not be seen by doctors with mammography.
"SoftVue has the potential to provide women with dense breast tissue greater peace of mind when it comes to their annual exams," said Dr. Patricia Shapiro, a radiologist at SouthCoast Health Imaging. "Traditionally, women with dense breast tissue have been sent for additional imaging using handheld ultrasound technology, which can be time-consuming and may be difficult to perform consistently for each scan. In contrast, the SoftVue exam is fast, simple and easy for use with women who have dense breast tissue."
SoftVue is a fully automated, gentle and comfortable system that conducts scans while a woman relaxes on her stomach with her breast supported in a warm water bath. A 360-degree ring transducer images the entire breast in a single pass, moving from the front of the breast to chestwall, without the radiation and compression associated with other imaging systems. The unique circular transducer can evaluate multiple distinctive tissue qualities to provide physicians with an understanding of the tissue within the whole breast from the chest wall to the nipple. The captured signals are analyzed using sophisticated algorithms that provide cross-sectional slices of the entire volume of breast tissue.
SoftVue has received two 510(k) clearances from the FDA for diagnostic breast ultrasound imaging and is not intended for use as a replacement for screening mammography. Currently, the technology is only in use at research sites.
Women who have dense breast tissue and would like to participate in the project should contact the center at 912.691.4222 or visit discoversoftvue.com.
---
Whether you are looking for a primary care doctor or a pediatrician, or another medical specialist, SouthCoast Health has you covered with its wide range of world-class healthcare services, available throughout the Coastal Empire and Lowcountry. SouthCoast Health has 120 physicians and medical professionals in 18 locations in Savannah, Richmond Hill, Pooler, Rincon, Baxley, Bluffton, Hilton Head, and Hinesville. SouthCoast Health offers comprehensive medical services including: Family Medicine, Internal Medicine, Pediatrics, Allergy and Immunity, Cardiology, Endocrinology, Eye Care, Imaging, Infectious Diseases, Nephrology, Neurology, Physical Therapy, Podiatry, Sleep Medicine, Surgery, Clinical Trial Research Studies, Diabetic Self-Management Training Sessions, Dietetic Counseling, High Risk Breast Cancer Clinic, Laboratory Services, Massage Therapy, Optical Shop, Pharmacy, and Urgent Care.