Nurse Jackie Brown Strikes a Chord of Hope and Inspiration
Thursday, May 10, 2018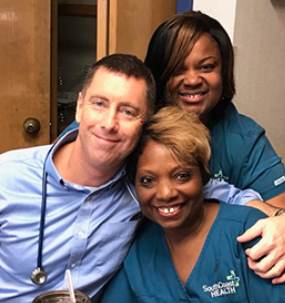 Many nurses agree on an essential best practice: moral support. Pediatric nurse Jackie Brown, a 11-year SouthCoast Health veteran, knows the importance of offering strength and hope to those in distress. When faced with her own daunting cancer diagnosis, overcoming fear and uncertainty became part of the equation.
In summer 2012, Brown noticed a lump in her breast. She was diagnosed with inflammatory breast cancer, which quickly advanced to stage IV. A barrage of chemotherapy, 33 rounds of radiation, and a double mastectomy followed.
"Through my cancer journey, I learned not to be afraid, and that you have to go through this life with faith and courage," she said, "because you won't make it without it."
Today Brown openly shares her story with cancer patients. As part of the cancer support group Surviving Sisters, she builds relationships with other survivors and those tangling with a fresh diagnosis. Friends and family connect Brown with those who have the disease, and she uses social media as a way to inspire cancer patients, often corresponding with strangers seeking support and advice.
"You have to remember to have compassion," she said, "the same compassion others gave you when you were going through that same journey."
Brown's compassion can be seen on the streets of Savannah during a pair of annual cancer charity walks: the Susan G. Komen Race for the Cure each April and the Making Strides of Savannah event in October. As co-founder of the team God's Promise, Brown wrangles SouthCoast Health colleagues, family members, and friends to participate and raise funds for each non-profit.
Surviving cancer, she said, has given her a new zest for life and the desire to break away from the mundane and routine. According to Brown, she makes a conscious decision to live in the moment. This means picking up paintbrushes, casting fishing lines, writing, and tending to her home garden.
Brown savors family life alongside Joe Brown, her husband of nearly 30 years. The 53-year-old mother of four runs four to five times each week, and regularly pounds the pavement in 5K races, her 18-year-old son Jolin in tow. In November, the duo plan on tag teaming the Rock 'n' Roll Savannah Half Marathon.
An avid vocalist, Brown looks forward to singing regularly with her church choir. "Music is healing for the soul," she said. "When you listen to the songs, it gives you hope and renews your faith. You know no matter what, you're going to be OK."
Brown also performs with the Cancer Survivors Choir, made up of those who have faced cancer or have been touched by the disease in some way. Through the sale of concert tickets and merchandise, the choir provides financial assistance to cancer patients in need. The next performance takes place in October.
"I have learned to enjoy every part of life," she said, "all of the beauty and everything God has given us. Some days the house may be a little messy, but that's fine. I'll go out of the house and make memories."
---
Whether you are looking for a primary care doctor or a pediatrician, or another medical specialist, SouthCoast Health has you covered with its wide range of world-class healthcare services, available throughout the Coastal Empire and Lowcountry. Founded in 1996, SouthCoast Health has 120 physicians and medical professionals in 17 locations in Savannah, Richmond Hill, Pooler, Rincon, Baxley, Bluffton, Hilton Head, Hinesville, and Statesboro. SouthCoast Health offers comprehensive medical services including: Family Medicine, Internal Medicine, Pediatrics, Allergy and Immunology, Cardiology, Endocrinology, Eye Care, Imaging, Infectious Diseases, Nephrology, Neurology, Physical Therapy, Podiatry, Sleep Medicine, Surgery, Clinical Trial Research Studies, Diabetic Self-Management Training Sessions, Dietetic Counseling, High Risk Breast Cancer Clinic, Laboratory Services, Massage Therapy, Optical Shop, Pharmacy, and Urgent Care.