Balancing the Good and the Bad with Technology and Nutrition
Tuesday, May 22, 2018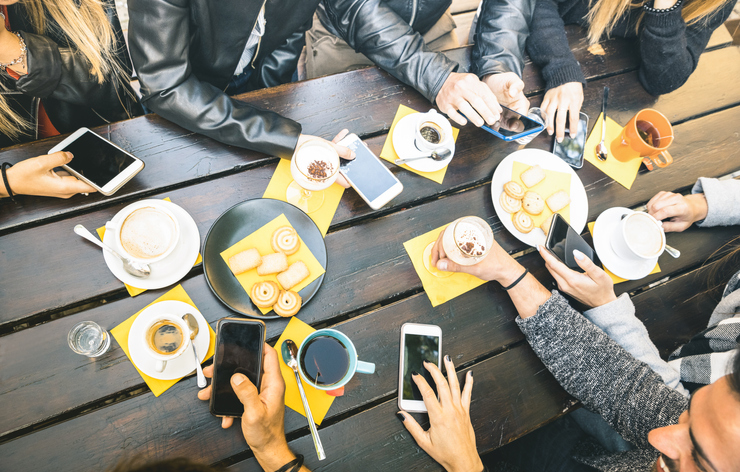 As technology progresses, so does our attachment to it. To raise awareness of the effects this technology use can have on our health, we're excited to share a blog series discussing this topic. This blog is the latest installment in that series, but review our other blogs if you'd like to learn about how technology affects our posture and brains.
---
If technology and phones can affect our posture and mental health, then it can affect our diets too. With limitless information at our fingertips, it can benefit our knowledge of what is healthy to consume, but we can also be persuaded by misinformation.
"There's a delicate balance when it comes to technology and food," SouthCoast Health's Registered Dietitian Elizabeth Hesley, stated. "While on one hand, it's great to be able to use apps to learn information about calories and nutrition, our phones can also distract us from what really matters."
In the next part of our technology series, we're discussing how our phones affect our diet. To start off, here are the positives.
Knowledge
Nutrition can be tricky. There are lots to learn about planning a healthy meal, avoiding added sugars, and providing your body with adequate calories. Now more than ever it's easier to look up essential information whenever questions arise.
Better Ways to Track
Alongside the thought of being able to know more about food, there has also been a rise of credible apps that make it easier to keep yourself accountable with the foods you are consuming. Apps such as MyFitnessPal and Lose It! are able to track how many calories you are consuming throughout the day. These apps are also great resources for learning what a healthy lifestyle looks like.
Now, let's take a look at some of the negative effects technology has on our diets.
Mindless Eating
More and more people are eating while in front of the TV, playing on their phones, or, otherwise, distracted. This allows for faster eating and overeating, as it takes time for your stomach to communicate with your brain that it is full. However, when eating at a table with friends or family, without having technology as a distraction, you're able to focus more on what you're eating. This encourages you to eat slower, which in turn fills your stomach at a more natural pace and also allows you to be more cognizant of when you're full.
Trends
In 2015, it became a popular trend to cook with coconut oil instead of other oils, like olive or vegetable oil. A short time later the American Heart Association released an article showing the negative side effects of using coconut oil, such as too much-saturated fat, which can clog the arteries in the heart. This is a great example of everyone hopping on a trend without doing the proper research, something that often happens with trending diets such as Keto or Whole30. While these diets are great for many people, sometimes they don't work out so well for others.
The bottom line is to make sure to do your own research before jumping in on what's trending. Choose reputable websites, such as eatright.org, diabetes.org, or heart.org, to help you make informed decisions.
If you have any questions or concerns about how technology might be affecting your diet and nutrition, call 912.691.3600 to schedule an appointment with our Registered Dietitian today.
---
Whether you are looking for a primary care doctor or a pediatrician, or another medical specialist, SouthCoast Health has you covered with its wide range of world-class healthcare services, available throughout the Coastal Empire and Lowcountry. SouthCoast Health has 120 physicians and medical professionals in 18 locations in Savannah, Richmond Hill, Pooler, Rincon, Baxley, Bluffton, Hilton Head, Hinesville, and Statesboro. SouthCoast Health offers comprehensive medical services including: Family Medicine, Internal Medicine, Pediatrics, Allergy and Immunology, Cardiology, Endocrinology, Eye Care, Imaging, Infectious Diseases, Nephrology, Neurology, Physical Therapy, Podiatry, Sleep Medicine, Surgery, Clinical Trial Research Studies, Diabetic Self-Management Training Sessions, Dietetic Counseling, High Risk Breast Cancer Clinic, Laboratory Services, Massage Therapy, Optical Shop, Pharmacy, and Urgent Care.