SouthCoast Health Receives Recognitions in 18 Categories in the 2018 Savannah Magazine "Best of" Issue
Tuesday, September 11, 2018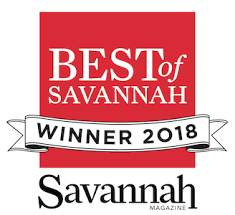 Savannah Magazine's "Best of Savannah" 2018 winners and runner-ups were announced September 7. SouthCoast Health was honored in 18 categories related to the healthcare/ medical field and was featured in Savannah Magazine's September/October 2018 issue.
Savannah Magazine conducts a yearly poll to name the city's most influential people and ideas. The magazine emphasizes that "only reader votes" determine the winners and that votes are limited to one per person.
"We are proud of our physicians, providers, and organization for this year's recognition by Savannah Magazine. Acknowledgment from the Savannah community for our commitment to quality health care is a great honor," SouthCoast Health Administrator John Marrero said. "SouthCoast Health's representation in 18 categories with the rigorous selection measures makes it more meaningful. It reflects our goal of providing Total Wellness for Life™ to our patients."
SouthCoast Health winners and runner-ups were recognized in the following categories:
1.Allergist
Wasil Kahn (runner-up)
2.Cardiologist
Roy D. Flood Jr. (winner)
3.Family Medicine/General Practitioner
Kristen A. Updegraff (winner)
Leland R. Dampier III (runner-up)
4.Foot Specialist
Craig K. Skalla (winner)
5.General Surgeon
Jeffrey S. Mandel (winner)
6.Infectious Disease
Nenad Avramovski (winner)
Scott E. Rojas (runner-up)
7.Internal Medicine
Robert W. Grant (runner-up)
8.Nephrologist
Nizar S. Eskandar (winner)
Garrett White (runner-up)
9.Neurologist
Scott D. Callaghan (runner-up)
10.Nurse
Barbara Lutz (runner-up)
11.Nurse Practitioner
Tammie E. Walz (runner-up)
12.Nutritionist
Elizabeth Hesley (winner)
13.Ophthalmologist
Stephanie D. Croll (runner-up)
14.Optometrist
Edward D. Sammons (winner)
15.Osteopathic Physician
Troy A. Murphy (runner-up)
16.Physical Therapist
Lisa M. Bettio (winner)
17.Radiologist
Nathan P. Fergus (winner)
18.Urgent/Immediate Care Clinics
SouthCoast Health (runner-up)
---
Whether you are looking for a primary care doctor or a pediatrician, or another medical specialist, SouthCoast Health has you covered with its wide range of world-class healthcare services, available throughout the Coastal Empire and Lowcountry. Founded in 1996, SouthCoast Health has 120 physicians and medical professionals in 17 locations in Savannah, Richmond Hill, Pooler, Rincon, Baxley, Hilton Head, Hinesville, and Statesboro. SouthCoast Health offers comprehensive medical services including: Family Medicine, Internal Medicine, Pediatrics, Allergy and Immunology, Cardiology, Endocrinology, Eye Care, Imaging, Infectious Diseases, Nephrology, Neurology, Physical Therapy, Podiatry, Sleep Medicine, Surgery, Clinical Trial Research Studies, Diabetic Self-Management Training Sessions, Dietetic Counseling, Laboratory Services, Massage Therapy, Optical Shop, Pharmacy, and Urgent Care.