SouthCoast Health Adds Four Physicians to Savannah-Area Roster
Tuesday, September 11, 2018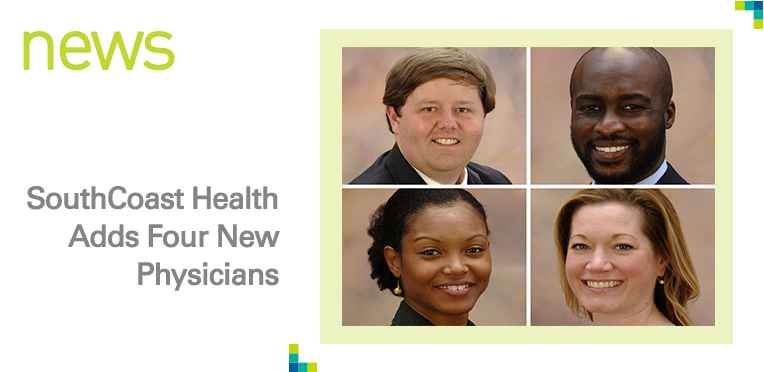 Patients looking for a family medicine specialist, cardiologist or endocrinologist can choose with confidence. SouthCoast Health, a medical leader across the Coastal Empire and Lowcountry, adds four professionals to its ever-growing roster of board-certified medical experts.
Drs. William B. Knight (Family Medicine), Akinniran Abisogun (Cardiology), and Abby Abisogun (Endocrinology) now practice at the Savannah campus location. Dr. Leslie Sizemore (Family Medicine) sees patients at the Pooler location. With the addition of these physicians, SouthCoast Health now has more than 120 healthcare providers on staff. This allows SouthCoast Health to offer a breadth of care under one banner, and an immense amount of convenience for new and current patients.
"In addition to seeking out some of the most talented physicians in the country, we pride ourselves in our wide-ranging team of specialists," says SouthCoast Health Administrator John Marrero. "Our patients have easy access to a wealth of medical professionals, who can address a variety of needs. And when a patient visits multiple physicians in our group, the patient's medical history is at our doctors' fingertips. This only strengthens our quality of care."
SouthCoast Health's new physicians are now accepting appointments. Patients can request an appointment by calling 912-691-3600 or visiting SouthCoastHealth.com.
Drs. Abby Abisogun and William Knight
SouthCoast Health Savannah Campus, 1326 Eisenhower Drive, Building 1, Savannah.
SouthCoast Health Savannah Campus, 1326 Eisenhower Drive, Building 2, Savannah.
SouthCoast Health, Pooler, Godley Station Professional Park, 1000 Towne Center Blvd., Suite 701, Pooler.
---
Whether you are looking for a primary care doctor or a pediatrician, an ObGyn or another medical specialist, SouthCoast Health has you covered with its wide range of world-class healthcare services, available throughout the Coastal Empire and Lowcountry. SouthCoast Health has 120 physicians and medical professionals in 18 locations in Savannah, Richmond Hill, Pooler, Rincon, Baxley, Bluffton, Hilton Head, and Hinesville. SouthCoast Health offers comprehensive medical services including: Family Medicine, Internal Medicine, Obstetrics & Gynecology, Pediatrics, Allergy and Immunity, Cardiology, Eye Care, Imaging, Infectious Diseases, Nephrology, Neurology, Physical Therapy, Podiatry, Pulmonology, Sleep Medicine, Surgery, Clinical Trial Research Studies, Diabetic Self-Management Training Sessions, Dietetic Counseling, High Risk Breast Cancer Clinic, Laboratory Services, Massage Therapy, Optical Shop, Pharmacy, and Urgent Care.