How a Child's Heroic Battle With Cancer Inspired His Parents to Fight the Disease and Help Others
Tuesday, September 25, 2018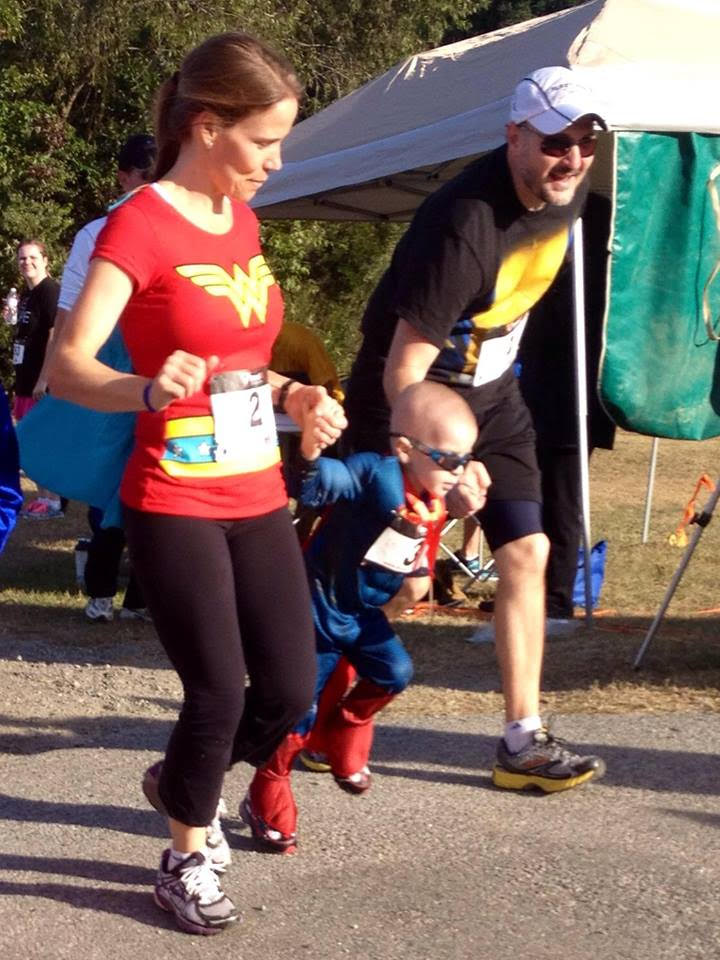 Fictional superheroes power through adversity with amazing fortitude, capes often blowing in the breeze. When 3-year-old William Webb II of Savannah dealt with a rare form of childhood cancer, he soared like a superhero and fought the villainous disease. Today, four years after William succumbed to the illness, his parents continue the fight.
"If we just curled up and hid away in grief, it would be letting him down," said his father, SouthCoast Health pediatrician Dr. William Webb. "He would want us to get out there and improve the situation for others."
Despite the devastating loss, Dr. Webb and wife Danielle, a clinical pediatric dietitian at Memorial Health, are attempting to do just that. They created the nonprofit Warriors for William Foundation to raise money for childhood cancer research. The foundation's logo is an outline of a boy in a superhero costume, a direct nod to their son.
According to his parents, William's inspiration came from superheroes. He donned costumes, wore the T-shirts, and often sought solace during chemotherapy by watching heroic cartoons.
In mom and dad's eyes, William proved to be their own pint-size Superman, facing stage IV neuroblastoma with remarkable strength and resilience. This diagnosis means solid tumors have spread to two or more areas of the body or vital organs as well as to the bone marrow. For the better part of a year, William underwent radiation treatment, seven rounds of inpatient chemotherapy, five surgeries, harsh side effects, and more.
"After watching what William went through, we saw firsthand how awful this disease is for kids," Danielle said. "We want to do anything we can to stop it."
The Webbs agree this begins with more research. According to the National Pediatric Cancer Foundation, only four percent of federal government cancer research funding goes to the study of pediatric cancer. The majority of the funding for childhood cancer research comes from private foundations.
The Warriors for William Foundation does its part by hosting fundraising events. In addition to an annual summer golf tournament, the foundation organizes the Warriors for William 5K.
The first race took place in October 2013 with William himself as a participant. Ailing and unable to physically run, William rode in a jogging stroller pushed by his parents. As they neared the finish line, Danielle said William became adamant that mom and dad allow him to get out of the stroller and cross the finish line by foot. With Danielle holding one hand and her husband gripping the other, the couple helped William glide across the finish.
In the spirit of William's perseverance, the sixth annual race returns October 28 at J.F. Gregory Park in Richmond Hill. Danielle said the goal is to create a family-friendly event that transcends a traditional road race. In addition to the 5K run and a half-mile fun run for costumed kids, the afternoon features food vendors, a costume contest, a silent auction, raffle, and games and activities for children. The latter includes superhero training with instructors such as Wonder Woman and Spider-Man sharing their super skills.
Danielle and Dr. Webb said they hope the foundation and its annual events continue to grow, maximizing their fundraising efforts for childhood cancer research. In the meantime, they both share their perspective with patients and families dealing with the disease.
"Having gone through the experience with William, I now have a better understanding of the angst a lot of the parents are feeling," Dr. Webb said. "So I listen as closely as I can to them and let them know I'm here to take this journey with them."
As a clinical pediatric dietitian, Danielle works in all of the pediatric areas at Memorial Health, including pediatric oncology where William received chemotherapy. Having faced the challenge of William losing his appetite during treatment, Danielle often offers tips and tricks to patients and their families dealing with similar issues.
The Webbs' ultimate goal, however, is to make these and other issues tied to childhood cancer a thing of the past. Drawing upon the courageous resolve displayed by William, the couple forges ahead with purpose.
"It's really up to us to help find a cure," Danielle said. "We can make a difference. Some of the research that's happening is very promising. We're confident that the money we're raising and donating to (research centers) will make treatments better and eventually find the cure we all are hoping is out there."
Learn more about the Warriors for William Foundation by visiting its Facebook page.
Register for the 2018 Warriors for William 5K at runsignup.com.
---
Whether you are looking for a primary care doctor or a pediatrician, or another medical specialist, SouthCoast Health has you covered with its wide range of world-class healthcare services, available throughout the Coastal Empire and Lowcountry. SouthCoast Health has 120 physicians and medical professionals in 18 locations in Savannah, Richmond Hill, Pooler, Rincon, Baxley, Hilton Head, Hinesville, and Statesboro. SouthCoast Health offers comprehensive medical services including: Family Medicine, Internal Medicine, Pediatrics, Allergy and Immunology, Cardiology, Endocrinology, Eye Care, Imaging, Infectious Diseases, Nephrology, Neurology, Physical Therapy, Podiatry, Sleep Medicine, Surgery, Clinical Trial Research Studies, Diabetic Self-Management Training Sessions, Dietetic Counseling, Laboratory Services, Massage Therapy, Optical Shop, Pharmacy, and Urgent Care.