SouthCoast Health Endocrinologist Shares Tips for Managing Type 2 Diabetes
Wednesday, October 10, 2018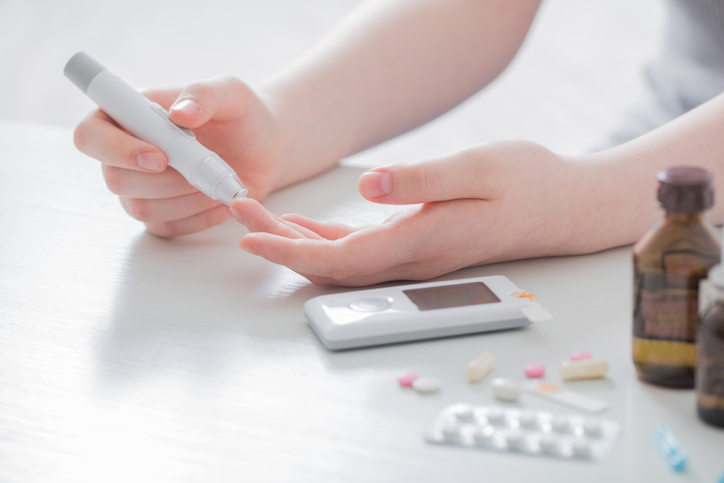 29 million people in the United States have diabetes, and about 90 to 95 percent of those people have Type 2 Diabetes. Many individuals who find themselves with this type of diagnosis are unsure of where to start when it comes to health management. Thankfully, there are physicians like SouthCoast Health endocrinologist Dr. Abby Abisogun who are very familiar with the condition and the best steps for ensuring patients can maintain a good quality of life.
"By far the most patients I see within my department are those with type 2 diabetes," SouthCoast Health Endocrinologist Dr. Abby Abisogun stated. "I cannot emphasize the importance of diet, weight, and exercise management alongside lifestyle changes for managing this health condition."
To those overwhelmed with where to start after being diagnosed with Type 2 Diabetes, Dr. Abisogun has some tips to set you on the right path.
Diet Management for Type 2 Diabetes
Diets are tricky to manage, no matter the motivation. With temptations everywhere and lots of information to digest, it's hard to say no to the wrong things and yes to the right ones. But, with Type 2 Diabetes, it's essential to break through the clutter and properly manage your diet.
Here are a few tips to help:
Eat more of the foods that are good for you. Things like veggies, whole grains, fruits, non-fat dairy foods, healthy fats such as eggs and avocados, and lean meats chicken or turkey like or even meat substitutes like tofu. If you need help identifying a healthy diet, SouthCoast Health's dietetic counseling can assist.
Aim to eat the right number of calories for your weight and age. Invest in using free and easy to manage apps like MyFitnessPal that can help you calculate the proper amount of calories you should consume. Those apps can also help you track to ensure you don't go under or over.
Avoid eating the same foods over and over again. Shake up your diet and make sure you're getting all the beneficial things you need.
While it may be tempting sometimes, don't skip meals. You need to eat at least three times a day, but healthy snacks in between are always a good idea. Space those meals out evenly throughout the day.
Exercise Management for Type 2 Diabetes
The best thing to pair with healthy eating is exercise. You'll have more energy, relieve stress, keep your joints flexible, lower your risk for heart disease and stroke, and also boost your mood and happiness.
If you've never maintained a regular fitness plan before, it can be daunting to figure out a place to start. We're here to help:
Speak with your doctor on what exercise plan they think will work best for you. See if you can manage what they request on your own through research and developing a workout plan. If you need a little extra help, it's a great idea to work with a professional trainer who can take your specific concerns and situation into consideration and give you a fantastic regiment to start with.
Experiment with what types of exercise you like the most. Can't stand running? Try different cardio like swimming, Zumba, or riding on a bike. Find something that gets you excited to hit the gym.
Balance your workouts. Do cardio, strength training, and flexibility exercises.
Make decisions that keep you more active throughout the day. Park further away, use the stairs over the elevator, and get up to take walking breaks if you work in an office all day.
Weight Management for Type 2 Diabetes
Losing weight may seem like an insurmountable goal for those with Type 2 Diabetes. But if you follow the tips we suggested above for diet and exercise management, you will be off to a great start.
Just 10-15 pounds can make a big difference in your blood glucose, blood pressure, and cholesterol. Here are a few more ways to help get you to your weight management goal:
Plan your meals during the weekend for the week ahead. This way, you'll have more time and energy to put into making the right food choices.
Visit with a dietitian to get a catered eating plan that will address all your issues and challenges. These professionals will help guide you in the right direction.
Reach out to your loved ones and let them know your goals and how you plan to work on them. Creating a support group of people you trust will keep you encouraged and accountable during your rough patches.
If you're still overwhelmed after reading those tips, don't worry. We're proud to offer to our patients Diabetic Self-Management Classes that can assist with what was discussed above and more. These sessions are designed to ensure better health for those diagnosed with diabetes through discussing topics on healthy eating, being active, medicine, and blood sugar tracking.
If you'd like to schedule one of these classes, contact SouthCoast Health at 912-691-3600. We'll be able to set up a visit with one of our expert Primary Care physicians who can help you get started on the right path for managing this condition and achieving a better quality of life.
---
Whether you are looking for a primary care doctor or a pediatrician, or another medical specialist, SouthCoast Health has you covered with its wide range of world-class healthcare services, available throughout the Coastal Empire and Lowcountry. SouthCoast Health has 120 physicians and medical professionals in 18 locations in Savannah, Richmond Hill, Pooler, Rincon, Baxley, Bluffton, Hilton Head, Hinesville, and Statesboro. SouthCoast Health offers comprehensive medical services including: Family Medicine, Internal Medicine, Pediatrics, Allergy and Immunology, Cardiology, Endocrinology, Eye Care, Imaging, Infectious Diseases, Nephrology, Neurology, Physical Therapy, Podiatry, Sleep Medicine, Surgery, Clinical Trial Research Studies, Diabetic Self-Management Training Sessions, Dietetic Counseling, High Risk Breast Cancer Clinic, Laboratory Services, Massage Therapy, Optical Shop, Pharmacy, and Urgent Care.