You've Run the Race: Now What?
Tuesday, November 6, 2018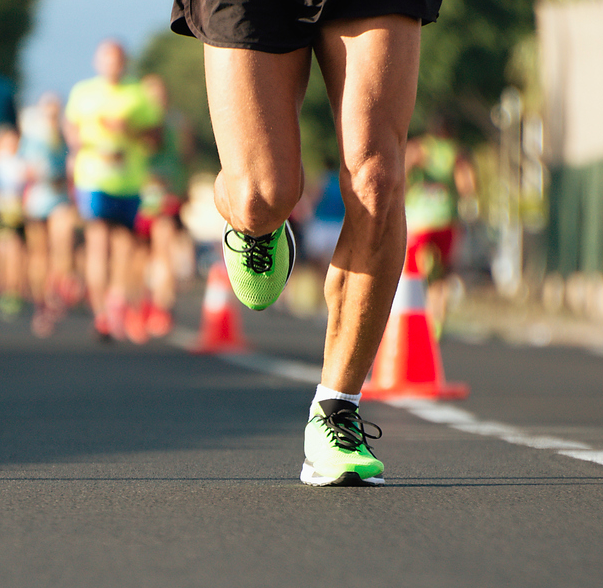 Whether you just started running or you've been training for years, running a race is no simple thing. It takes a lot of time, energy, and effort. If you've crossed the finish line, take a moment and congratulate yourself. Or, if you're not there yet, check out our blog on pre-race tips here.
But, you may be asking yourself as many others do at this point, what now? What do I work towards now that the race is over and done with?
SouthCoast Health has plenty of next steps for you to consider so you don't have to wonder anymore. Find your next battle plan below!
Right After the Race
Immediately after you've finished running your race, make sure to do these following steps to help speed recovery along:
The first hour after the race, take the time to do a few cool down exercises. Jog slowly, walk around and stretch. This way, you'll jump-start the muscle repair process after working your body so hard. Avoid the temptation to sit right down and rest.
Put back into your body what you just pushed out: hydration and electrolytes! This means a lot of water or sports drinks made specifically for recovery. Make sure to do this starting from a few hours after the race all the way up until the next day.
Get some rest! You just worked hard, so make sure to spend the next day properly recovering and not doing anything extraneous.
Train for the Next Race
Of course, training to run a longer race might seem like the next obvious choice. There are tons of training programs that can help you get there, or you can train yourself naturally just by increasing your distance a bit more each time you go for a run or jog. Think about turning your 5k accomplishment into a 10k, and then get to running.
Run Your Race Faster
Just because you finished your race, doesn't mean you can't improve your time or speed. Just like a couch to 5k program focuses on slowly building up your endurance, you can do the same to slowly better your time. Get out there and run more and focus on getting faster each time. Even shaving off a few seconds at a time makes a world of a difference.
Work on Consistency
One of the best things you can do for yourself after running a race is to keep running. After your race, focus on consistency. Find a routine and stick to it, whether you're running every day, every other day, or just a few times during the week. Whatever works best for you and your schedule.
This way, you won't slide back into old habits or have to work your way back up from scratch again.
Explore Other Forms of Exercise
The perfect time to check out other types of exercising is right after you spent a lot of time focusing on one specific type.
A great place to start? Lifting weights! Especially since you've worked your legs so much, strength training other parts of your body is essential. This will make running easier in the long run.
It's also the perfect time to see if you love other types of cardio as much as running. Maybe biking or swimming could become another favorite hobby. Plus, adding diversity to your regiment will let the parts of you that get worked extra hard during running take a break.
The world, and gym, is completely open to you.
If you have any questions about running or your next steps in training, make an appointment with one of our SouthCoast Health physical therapists.
---
Whether you are looking for a primary care doctor or a pediatrician, or another medical specialist, SouthCoast Health has you covered with its wide range of world-class healthcare services, available throughout the Coastal Empire and Lowcountry. Founded in 1996, SouthCoast Health has 120 physicians and medical professionals in 17 locations in Savannah, Richmond Hill, Pooler, Rincon, Baxley, Bluffton, Hilton Head, Hinesville, and Statesboro. SouthCoast Health offers comprehensive medical services including: Family Medicine, Internal Medicine, Pediatrics, Allergy and Immunology, Cardiology, Endocrinology, Eye Care, Imaging, Infectious Diseases, Nephrology, Neurology, Physical Therapy, Podiatry, Sleep Medicine, Surgery, Clinical Trial Research Studies, Diabetic Self-Management Training Sessions, Dietetic Counseling, High Risk Breast Cancer Clinic, Laboratory Services, Massage Therapy, Optical Shop, Pharmacy, and Urgent Care.