Endocrinologist Dr. Abby Abisogun Appeared on Mid-Morning Live for National Diabetes Awareness Month
Tuesday, December 4, 2018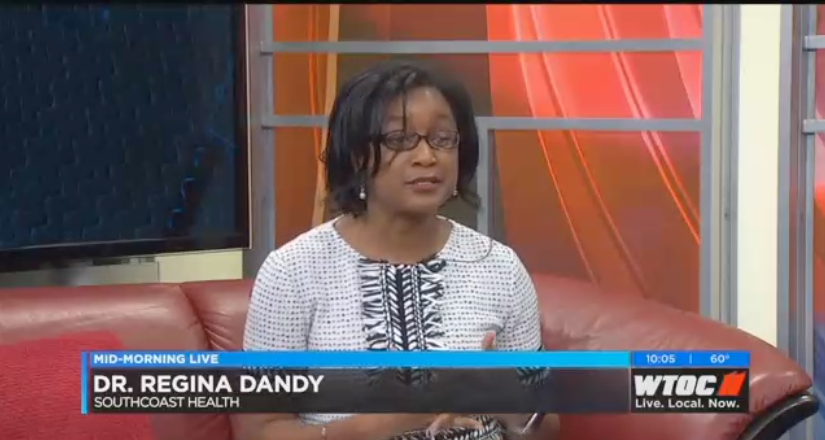 Recently, Dr. Abby Abisogun sat down with WTOC Mid-Morning Live for National Diabetes Awareness Month in November. Our region of the nation is known as the "Diabetes Belt," meaning that those who live in our area are more likely to have type 2 diabetes than anyone else in the United States. Therefore, diabetes is a disease that SouthCoast Health wants to help educate our patients on prevention and treatment. As an endocrinologist, Dr. Abisogun works with patients daily battling it.
Dr. Abisogun discussed that despite how common diabetes is, it is still a mysterious disease to many people. She advised to look out for warning signs that include unexplained weight loss, increase thirst and urination, blurred vision, and fatigue. Testing for diabetes would be suggested for patients that are overweight and have one of the following traits: a family history of diabetes, a diagnosis of gestational diabetes during pregnancy, and belong to certain ethnic groups with a high rate of diabetes.
"Anyone can be diagnosed with diabetes," Dr. Abisogun shared with the audience. "However, prevention from the diagnosis is always better than treatment."
Some tips that Dr. Abisogun gave for diabetes prevention included eating a well-balanced diet, drinking water and avoiding sweeten drinks, staying active, and managing your weight.
Watch Dr. Abisogun's appearance below to learn more about the importance of diabetes awareness.
---
Whether you are looking for a primary care doctor or a pediatrician, or another medical specialist, SouthCoast Health has you covered with its wide range of world-class healthcare services, available throughout the Coastal Empire and Lowcountry. SouthCoast Health has 120 physicians and medical professionals in 18 locations in Savannah, Richmond Hill, Pooler, Rincon, Baxley, Bluffton, Hilton Head, Hinesville, and Statesboro. SouthCoast Health offers comprehensive medical services including: Family Medicine, Internal Medicine, Pediatrics, Allergy and Immunology, Cardiology, Endocrinology, Eye Care, Imaging, Infectious Diseases, Nephrology, Neurology, Physical Therapy, Podiatry, Sleep Medicine, Surgery, Clinical Trial Research Studies, Diabetic Self-Management Training Sessions, Dietetic Counseling, High Risk Breast Cancer Clinic, Laboratory Services, Massage Therapy, Optical Shop, Pharmacy, and Urgent Care.