Get to Know Our Endocrinology Department
Tuesday, December 18, 2018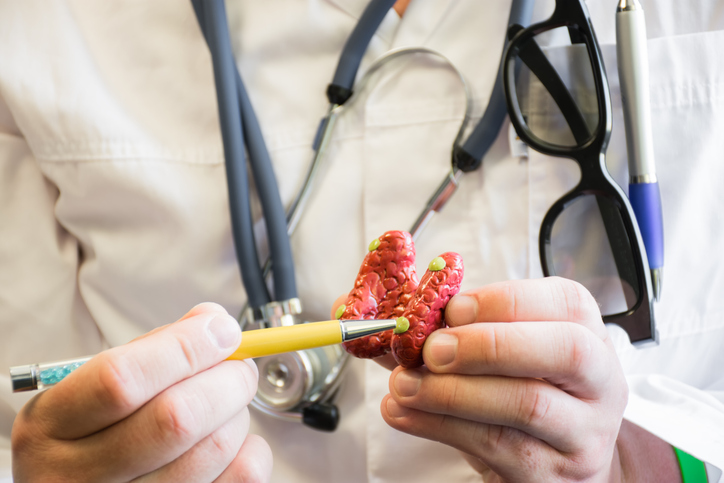 If you haven't heard of Endocrinology or Endocrinologists, that's because you probably haven't had to face any issues with hormonal imbalances yet. Count yourself lucky! However, SouthCoast Health is proud to have an incredibly qualified Endocrinologist on our team trained to deal with any hormonal imbalance issues.
"You don't often think about your hormones when it comes to day-to-day life," SouthCoast Health Endocrinologist Dr. Abby Abisogun states. "But the truth of the matter is our hormones regulate much of our daily functions, like our metabolism, growth, reproduction, movement, and more. Any imbalances can open the door to unexpected medical issues."
We're diving into the most common health issues Endocrinologists see as well as some of the most common operations our surgery department offers for endocrine treatment.
Common Conditions Endocrinologists Treat
First, here's a lesson on what Endocrinology is. This medical specialty covers a wide range of systems in our bodies, but the tissues and glands involved include the hypothalamus, pituitary gland, thyroid gland, pancreas, adrenal glands, ovaries, testes, and more. This is known as the endocrine system. These tissues release the hormones that control a variety of functions in our bodies.
Since we have over 50 different hormones, any issues that arise with our hormones can be the catalyst for problems with the function and development of our bodies.
Diabetes: Diabetes is the most common issue Endocrinologists treat. After all, 29 million people in the United States have diabetes. Check out this blog from Dr. Abisogun discussing tips of managing Type 2 Diabetes.
Thyroid Diseases: Examples of these include thyroid nodules, which are lumps in the thyroid, or hypothyroidism, a condition in which the thyroid gland doesn't produce enough thyroid hormone. Either way, our endocrinologists are trained to handle any problems with the thyroid, one of the tissues that make up the endocrine system.
Menopause: This is when the reproductive hormones begin to naturally decline in women during their 40's and 50's. Endocrinologists can help women face this period of change in their bodies.
Osteoporosis: This is a common bone disease that causes the body to lose too much bone, make too little bone, or sometimes both. Lots of other diseases can affect this process, including thyroid issues. If other Endocrinology conditions cause this disease, our team can also step in to help.
Hypertension: High blood pressure is when blood is pushing too forcefully against the artery walls. More than three million US cases occur every year. There are different causes of high blood pressure. Sometimes, high blood pressure is a result of an overabundance of certain hormones. Endocrinologists diagnose and treat this type of high blood pressure as well.
Cholesterol Disorders: High cholesterol can put you at risk for serious conditions like heart attack and stroke. Thankfully, our Endocrinologists specialize in managing cholesterol disorders.
Cancers and benign tumors in the Endocrine Glands: Sometimes cancerous or non-cancerous growths are found in the thyroid, adrenal, pancreas, parathyroid, and pituitary glands. Thyroid cancer, for example, is the fastest growing cancer in the U.S. While cancer can be a frightening diagnosis, our Endocrinologists are here to help.
Common Endocrine Surgeries
If you or a loved one are facing a surgery involving one of these health issues, rest assured our endocrine surgeons are here to help you feel well taken care of. Dr. Christa Jillard, Dr. Jeffrey Mandel, and Dr. Stephen Yeager are educated to do just that.
In fact, Dr. Jillard recently had research published in the prestigious medical
journal Thyroid, resulting in further coverage in the medical publication Endocrine Today. Dr. Jillard and her partners conducted their research on the subject of Hürthle cell carcinoma, a rare cancer that affects the thyroid gland. Click here to read more about that research.
In the meantime, here are the most common endocrine surgeries patients encounter.
Thyroid Surgery: This is the most common endocrine surgery, whether for thyroid cancer or for goiters causing difficulty swallowing or breathing. Our surgeons can either completely remove the thyroid or partially remove a thyroid lobe, depending on the reason for the surgery.
Parathyroid Surgery: High calcium levels can wreak havoc on the body. Calcium may be elevated due to small glands in your neck, called parathyroid glands. This disease can result in kidney stones, bone disease or weakening, and other symptoms like fatigue and depression. Drs. Jillard and Yeager can surgically remove these parathyroid glands and cure you of the disease.
Adrenal Surgery: Endocrine surgeons often have to remove the adrenal gland, located on top of each kidney, due to enlarged over functioning glands or cancers in this tissue.
Pancreatic Surgery: The two most common reasons for pancreatic surgeries are pancreatic cancer and pancreatitis, inflammation of the pancreas.
If you have any more questions for our team or are facing any Endocrine health problems, click here to schedule an appointment with a primary care physician who can connect you to one of our endocrine specialists.
---
Whether you are looking for a primary care doctor or a pediatrician, or another medical specialist, SouthCoast Health has you covered with its wide range of world-class healthcare services, available throughout the Coastal Empire and Lowcountry. SouthCoast Health has 120 physicians and medical professionals in 18 locations in Savannah, Richmond Hill, Pooler, Rincon, Baxley, Bluffton, Hilton Head, Hinesville, and Statesboro. SouthCoast Health offers comprehensive medical services including: Family Medicine, Internal Medicine, Pediatrics, Allergy and Immunology, Cardiology, Endocrinology, Eye Care, Imaging, Infectious Diseases, Nephrology, Neurology, Physical Therapy, Podiatry, Sleep Medicine, Surgery, Clinical Trial Research Studies, Diabetic Self-Management Training Sessions, Dietetic Counseling, High Risk Breast Cancer Clinic, Laboratory Services, Massage Therapy, Optical Shop, Pharmacy, and Urgent Care.