What's Causing My Foot Pain?
Tuesday, February 5, 2019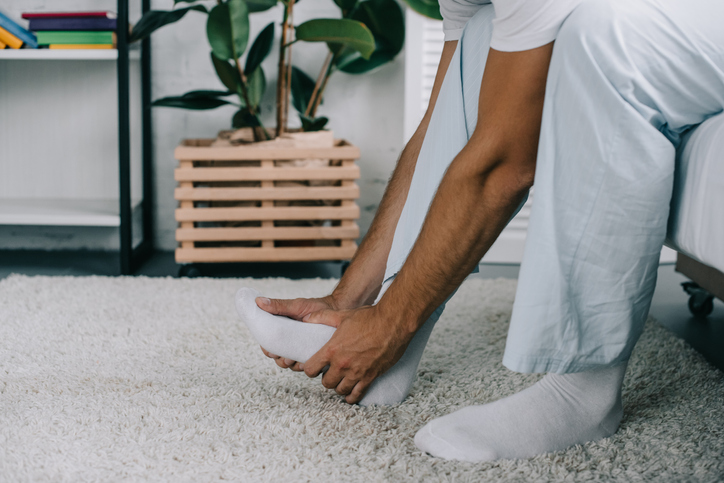 We rely on our feet for many different aspects of life. So, when pain strikes this area of the body, it can be extremely debilitating. But there's a difference between just needing a good foot massage and pain that causes a lack of mobility. The medical professionals at SouthCoast Health understand the difference between the two, as well as the complex symptoms and treatment options for each.
If you're dealing with pain in your foot, read below for these types of insights from our team. The good news is that most of these issues will either go away on their own, require simple medications and rest, or mean double-checking the size of your shoes. However, some are more serious than others. Regardless, we recommended that if you experience foot pain that just won't go away, it's time to schedule a visit to see a medical professional.
General Pain:
A stone bruise is a deep bruise that often occurs on the pad of the heel or on the ball of the foot. Many people experience this type of foot pain, and although it's uncomfortable, it will go away on its own. It usually happens after an impact injury or stepping wrong.
Plantar fasciitis most commonly affects the heel, arch, or both. It's an irritation or inflammation that occurs to the band of tissue that connects the heel bone to the toes. Common symptoms include pain that is strongest during the morning in the heel or the arch in the foot.
Ball of Foot Pain:
Metatarsalgia is the name for pain and inflammation felt in the ball of the foot. It's similar to the pain of the stone bruise described above. Those who wear the wrong size of shoes or who run and jump a lot commonly experience this.
Morton's neuroma happens when there is a thickening of the tissue around the nerves between the toes, usually the third and fourth. Since it's often the result of wearing high heels or tight shoes, women more often get this pain. It's best described as pain or numbness over the ball of your foot.
Sesamoiditis is when the tendons surrounding the bone in your big toes become injured and/or inflamed. It's incredibly similar to tendinitis, which is also irritation of our tendons. Most commonly, this happens to runners and ballet dancers.
Arch Pain:
General arch pain or arch strain is a common occurrence and is used to describe inflammation or burning sensation at the arch of the foot. This happens after structural imbalances, injuries, plantar fasciitis, and over-stretching.
Fallen arches, otherwise known as flat feet, are just what it sounds like. It's when the arches of your feet flatten out, often while you are standing or walking.
Posterior-Tibial Tendonitis is what happens when the posterior tibial fails. Since the posterior tibial is what holds up your arch, it causes lots of discomforts. When this occurs, it often is accompanied with heel pain, arch pain, plantar fasciitis, or heel spurs. It's usually much more painful to walk or run.
Toes:
If you ever experience pain underneath your toes, there's a name for this condition. Called metatarsalgia, it can occur for a wide variety of reasons, such as over-exercising, using the incorrect posture or technique when working out, or wearing the wrong size of shoes.
If you have pain, swelling, or inflammation of your nerve beneath the 3rd and 4th toes, you could have Morton's Neuroma. Aside from general pain, there is also burning, numbness, cramping, and tingling. Sometimes, this issue requires surgery to be resolved.
If your second toe is longer than your big toe, then you'll often experience what is known as Morton's Toe. This leads to lots of pressure and pain beneath the second toe, and it can even lead to callus forming in this spot.
Heel Pain:
If you're just experiencing general heel pain, it's no surprise that this is called heel pain. If you're often wearing the wrong size of shoes or shoes that are, in general, uncomfortable, as well as often stepping hard on this part of the foot, you'll experience this.
Heel spurs are abnormal growths of the bone on the heel that come after wearing the wrong shoes, having an incorrect walk or posture, or after performing high-strenuous activities like running. In fact, lots of people have this without ever experiencing lots of pain. Those with flat feet or high arches are more likely to have these and usually hurt while walking or standings. Unfortunately, heel spurs will not go away on their own and require medical attention.
If you or someone you love are dealing with foot pain and need professional medical help, give us a call at 912-691-3600.
---
Whether you are looking for a primary care doctor or a pediatrician, or another medical specialist, SouthCoast Health has you covered with its wide range of world-class healthcare services, available throughout the Coastal Empire and Lowcountry. SouthCoast Health has 120 physicians and medical professionals in 18 locations in Savannah, Richmond Hill, Pooler, Rincon, Baxley, Bluffton, Hilton Head, and Hinesville. SouthCoast Health offers comprehensive medical services including: Family Medicine, Internal Medicine, Pediatrics, Allergy and Immunity, Cardiology, Endocrinology, Eye Care, Imaging, Infectious Diseases, Nephrology, Neurology, Physical Therapy, Podiatry, Sleep Medicine, Surgery, Clinical Trial Research Studies, Diabetic Self-Management Training Sessions, Dietetic Counseling, High Risk Breast Cancer Clinic, Laboratory Services, Massage Therapy, Optical Shop, Pharmacy, and Urgent Care.