Major Signs of a Heart Attack You Shouldn't Ignore
Wednesday, February 20, 2019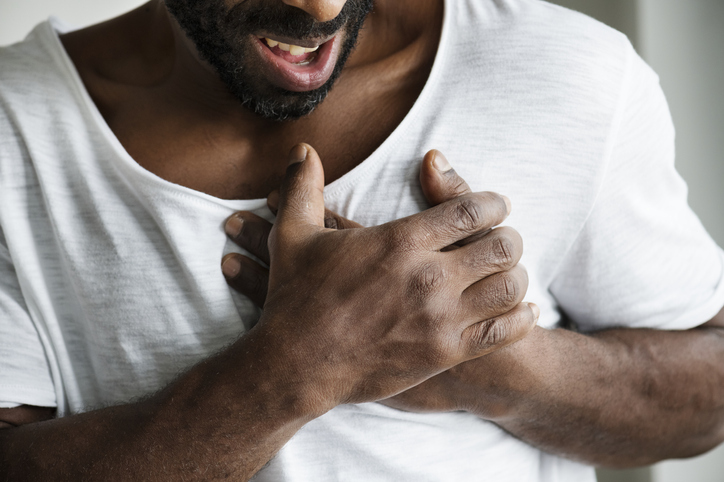 The words "heart-attack" are some of the scariest out there. Especially when you consider the fact that about 610,000 people die of heart disease in the United States every year, it's no wonder so many people are afraid of this health crisis.
"The tricky thing is that so many other symptoms can be confused with a heart attack," SouthCoast Health Cardiologist Dr. Akinniran Abisogun stated. "Heart burn, a pulled muscle, pancreatitis, muscle spasms, and so many other medical conditions may be misleading to what is truly happening."
In honor of February being American Heart Month, we're diving into the biggest signs of heart attacks you should never ignore.
Symptoms of a Heart Attack
A heart attack happens when something causes the flow of blood to the heart to be blocked. Usually, the biggest culprits are buildup of fat, cholesterol, and other substances that cause plaque to pile up in the arteries.
Unfortunately, if a heart attack occurs outside of a hospital, the survival rate is only 6 percent. That's why it's so important to know what the symptoms are and when to get to the emergency room ASAP.
Pressure is a key indicator. If you're experiencing pressure, tightness, pain, squeezing, or aching sensations in your chest, arms, neck, jaw, or back, you may be experiencing a heart attack.
If you suddenly find yourself short of breath without doing any major exercise, make sure nothing serious is happening. Along the same lines, fatigue is often an alarm bell ringing.
You might suddenly feel like you have the flu if you're experiencing a heart attack. Often, people feel nauseous, lightheaded, and sudden dizziness, much like a serious bug might feel like.
Heartburn symptoms don't always mean you're experiencing heartburn. Especially if you are having issues with indigestion, something far more serious could be occurring.
Abdominal pain is rarer, but if you're experiencing all of the above plus this discomfort, a heart attack could be happening to you.
Just as Dr. Abisogun said, it can be confusing when to know if these symptoms are an incoming heart attack or something less sinister. In this case, it's always better to be safe than sorry. If you're experiencing any of these symptoms, call 911 or get to the nearest emergency room as soon as possible.
If you'd like to learn more about preventative measures you can take, click here to schedule an appointment with one of our primary care physicians.
---
Whether you are looking for a primary care doctor or a pediatrician, or another medical specialist, SouthCoast Health has you covered with its wide range of world-class healthcare services, available throughout the Coastal Empire and Lowcountry. SouthCoast Health has 120 physicians and medical professionals in 18 locations in Savannah, Richmond Hill, Pooler, Rincon, Baxley, Bluffton, Hilton Head, Hinesville, and Statesboro. SouthCoast Health offers comprehensive medical services including: Family Medicine, Internal Medicine, Pediatrics, Allergy and Immunology, Cardiology, Endocrinology, Eye Care, Imaging, Infectious Diseases, Nephrology, Neurology, Physical Therapy, Podiatry, Sleep Medicine, Surgery, Clinical Trial Research Studies, Diabetic Self-Management Training Sessions, Dietetic Counseling, High Risk Breast Cancer Clinic, Laboratory Services, Massage Therapy, Optical Shop, Pharmacy, and Urgent Care.