Cardiologist Dr. Akinniran Abisogun Appears on WTOC Mid-Morning Live for American Heart Month
Wednesday, April 10, 2019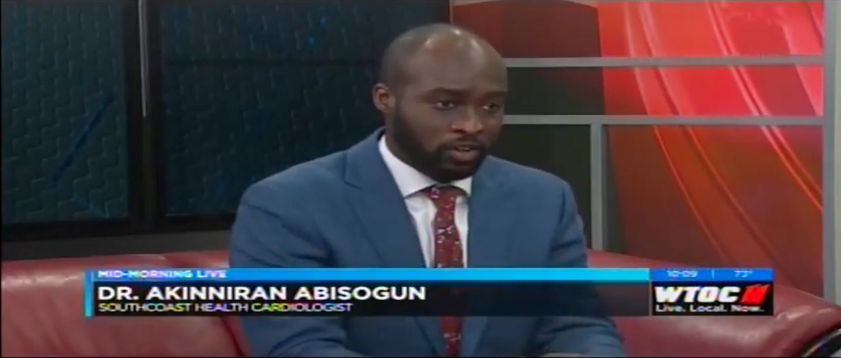 SouthCoast Health cardiologist Dr. Akinniran Abisogun appeared on WTOC Mid-Morning Live in honor of American Heart Month to discuss the importance of paying attention to your heart's health. He encouraged viewers to read through SouthCoast Health's Heart Health Facebook Q&A that Dr. Abisogun hosted in February. You can see all the questions he received and read the responses here.
During the appearance, Dr. Abisogun shared with the audience that his patients consistently ask him for advice on how to prevent a heart attack. He explained that diet, exercise, not smoking, and "knowing your numbers" (blood pressure and cholesterol) help keep everyone on top of their heart health. Another fact that Dr. Abisogun shared is poor dental health is linked to heart attacks and strokes.
"It's really important to be aware of your heart and the risk factors that can lead to bad events like heart attack and stroke," Dr. Abisogun explained. "If you are ever concerned, just call us. We are here to help."
Watch Dr. Abisogun's appearance below to hear more tips for a healthy heart.