SouthCoast's Mammography Imaging Department Joins Forces as 'Breast Friends' for 2019 Susan G. Komen Race for the Cure
Wednesday, April 24, 2019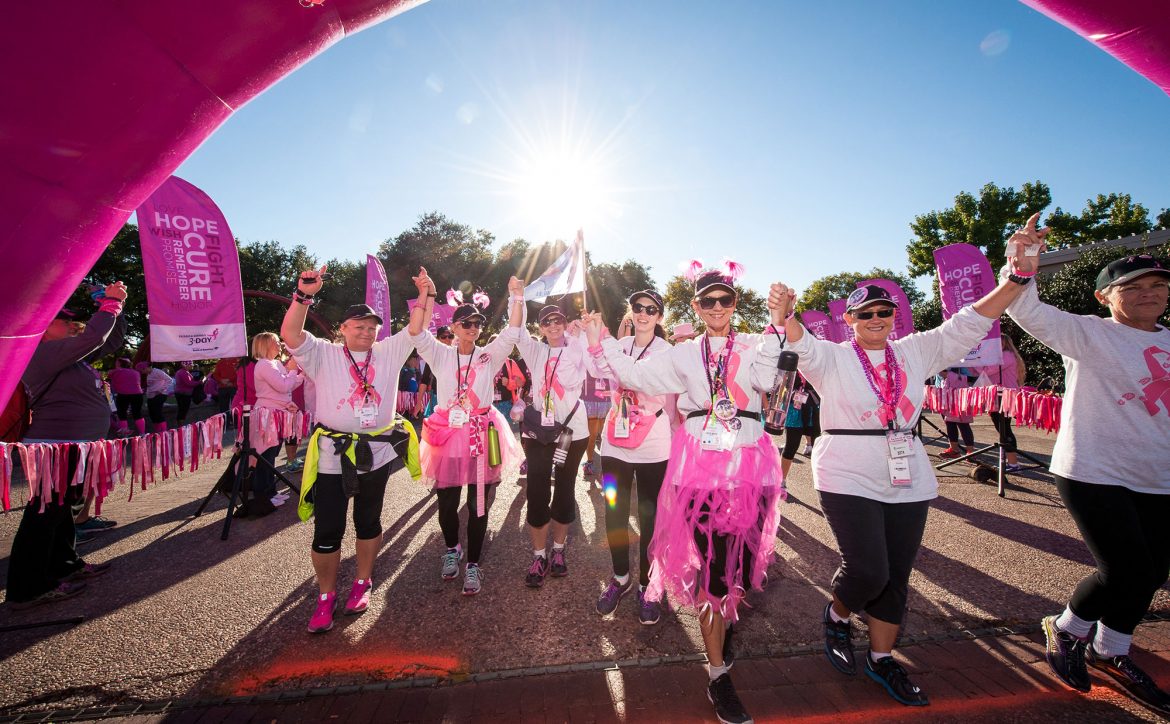 Approximately 15,000 mammograms take place at SouthCoast Health each year. For mammography supervisor Crystal Swanson and her imaging team, breast care is their life's work.
So when an event comes around promoting education and fundraising for breast cancer, such as the Susan G. Komen Race for the Cure, Swanson and company are quick to engage.
Swanson and approximately 30 of her imaging co-workers are members of team "Breast Friends". This team will simultaneously raise funds and their collective pulse April 27, 2018 as participants in the Susan G. Komen Race for the Cure Savannah, a 5K road race.
"The race puts us in an environment that we all have passion for," Swanson says, "and it brings us together as friends outside of the structured environment of work."
According to Swanson, team spirit will be seen in the form of her staff dressing for the occasion. On race day, some will wrap their waists in frilly pink tutus. Others opt to wear pink socks, hats, and more. And each team member will be wearing a custom-designed Breast Friends T-shirt.
After researching team names, Swanson says a co-worker came up with Breast Friends. Swanson then chose to have a logo created featuring a pink cancer awareness ribbon in the shape of a person holding hands with another human-shaped pink ribbon.
"Not only does it symbolize our department coming together," Swanson explains, "but it also reminds me of friends who team up to go get a mammogram together. We see that a lot."
For Swanson and her co-workers, the cause strikes a deep chord. The imaging team performs mammograms on a daily basis and sees many of the same patients year after year. Swanson says this helps foster connections and friendships with patients, making breast cancer activism even more personal.
Swanson's own connection to the disease –her mother Patricia Jones is a breast cancer survivor– adds special significance to her participation in the Komen race. Although her 76-year-old mother suffers from Parkinson's Disease, her matriarch will likely be a member of Breast Friends. Swanson says she plans on pushing her mom in a wheelchair along the race route.
"Not only is the Komen race a great cause," Swanson says, "it really boosts morale among everyone in our department. We really are breast friends."
---
Whether you are looking for a primary care doctor or a pediatrician, or another medical specialist, SouthCoast Health has you covered with its wide range of world-class healthcare services, available throughout the Coastal Empire and Lowcountry. Founded in 1996, SouthCoast Health has 120 physicians and medical professionals in 17 locations in Savannah, Richmond Hill, Pooler, Rincon, Baxley, Bluffton, and Hinesville. SouthCoast Health offers comprehensive medical services including: Family Medicine, Internal Medicine, Pediatrics, Allergy and Immunity, Cardiology, Endocrinology, Eye Care, Imaging, Infectious Diseases, Nephrology, Neurology, Physical Therapy, Podiatry, Sleep Medicine, Surgery, Clinical Trial Research Studies, Diabetic Self-Management Training Sessions, Dietetic Counseling, High Risk Breast Cancer Clinic, Laboratory Services, Massage Therapy, Optical Shop, Pharmacy, and Urgent Care.