Beloved SouthCoast Health Family Physician Retires after 45 Years of Practice
Despite acclaim, Dr. Robert Grant cites successful patient treatment as career highlight
Wednesday, May 1, 2019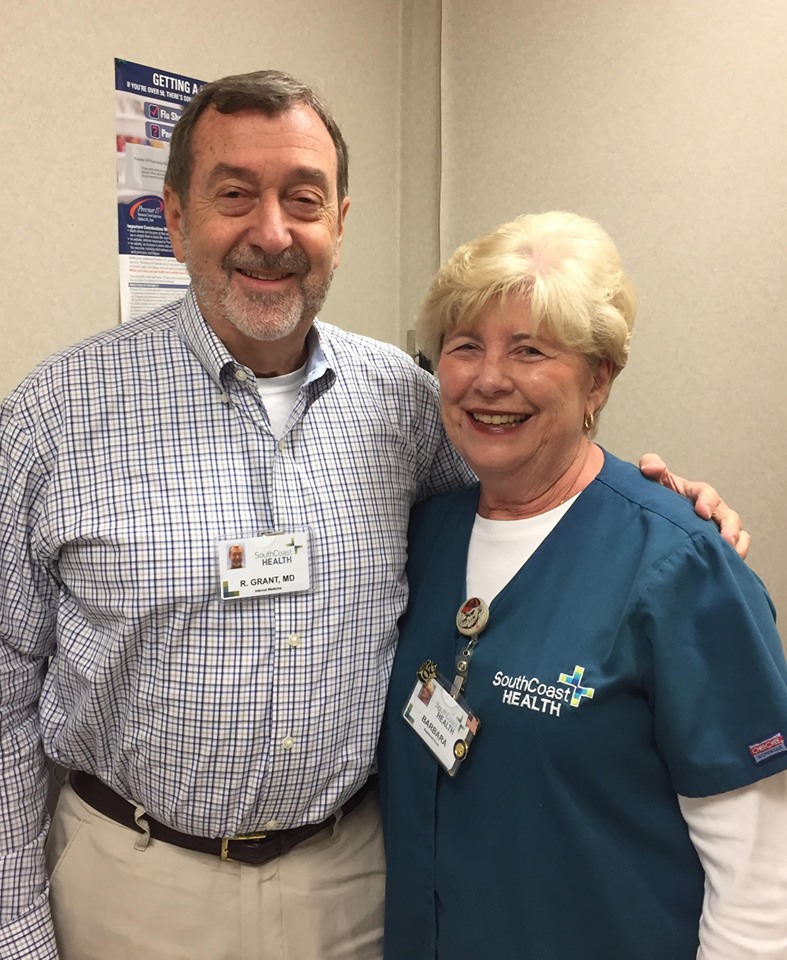 After practicing medicine for 45 years, acclaimed SouthCoast Health physician Dr. Robert Grant of SouthCoast Health will be retiring April 30.
"I definitely have mixed emotions about retiring," Dr. Grant says, "but you know when it's time. And it's here."
Dr. Grant's career began after earning his Doctor of Medicine degree from the Medical College of Georgia in Augusta and completing his residency at Memorial Medical Center in Savannah. He went on to become a member of both the Georgia Medical Society and the Medical Association of Georgia. In July 1996, Dr. Grant served as one of the founding members of SouthCoast Health.
"Dr. Grant has been an invaluable part of SouthCoast Health from the beginning," says John Marrero, Administrator of SouthCoast Health. "He has certainly helped set the standard for the type of physicians we align with. He'll be missed greatly at SouthCoast, and we wish him happiness in retirement."
Throughout his professional tenure, Dr. Grant has been the recipient of many recognitions. This includes winning the Internal Medicine category in Savannah Magazine's Best of 2016 issue, and Savannah Morning News honoring Dr. Grant as best family physician for its 2018 Best of the Best Coastal Empire Awards.
Yet, Dr. Grant quickly points out he did not do it alone. Early in his career, he forged a bond with nurse Barbara Lutz. In the late 1980s, it was during his rounds at St. Joseph's Hospital in Savannah he witnessed Lutz's professionalism and knack for nursing. Soon thereafter, Dr. Grant offered Lutz a job.
"She became my right hand, and probably my left hand, too," Dr. Grant says. "She and I can kind of synchronize our thinking as far as patient care, and how to handle people and medical situations."
After years of collaboration, Dr. Grant and Lutz made a pact. When time came, they would retire simultaneously. Now after more than 30 years as one of Savannah's most beloved healthcare teams, Dr. Grant and Lutz are honoring their agreement.
Dr. Grant says he will miss working alongside Lutz along with the most rewarding aspects of being a family physician.
"A home run to me is seeing someone's diabetes come under control, getting someone on the right medication or getting their blood pressure in a good range," Dr. Grant says. "Those types of things are the most important. I haven't cured cancer, but watching your patients improve is definitely a career highlight."
While he plans to spend time with this wife, children, and grandchildren, Dr. Grant says he won't be walking away from medicine entirely. He plans on volunteering his medical expertise through the Social Apostolate of Savannah.
---
Whether you are looking for a primary care doctor or a pediatrician, or another medical specialist, SouthCoast Health has you covered with its wide range of world-class healthcare services, available throughout the Coastal Empire and Lowcountry. Founded in 1996, SouthCoast Health has 120 physicians and medical professionals in 17 locations in Savannah, Richmond Hill, Pooler, Rincon, Baxley, Bluffton, and Hinesville. SouthCoast Health offers comprehensive medical services including: Family Medicine, Internal Medicine, Pediatrics, Allergy and Immunity, Cardiology, Endocrinology, Eye Care, Imaging, Infectious Diseases, Nephrology, Neurology, Physical Therapy, Podiatry, Sleep Medicine, Surgery, Clinical Trial Research Studies, Diabetic Self-Management Training Sessions, Dietetic Counseling, High Risk Breast Cancer Clinic, Laboratory Services, Massage Therapy, Optical Shop, Pharmacy, and Urgent Care.