How to Help Someone Having an Asthma Attack
Tuesday, May 14, 2019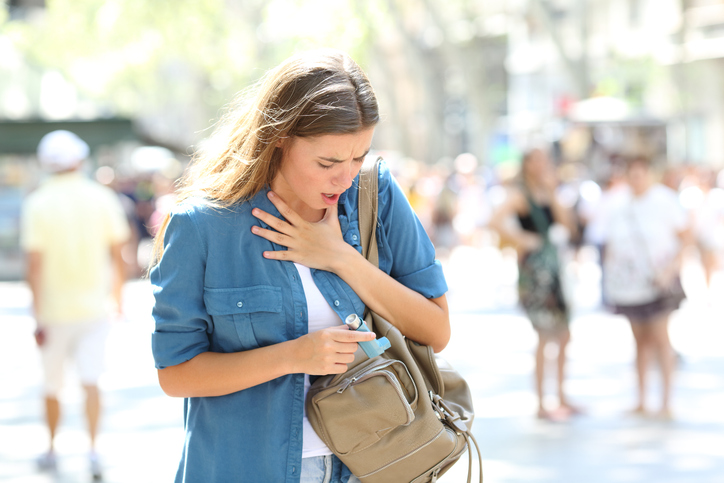 It is estimated that one in 13 people have asthma, which means more than 26 million Americans have it. Since this medical condition has been on the rise since the 1980s for people of all ages, it's very likely that you or someone you know has experienced an asthma attack.
These situations can be extremely frightening with common symptoms being severe wheezing, non-stop coughing, rapid breathing, chest tightness, pressure on the chest, tightened muscles, inability to talk, sweat, paleness, and even blue lips.
"Any asthma attack has the potential to become life-threatening," SouthCoast Health's Dr. Wasil Khan stated. "The more people who know what to look out for and what to do in those situations, the more lives that are saved."
Keep reading below to learn more about this medical occurrence and what you can do if you face it. If you find this blog while the asthma attack is occurring, stop reading now and call 911.
What is Asthma?
Before going into the details on how to help, it'll be beneficial to explain exactly why an attack might be happening.
Asthma causes the airways to spasm, creates tightness in the chest, inflames the lining in the airways, and also produces phlegm. All of these symptoms lead to overall difficulty in breathing.
Generally, what causes these attacks are triggers specific to each person. If you are aware of your asthma triggers you can do your best to avoid them, however, sometimes run-ins are inevitable. A few common triggers are allergens (like pollen, pets, dust), pollution, exercise, stress, respiratory infections, tobacco, and strong irritating smells.
The Steps for Helping Someone Who is Having an Asthma Attack
These situations can be frightening, so take a deep breath, stay calm, and use these following steps to help you and the person suffering from an attack:
Encourage them to stay calm, which will also help you to remain calm. Panicking will only make the situation far worse.
If it's cold outside, DO NOT take them out for a breath of fresh air. This will only make the symptoms worse. But if it is good weather and warm, then a change of environment might make them feel better.
Make sure the person is sitting and with the correct posture. Being slumped over will only make it worse.
Loosen any tight clothes that might constrict their breathing.
Walk them through taking several slow and steady breaths.
If they have an inhaler, now would be the time to use it.
If they don't have an inhaler or if the inhaler is failing to bring relief, feel free to call 911. These medical professionals are trained to properly handle emergency situations.
If the attack is happening due to an allergic reaction, use an EpiPen in the proper way if the person has access to one.
If you have any more questions or concerns about asthma, the expert allergy and immunology department at SouthCoast Health is here to help. Click here to make an appointment today!
---
Whether you are looking for a primary care doctor or a pediatrician, or another medical specialist, SouthCoast Health has you covered with its wide range of world-class healthcare services, available throughout the Coastal Empire and Lowcountry. SouthCoast Health has 120 physicians and medical professionals in 18 locations in Savannah, Richmond Hill, Pooler, Rincon, Baxley, Bluffton, Hilton Head, Hinesville, and Statesboro. SouthCoast Health offers comprehensive medical services including: Family Medicine, Internal Medicine, Pediatrics, Allergy and Immunology, Cardiology, Endocrinology, Eye Care, Imaging, Infectious Diseases, Nephrology, Neurology, Physical Therapy, Podiatry, Sleep Medicine, Surgery, Clinical Trial Research Studies, Diabetic Self-Management Training Sessions, Dietetic Counseling, High Risk Breast Cancer Clinic, Laboratory Services, Massage Therapy, Optical Shop, Pharmacy, and Urgent Care.