Physician Spotlight: Dr. Wasil Khan
SouthCoast Health Department of Allergy and Immunology
Tuesday, April 26, 2016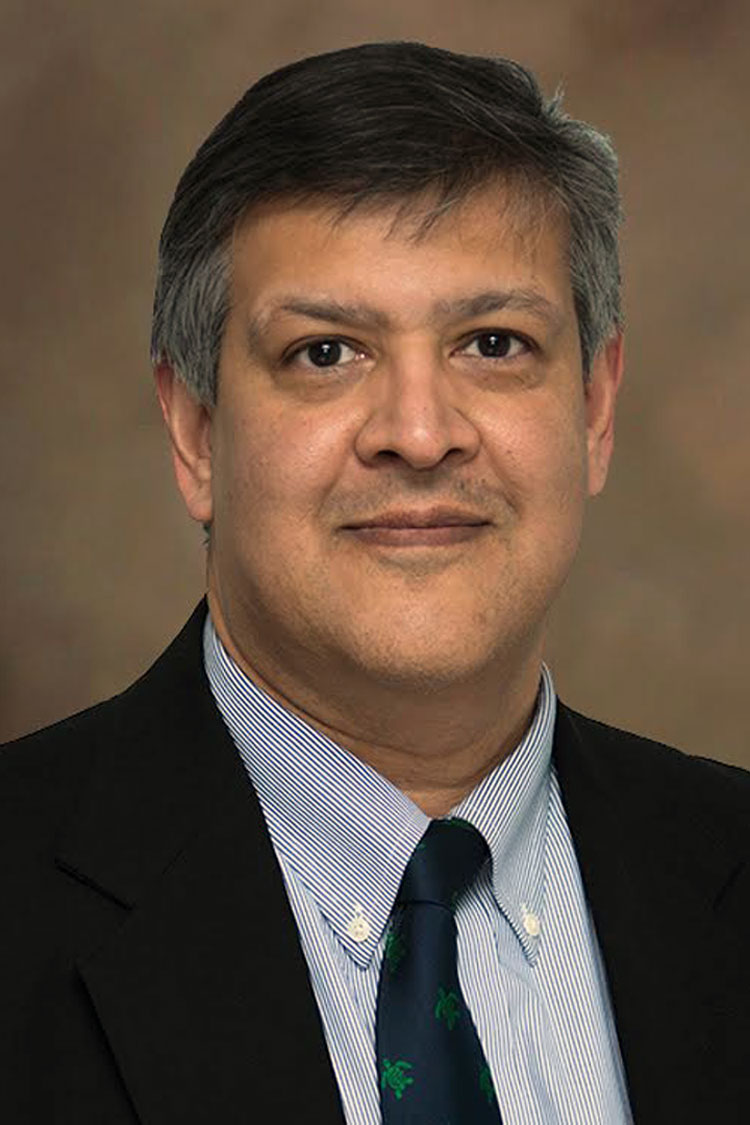 This month's Physician Spotlight goes to Dr. Wasil Khan, an allergist with SouthCoast Health.
When did you decide to become a physician?
While in graduate school working on my Ph.D., some of my program curriculum overlapped with that of the medical students. I liked seeing knowledge gained from the research bench applied at the bedside so I decided to become involved in both phases of this process.
What is the best part of your job?
Patient care. It's the most satisfying part of what I do.
Tell us about a patient that has a special place in your heart.
There are quite a few, but I'll mention one particular gentleman because I recently became reacquainted with him. He's a military veteran who was a rifleman in the late 1960s to early 1970s. I first met him about eight years ago when I was asked to see him in the hospital where he had spent the better part of two years due to recurring severe respiratory infections. It turned out one part of his immune system was impaired. After I started him on treatment for this, he did well for many years and was able to enjoy life with his wife and family. Last week, I was called to see a patient who had been hospitalized with a severe respiratory infection and, when I walked into the room, I recognized him. The look on his face when he said, "I'm so glad to see you," sort of put a lump in my throat. He's still in the hospital by I'm trying my best to help get him home again.
Who is a mentor who has had a profound influence on your life?
I'd have to say my parents. I imagine many of us would name our mother and father as great mentors because they teach and guide us through our formative years. My parents are very caring people who always treat everyone and everything with respect. I've been told I show some of the same qualities, and I have them to thank for it.
What does the future of medicine look like in your area of interest?
The rate of new knowledge accumulation in the medical sciences these days is nothing short of astounding. With this, more effective and better tolerated management options for health conditions are constantly being developed and put into use. There are many such recent treatment modalities and even more on the way for Allergic and Immunologic disorders. One example is a new antibody that has proved so effective in treating difficult conditions like severe atopic dermatitis in research trials, that its FDA approval is being expedited. It is due out this year and I look forward to offering it to help people who could benefit from its use. Similar advances in treating food allergy, asthma, urticaria, and allergic rhinitis are on the horizon. It's an exciting time right now in this medical specialty.
How do you want to be remembered?
As a caring person who did his best for the benefit of others.
What are your hobbies or how do you like spending your time off?
I am an avid outdoorsman and naturalist who enjoys observing and photographing the natural world.
If you are interested in learning more about Dr. Khan, please click here for more information.
---
Whether you are looking for a primary care doctor or a pediatrician, or another medical specialist, SouthCoast Health has you covered with its wide range of world-class healthcare services, available throughout the Coastal Empire and Lowcountry. SouthCoast Health has 120 physicians and medical professionals in 18 locations in Savannah, Richmond Hill, Pooler, Rincon, Baxley, Bluffton, Hilton Head, Hinesville, and Statesboro. SouthCoast Health offers comprehensive medical services including: Family Medicine, Internal Medicine, Pediatrics, Allergy and Immunology, Cardiology, Endocrinology, Eye Care, Imaging, Infectious Diseases, Nephrology, Neurology, Physical Therapy, Podiatry, Sleep Medicine, Surgery, Clinical Trial Research Studies, Diabetic Self-Management Training Sessions, Dietetic Counseling, High Risk Breast Cancer Clinic, Laboratory Services, Massage Therapy, Optical Shop, Pharmacy, and Urgent Care.