A Mom Takes Action Against her Son's Bug Bite
Thursday, August 8, 2019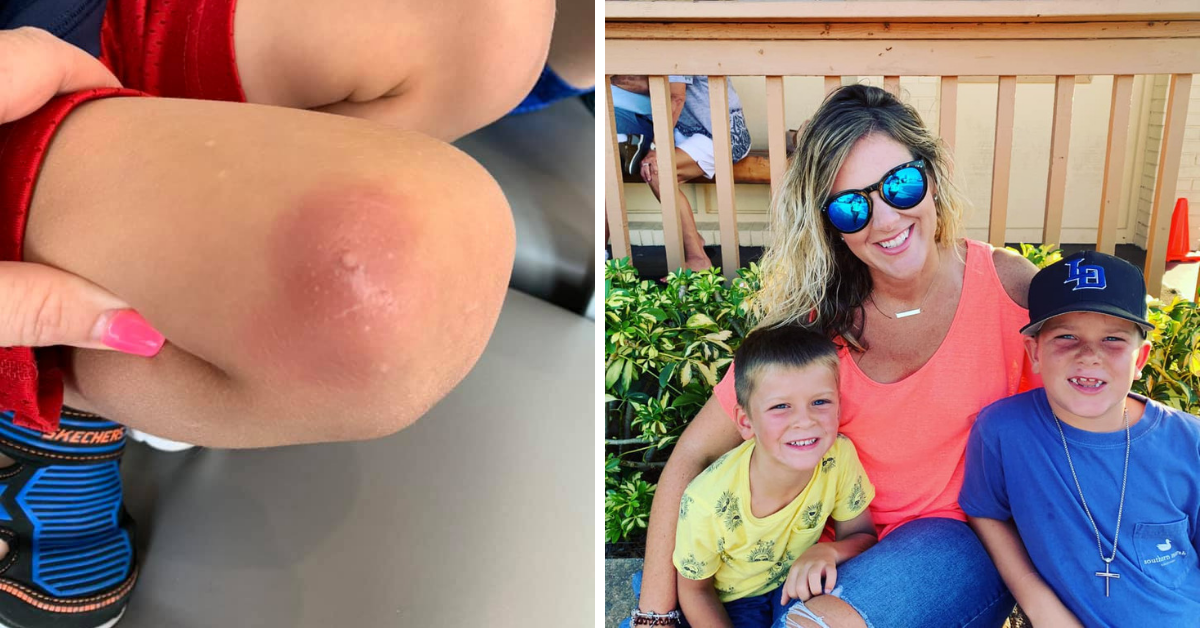 Radiology Technologist Brittany has worked at SouthCoast Health since 2010. Though most often she is performing X-rays and mammograms, she often helps out wherever and whenever she is needed. Whether it's assisting the nurses if they get backed up or taking vitals from patients, Brittany is an expert at taking charge and fixing a problem before it becomes too huge of an issue to solve.
That's exactly what happened with her own son, Brody back in 2019. This four-year-old is always outside playing sports, never slowing down, and always getting right back up if something knocks him down. After a full day of playing, Brody came inside with an ant bite near his knee. Neither of them thought much of it. It had happened plenty of times before.
But Brittany knew something was wrong when a couple of days later Brody woke up and was not himself at all. This playful, active boy suddenly could barely walk. The bite had grown to the size of the quarter and was very hot to the touch. Listening to him complain about the pain from the bite set off Brittany's alarm. He was constantly bitten by bugs and never once complained.
With Brittany's medical background and expertise, she knew it was time to act. She didn't wait to see if it would get better, she didn't try to fix the bite wound herself. She took Brody immediately to get medical care, where she knew she could get treated quickly.
The diagnosis didn't shock Brittany. The bite wound had become infected and had turned into an abscess. It needed to be treated right away.
"We came at the exact right time," Brittany explained. "An abscess like that could have gotten into his bloodstream and caused even more issues, so waiting would have just made it worse."
Once Brody's knee was numbed, Brittany watched as the physician's assistant they met with cut into the abscess with a scalpel. From there, it was time to drain the bite wound of the infection.
Even after all of Brittany's years of experience in her position, she had never before seen such a bad infection. It took a long time to get all of the pus out. Once it was all out, his wound was wrapped in bandages and Brittany was given clear instructions on how to care for it and her son.
"I'm so thankful for my experience," Brittany explained. "I knew to act fast and to trust my gut. If I hadn't have done that, then the situation would have been much worse for my son."
Brittany has some expert advice she wants to tell other parents so they don't have to find themselves in the same situation.
"Always have your eyes out when it comes to bug bites and your kids," Brittany explained. "If your kids love to play outside, check them for any bite wounds when they come back inside. You can never be too careful with insect bites, so it's important to know when and where they happened so you can investigate."
If you're worried about a bug bite on you or your child's skin, click here to learn about SouthCoast Health's urgent care services. If you'd like to schedule an appointment with any of our expert pediatricians to talk about your kid's risk with bug bites, click here to schedule an appointment.
---
Whether you are looking for a primary care doctor or a pediatrician, or another medical specialist, SouthCoast Health has you covered with its wide range of world-class healthcare services, available throughout the Coastal Empire and Lowcountry. Founded in 1996, SouthCoast Health has 120 physicians and medical professionals in 17 locations in Savannah, Richmond Hill, Pooler, Rincon, Baxley, Hilton Head, Hinesville, and Statesboro. SouthCoast Health offers comprehensive medical services including: Family Medicine, Internal Medicine, Pediatrics, Allergy and Immunology, Cardiology, Endocrinology, Eye Care, Imaging, Infectious Diseases, Nephrology, Neurology, Physical Therapy, Podiatry, Sleep Medicine, Surgery, Clinical Trial Research Studies, Diabetic Self-Management Training Sessions, Dietetic Counseling, Laboratory Services, Massage Therapy, Optical Shop, Pharmacy, and Urgent Care.