What the Location of Your Back Pain Means
Wednesday, October 2, 2019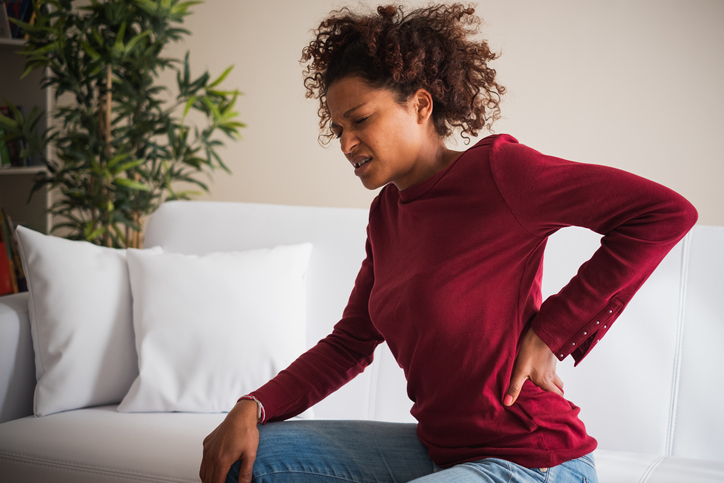 About 60 to 80 percent of people will experience back pain at some point in their lives. Since a majority of adults sit in offices during the day or spend hours stooped over doing hard manual work, this statistic makes sense for our current culture.
"The location of your back pain can tell you a lot about what might be bothering you," SouthCoast Health's Family Medicine Specialist Dr. Rebecca Marshburn Sellers stated. "Since the back is connected to so many other parts of our bodies, a twinge of pain in a certain location might not actually be your back that is hurt. That's why it's always important to listen to our bodies. "
To help clarify, we're describing what the location of your back pain could mean.
Organ Trouble
If you're experiencing back pain on the right or left side of your body, that means something might be wrong with the organs in that area of your body. This usually happens due to issues with the kidneys, pancreas, colon, large intestine, and uterus. This pain might come from infections, inflammation, or general irritation. One of the most common examples of this is the pain associated with kidney stones.
If you are having the kind of back pain described above and it persists for multiple days, then it might be time to visit the doctors and make sure everything is okay.
Spine Issues
It may seem obvious that you would have back pain if you are having spine issues. But do you know the different kinds of spine issues that might make back pain arise? Examples include spinal stenosis when your spine narrows and causes pressure on your spine and nerves. Another example is degenerative disc disease when the discs between your spine's vertebrae shrink or tear causing your bones to rub together.
If your back pain is around your spine and fluctuates with your movement, especially when you walk, that is usually a hint that something is wrong with your spine.
Muscle Injuries
There's a good chance your back pain might just come from going too hard at the gym. Or maybe you were involved in a car accident that pulled a certain muscle. If this is the case, you'll feel a pain in your back mostly when you move a certain way. This pain will give you a limited range of motion, might be accompanied by muscle spasms and swelling and will improve with rest and applying ice packs.
If you know there's a chance you pulled something or hurt yourself, then consider visiting the doctor's office just to double-check. However, usually, this kind of pain fades away after time.
Pinched Nerves
Pinched nerves most commonly occur on the back. These arrive when too much pressure is applied to the nerves by the surrounding muscles, cartilage, bones, or tendons. When this happens, your nerves will cause pain where they are being pinched, as well as symptoms such as tingling, numbness, and weakness.
If you suspect this is happening to you, then it's time to speak with your physician to see what may be causing this issue. They will be able to get to the bottom of it and discover the best treatment option for you.
If you're experiencing back pain, hopefully, you have a better understanding of what the location of it could mean for your body. If you'd like to speak to a medical professional to get further clarification, click here to schedule an appointment with any of SouthCoast Health's talented physicians.
---
Whether you are looking for a primary care doctor or a pediatrician, or another medical specialist, SouthCoast Health has you covered with its wide range of world-class healthcare services, available throughout the Coastal Empire and Lowcountry. SouthCoast Health has 120 physicians and medical professionals in 18 locations in Savannah, Richmond Hill, Pooler, Rincon, Baxley, Bluffton, Hilton Head, and Hinesville. SouthCoast Health offers comprehensive medical services including: Family Medicine, Internal Medicine, Pediatrics, Allergy and Immunity, Cardiology, Endocrinology, Eye Care, Imaging, Infectious Diseases, Nephrology, Neurology, Physical Therapy, Podiatry, Sleep Medicine, Surgery, Clinical Trial Research Studies, Diabetic Self-Management Training Sessions, Dietetic Counseling, High Risk Breast Cancer Clinic, Laboratory Services, Massage Therapy, Optical Shop, Pharmacy, and Urgent Care.