Diabetes Management Done Right at SouthCoast Health
Friday, November 15, 2019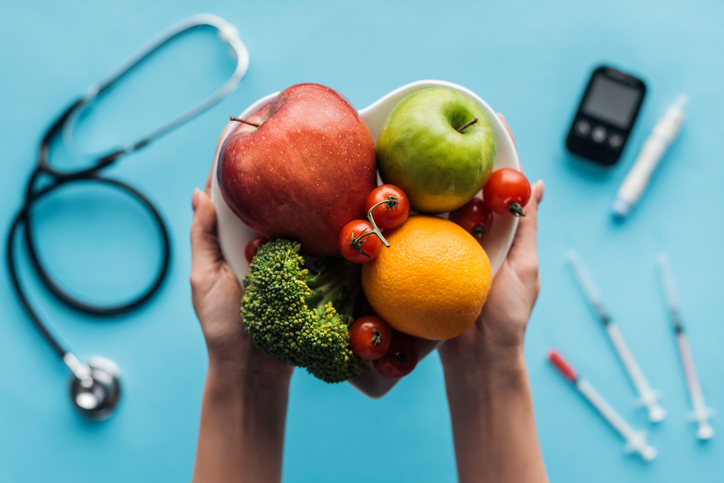 By Dr. Rebecca Marshburn Sellers, MD
November is National Diabetes Awareness Month. During this time, healthcare members, communities, and organizations raise awareness of type 1 and type 2 diabetes and its outcomes that affect millions of Americans. We take this month as an opportunity to discuss the management and prevention of long-term complications associated with diabetes.
Over time diabetes can affect any part of your body, specifically the small arteries that can be found in your eyes, kidneys, toes, heart, and brain. Thankfully, you can prevent the development of complications by adhering to a diabetic diet, regularly exercising, keeping your blood pressure at a normal range, and continuing goals towards weight loss to improve insulin resistance. The American Diabetes Association (ADA) has wonderful resources for patients, and I highly recommend reading their dietary recommendations online.
In this article, we will discuss how your provider will look to prevent and manage the complications of diabetes.
HEART DISEASE
People with diabetes have an increased risk for cardiovascular events such as a heart attack or stroke. This is because high sugars can damage blood vessels over time. As providers, we check your hemoglobin A1C to see your average blood sugar over the last 3 months. The amount of glucose binding that occurs to the red blood cell during its lifetime can be measured by checking your hemoglobin A1C.
Just as glucose can bind to your red blood cells, it can also bind to the cells that make up the walls of your blood vessels. By staying at your blood pressure target goal, this protects damage to your blood vessels.
Additionally, there are certain diabetic medications that decrease your risk of heart attacks and cardiovascular events. Keeping your blood pressure at the target goal, specifically below 140/90, is important for reducing heart disease.
Lastly, nicotine also is damaging to blood vessels, so much so that the combination of diabetes and smoking is concerning. Work with your provider on stopping tobacco products or don't start in the first place!
KIDNEY DISEASE
Diabetic kidney disease is the most common reason for the kidneys to fail, requiring dialysis or a kidney transplant. That being said, it usually takes years to develop kidney failure. Your provider checks your urine at least yearly for protein which is the first sign of kidney damage.
Again, keeping your blood pressure at the target goal, below 140/90, will prevent or delay chronic kidney disease.
NEUROPATHY
Your nerves are sensitive to high sugar levels over time, which results in nerve damage also called neuropathy. This can range from numbness to painful electric-like sensation most commonly down into the feet.
Carpal tunnel syndrome is another example of nerve damage, and carpal tunnel is more common in diabetic patients. It is important to have a foot exam at least yearly completed by your provider or podiatrist. Nerve damage can limit feeling in the feet which may result in chronic ulcerations or infections. Never go barefoot and look at your feet every day!
Certain medications can be used to treat nerve pain, but prevention is key. Regular exercise, avoiding tobacco products, and keeping your hemoglobin A1C will prevent and delay the onset of nerve damage.
VISION PROBLEMS
Diabetic retinopathy, or damage to the retina, is the leading cause of blindness of adults in the US. It is important to see your eye doctor once a year for a dilated eye exam to look at the back of the retina to see if any damage is present. At this time your eye doctor can also evaluate for glaucoma and cataracts, which are also more common in diabetic patients.
At SouthCoast Health, we are here to manage and prevent all of the complications above. Your primary care provider will be the main orchestrator to ensure the above issues are addressed and prevented. You may be referred to cardiology, nephrology, endocrinology, podiatry, or ophthalmology depending on your risk of complications. All of these services are available within the organization. Total Wellness for Life.
---
Whether you are looking for a primary care doctor or a pediatrician, or another medical specialist, SouthCoast Health has you covered with its wide range of world-class healthcare services, available throughout the Coastal Empire and Lowcountry. SouthCoast Health has 120 physicians and medical professionals in 18 locations in Savannah, Richmond Hill, Pooler, Rincon, Baxley, Hilton Head, Hinesville, and Statesboro. SouthCoast Health offers comprehensive medical services including: Family Medicine, Internal Medicine, Pediatrics, Allergy and Immunology, Cardiology, Endocrinology, Eye Care, Imaging, Infectious Diseases, Nephrology, Neurology, Physical Therapy, Podiatry, Sleep Medicine, Surgery, Clinical Trial Research Studies, Diabetic Self-Management Training Sessions, Dietetic Counseling, Laboratory Services, Massage Therapy, Optical Shop, Pharmacy, and Urgent Care.