How Do Heart Stents Work
Wednesday, December 4, 2019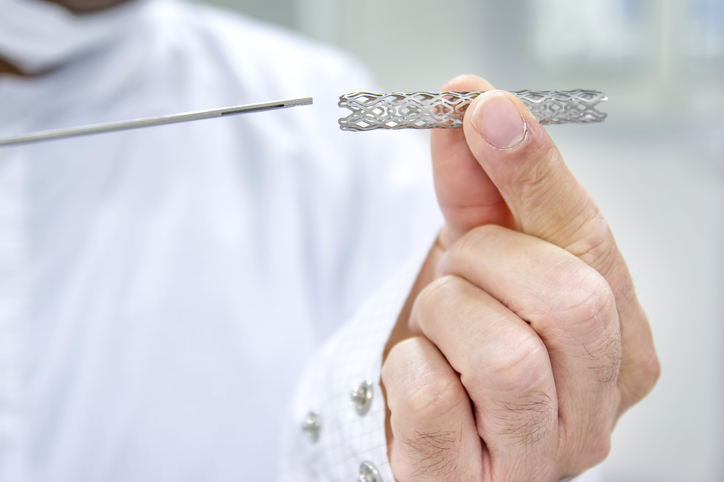 If you have a major heart condition or know someone who does, chances are you've heard of a heart stent before. In fact, about two million people receive artery stents every year, making it a common medical device to receive. This statistic is not shocking when you consider the fact that heart disease is the leading killer of Americans.
Since heart stents can be life-saving, it's important to understand the nuances of these devices and why they are so helpful. Dr. Jonathan Lanham, Cardiologist at SouthCoast Health, explains this information below.
How Does a Heart Stent Work?
Stents are made up of tiny wire meshes formed into tubes. They are then placed into a narrowed or blocked coronary artery so that blood and oxygen can flow more freely in and out of the heart. This prevents damage to the heart. Usually, the heart stents are also infused with medication to prevent the blockage from returning.
What Does it Treat?
Stents are used to help reopen arteries that might have been previously blocked due to the build-up of plaque. This is a fatty substance that can lead to blood clots on top of blocked arteries, creating issues such as coronary heart disease, heart attacks, and also general chest pain.
Heart stents lower the risk of all of the above.
What's the Procedure Like for Receiving a Heart Stent?
Receiving a heart stent is a procedure that is known as percutaneous coronary intervention (PCI). The person receiving the stent will remain awake during the hour it takes.
The physicians performing the surgery will numb the area where they are inserting the stent, usually around the wrist area, and give medication to help the patient relax. From there, they will insert a catheter that travels up the bloodstream to the heart arteries, known as coronary arteries. Once there, a balloon-tipped catheter is inserted to the site of the blockage and expanded to open the vessel. A stent is then administered through the catheter, similar to the balloon. The stent is placed to permanently open the blockage.
Risks during this operation include:
Allergic reaction
Damage to the artery or even the kidneys
Infection
Bleeding from the insertion site
Irregular heartbeat
If you think you might be experiencing a blocked artery or have a reason to receive a heart stent, SouthCoast Health's experienced cardiologists would be happy to help you.
Give us a call at 912-527-5300.
---
Whether you are looking for a primary care doctor or a pediatrician, or another medical specialist, SouthCoast Health has you covered with its wide range of world-class healthcare services, available throughout the Coastal Empire and Lowcountry. SouthCoast Health has 120 physicians and medical professionals in 18 locations in Savannah, Richmond Hill, Pooler, Rincon, Baxley, Hilton Head, Hinesville, and Statesboro. SouthCoast Health offers comprehensive medical services including: Family Medicine, Internal Medicine, Pediatrics, Allergy and Immunology, Cardiology, Endocrinology, Eye Care, Imaging, Infectious Diseases, Nephrology, Neurology, Physical Therapy, Podiatry, Sleep Medicine, Surgery, Clinical Trial Research Studies, Diabetic Self-Management Training Sessions, Dietetic Counseling, Laboratory Services, Massage Therapy, Optical Shop, Pharmacy, and Urgent Care.